Hockey fans around the world were treated with a thriller on Saturday night, as the Calgary Flames burned their provincial rival, the Edmonton Oilers 6-4. The game featured highlights exchanged from some of the superstars on both clubs, as well as some of the unlikely hero's. Sam Bennett was such an impact player against the Oilers, as he cashed-in with a goal, three shots, and 11:29 of ice-time. (From 'Flames get 'huge win' in first instalment of Battle of Alberta,' Calgary Sun, 02/07/21)
The bounce-back game for Bennett and the Flames was imperative. Bennett, a healthy-scratch in the press-box the game before, must continue to trend upward if he wants a trade from Calgary, or if he wants to make things work in the meantime. One player that recently requested a trade, and is gearing up to play his first game on his new team, is Pierre-Luc Dubois.
Dubois, drafted third overall by the Columbus Blue Jackets in 2016, will play against Bennett and the Flames on Tuesday, which will be the teams' forth meeting in nine days, and Dubois' first taste of life as a Winnipeg Jet. The Flames are just 1-2-1 against the Jets so far this season, with their lone win coming courtesy of a Johnny Gaudreau shootout-winning beauty, and with Dubois joining the Jets for their next installment, the Flames will need to adjust their game.
Riding High?
The Flames have to be feeling happy with their results after defeating the Oilers in such a big game, but as a whole, this team is still at a crossroad when it comes to giving a full 60-minute effort. Not much can be said about the Flames' first period contributions on Saturday, once again, but they were fortunate to have left the ice after the first frame with a goal on the board, and only down by one. Before facing the Jets, the Flames will need to reiterate their lackluster first-period efforts, and try to play a more complete game. The club can't keep playing behind the 8-ball, or they'll see the gap between their Canadian Division enemies grow larger, and potentially wear out goalie Jacob Markstrom.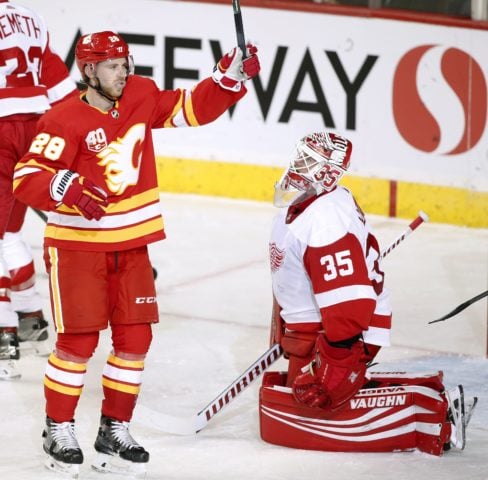 Calgary's offense had one of its most complete games of the regular-season on Saturday, scoring six goals from six different forwards. Surprisingly, everyone on both sides of the Battle of Alberta kept their gloves on for the duration of the game, but the Flames showed no shortage of emotion within their game, and that really has head coach Geoff Ward feeling optimistic heading forward. "You guys have all covered hockey long enough — it's funny the way that the flows go in the game, and you never know what can turn you onto a streak. You can look dead in the water and you're not playing well and something happens and all of a sudden you run the other way. So hopefully this springboards us the other direction."
What to Watch For
Since the Jets traded for Dubois on Jan. 23, he has had to wait for the green light from the NHL to join his team due to the COVID-19 protocols. While waiting, his new team went 4-2-1, with two of those wins coming against Calgary. Forwards Kyle Connor, Mark Sheifele, Blake Wheeler, and Mason Appleton have pretty well propelled the Jets' offense against the Flames, and with Dubois joining his new team on Tuesday, the newest weapon on the team will be looking to strike, too.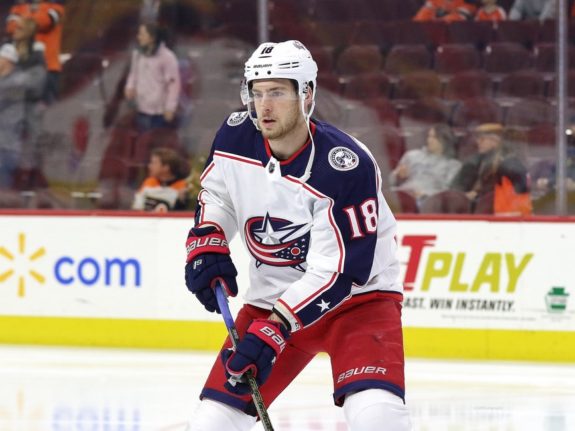 Dubois is considered a top-line center in the NHL, and at just 22 years of age, he's only getting better. The 6-foot-3, 218- pound skater possesses a wicked left-handed shot, and is known for making those who play around him, better. In 239 NHL games with the Blue Jackets, Dubois has registered 66 goals and 93 assists. His stats depict that he's more of a play-maker, and as true as that may be, Dubois also has an extremely deceptive shot, and he'll be eager to impress his new coaches, teammates, and of course, the fans.
Fair Warning
Jets' head coach, Paul Maurice, likes what he's seen from Dubois' first practice with his new club, and says his new center is ready. "He handled practice without a problem. You wouldn't have been able to come to the rink and pick the guy that's been in quarantine for two weeks out," Maurice said. "He pushed himself I think as much as he could when he was off the ice. And I think he'll just get stronger and faster." Maurice was kind enough to warn the hockey world that Dubois looks poised already, so the Flames will need to fully prepare for the potential onslaught that he and the other Jet snipers are so known for.
Despite looking like the offensively-powerful team they can be on Saturday, the Flames know they have major work to address before getting back to work against the Jets. Too often this season, Markstrom has had to bail out his team, so the Flames really need to lend a hand to their number one netminder. The Jets will have a new, elite forward for the Flames to contend with, so line-matching, and containing Dubois will be critical for the Flames if they want to win their second consecutive game.
---
---
My job as a writer is a dream come true. I wake up every day and remember, this is the kind of job I've wanted since a very young age. In order for me to continue fulfilling that dream, I need you, the reader, to let me know how I'm doing. Feel free to subscribe to The Hockey Writers, and drop a comment regarding anything Calgary Flames. Thank you!