After a hectic offseason, the Calgary Flames are just over a month away from kicking off their 2023-24 campaign. The new-look team is hoping to bounce back after a letdown of a season that saw them miss the 2023 NHL Playoffs. There will undoubtedly be some growing pains towards the start of the season, as they are being led by a new head coach and saw considerable roster turnover this offseason.

Fans should be hopeful, however, as there is certainly reason to be optimistic that this season will be better for the Flames than last. If that is to be the case, there are several players who must perform at a high level. Jonathan Huberdeau, Nazem Kadri, and Jacob Markstrom all have to play to their potential for the Flames to contend in 2023-24.
Jonathan Huberdeau
All eyes will be on Huberdeau to start this season, and for good reason. His performance last season was largely representative of the Flames' play as a team: underwhelming. Last offseason, the Flames acquired the 30-year-old winger from the Florida Panthers in exchange for Matthew Tkachuk, who led the Panthers to the Stanley Cup Final. Simultaneously, Huberdeau put up the largest decline in points year-over-year in NHL history. The Flames are paying him $10.5 million per year for the next seven seasons; if they hope to contend he needs to be the reason they are winning games.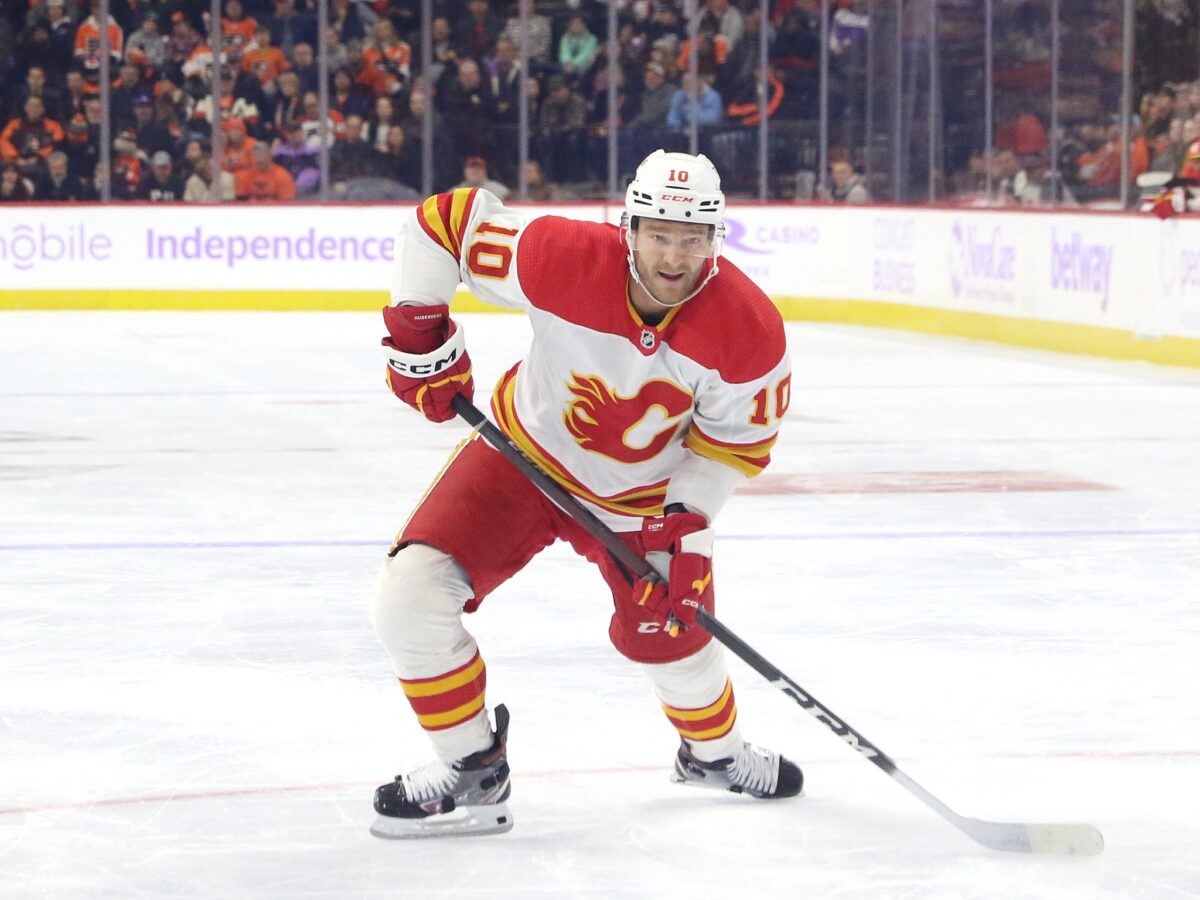 There is reason to believe that Huberdeau can and will bounce back. He will likely benefit from a fresh start under a new head coach. He also now has a season under his belt on his new team and will be more accustomed to playing with his linemates. He has proven that he has superstar potential, putting up 115 points the season before last. If the Flames hope to contend this season, his performance will need to look more like two seasons ago than last.
Nazem Kadri
Kadri is another player whose first season on the Flames did not quite go to plan. After winning the Stanley Cup as a member of the Colorado Avalanche in 2021-22, he signed a seven-year contract worth $49 million in Calgary. Like Huberdeau, Kadri's play declined in his first season on the Flames, his point total decreasing from 87 a year prior to 56 last season. It seemed that he never quite got his feet beneath him as a member of the Flames last season, and as their second-highest-paid skater, they need him to elevate his game.
Related: Flames' Stars Did Not Shine in 2022-23
---
Latest News & Highlights
---
Though Kadri has not shown the 100-plus point upside that Huberdeau has exhibited, he has shown that he can be a point-per-game player, and that is what the Flames need out of him this season. If he and Huberdeau can elevate their play, the Flames should take a step forward offensively from last season.
Jacob Markstrom
One other obvious area of decline displayed by the 2022-23 Flames was their goaltending. Markstrom was a Vezina candidate in 2021-22 but struggled throughout all of last season. In his own words, he said "I just suck at hockey right now" in the middle of the year. The Flames are expected to call up top goaltending prospect Dustin Wolf, which will hopefully strengthen the position for the team, but regardless they will need a better performance from their top goaltender. Markstrom's save percentage (SV%) fell outside of the top 30 in the NHL last season, which was simply not good enough. There is reason to believe he will be better under new head coach Ryan Huska, who will likely show more confidence in Markstrom than Darryl Sutter did. Either way, Markstrom's play will be integral to the success of the 2023-24 Flames.
Players to Watch
The Flames' 2022-23 season came down to poor performance from their star players, including these three. If Huberdeau, Kadri, and Markstrom can live up to expectations (and their contracts), the Flames should have a successful season. If, on the other hand, the three underwhelm again, it is highly unlikely that the Flames will find themselves in the playoffs, much less making a run at the Stanley Cup. Fans should watch these three closely this season; as they go, so do the Flames.
---

---