The Calgary Flames finished well in the Young Stars Classic, earning a 4-2 win over the Winnipeg Jets. The win brought their record to 2-1 for the weekend, as they lost 7-1 to Vancouver in the opener and beat Edmonton 4-3. However, the results aren't a huge factor in these events. What matters is the development of the Flames' prospects.
Adam Klapka Makes an Impression
At 6-foot-8, it's hard for Klapka not to stand out when he is on the ice. However, this weekend, it was due to his quality of play and not his stature. The big winger from Czechia began his North American professional career last season with the Calgary Wranglers, tallying 13 goals and 12 assists in 60 games. He has also shown some grit in his game, racking up 80 penalty minutes.
Klapka was a part of the Flames' best line this weekend with Jaden Lipinski and Lucas Ciona, appearing on the scoresheet and making himself a physical force. The improvements in his game that you won't see on the scoresheet are his physical skills, which he displayed numerous times. His skating has vastly improved since coming to the American Hockey League last season, and he surprised me with some elite puck handling on occasion. A sequence that stood out in the game against Winnipeg was when he carried the puck up ice, toe-dragged two defending players, and had a chance on the net.
If a player of his size can begin doing that at the pro level, the Flames will have signed a diamond in the rough.
Jaden Lipinski Finishes Strong
Lipinski saved his best for last, getting a goal and two assists in the 4-2 win over Winnipeg. He demonstrated valuable traits to the organization, winning key faceoffs and working hard at both ends of the ice. Two of his assists came from his faceoff wins in the offensive zone, and his goal came from a net-front scramble where he jammed in the loose rebound.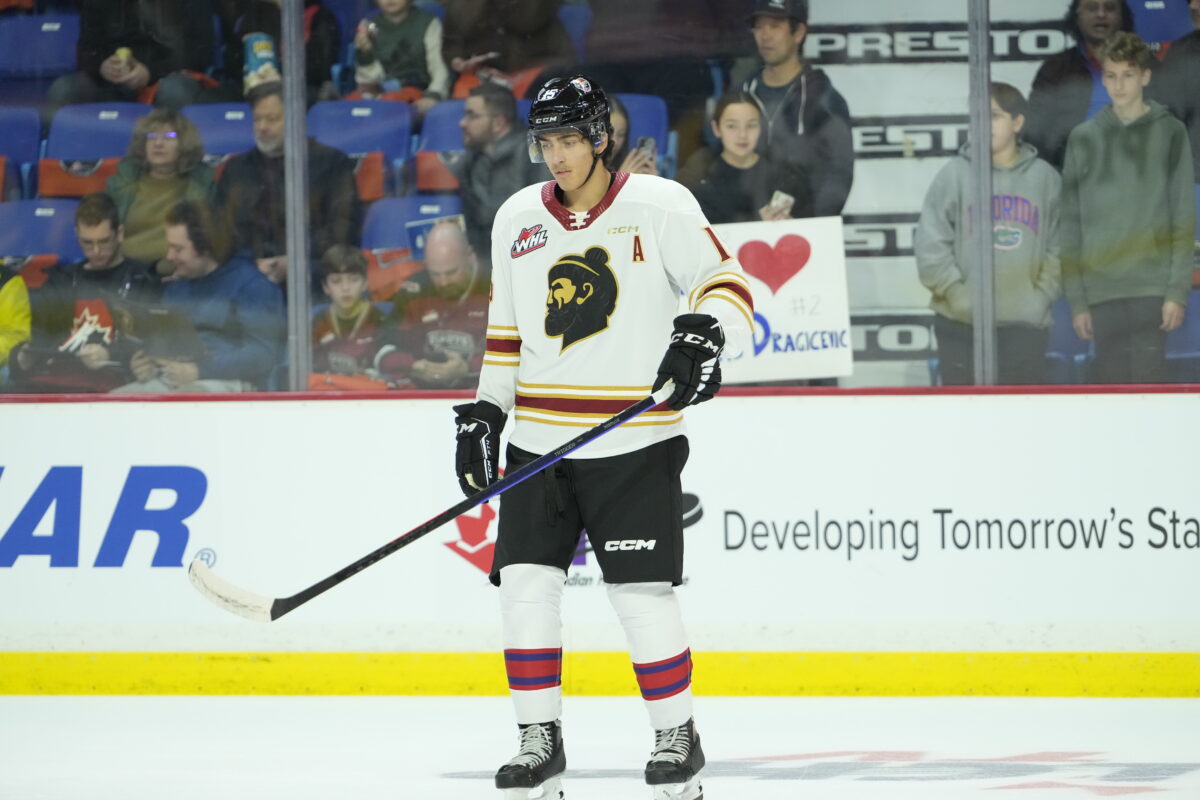 This was a good way for the fourth-rounder in 2023 to end his first rookie camp, as Lipinski left a lasting impression on the front office. If he can continue demonstrating the qualities that made him a force in this tournament, he will be a steal for a fourth-rounder. Despite a disappointing 7-1 loss to Vancouver on the opening night, the line of Lipinski, Klapka, and Ciona stood out as Calgary's most engaged and consistent players.
Lucas Ciona: A Physical Force
You can't tell the story of Lipinski and Klapka and not mention how well Ciona performed. He brought the energy all tournament, finishing his checks, going hard to the net, and even getting in a fight against the Canucks' prospects. In the club's 7-1 loss, he scored the only goal, giving the front office a glimpse into what he could provide with the goal and fight.
This further proves that the team results don't matter in these tournaments, as one good game from Ciona may have put him on the radar to make the Flames roster. The Flames have some spots to fill for their opening night roster, and new general manager Craig Conroy has hinted that the replacements could come from within instead of signings or PTOs. It's safe to say that Ciona and Klapka's performances in this tournament have at least put them into the conversation to claim a spot.
Coronato and Honzek's Differing Experiences
Matthew Coronato showed why he has a great chance to make the Flames opening night roster. He had a goal and four points in three games and showed some growth on the defensive side of the puck. The Flames can confidently slide him into the lineup that needs depth, but his place in the lineup raises some questions.
They might want Coronato to attempt to slide in on the first or second-line wing spot and produce right away. However, it's hard to see him being able to handle that responsibility nightly. On a team with lower expectations, it would be the perfect opportunity for him, but the Flames' hopes of returning to Cup-contender status might be too much strain to handle in a top-six role right away.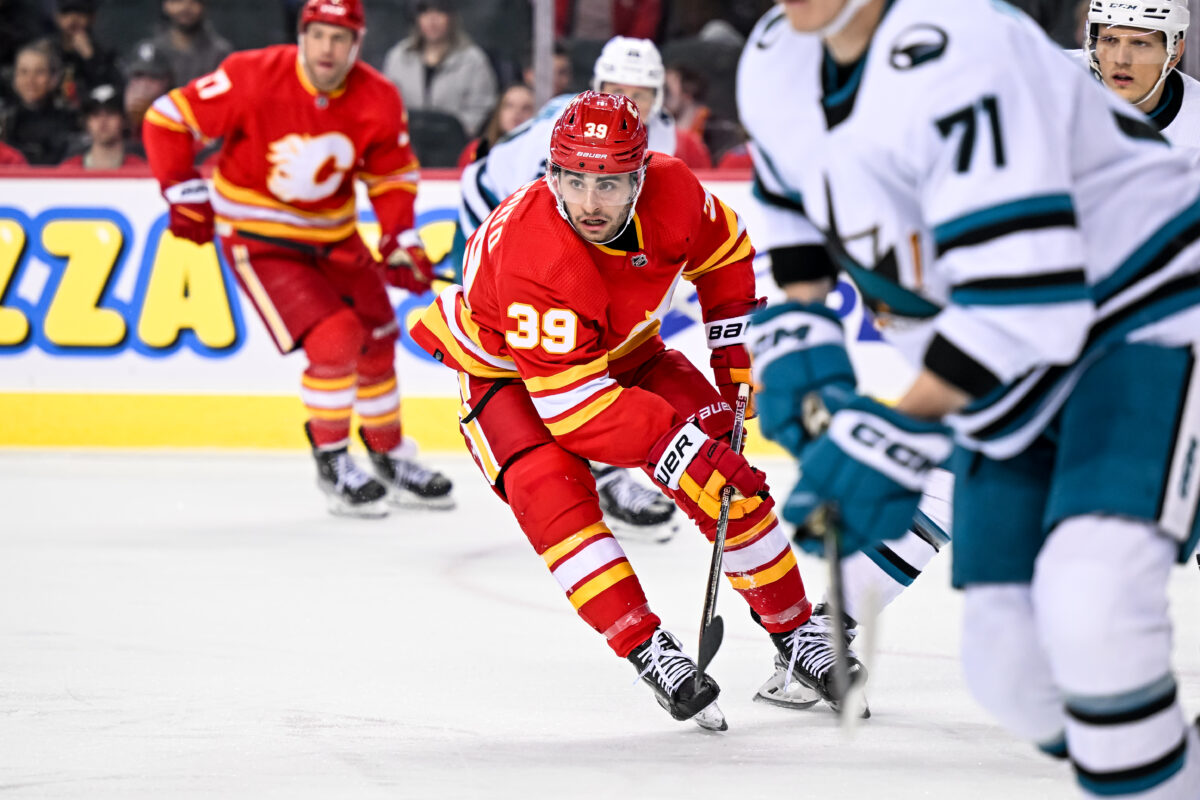 Samuel Honzek had high hopes going into the prospects tournament, hoping a good showing would springboard him into a spot on the Flames as an 18-year-old. However, this tournament did a great job of showing that Honzek will need some seasoning before making the jump. His best option is to return to the Vancouver Giants for the 2023-24 season and play another year of North American hockey. He posted 23 goals and 33 assists in 43 games with Vancouver last season and will be a force in the WHL this season if he returns.
Defensive Prospect Depth Needs Work
The glaring weakness for the Flames was their defense, as they allowed 12 goals over their first two games. According to Daily Faceoff's prospect pool breakdown, the Flames only have two defensemen in their top ten prospects. Etienne Morin and Jeremie Poirier are fine hockey players but aren't defensive stalwarts.
Related: Flames Have 3 Primary Concerns This Season
---
Latest News & Highlights
---
Poirier posted 41 points in 69 AHL games last season and was named to the AHL's all-rookie team. His strength is puck-moving, not the defensive end. Unfortunately, we didn't see him in Penticton, as he's recovering from an injury. Much like Poirier, Morin is an elite offensive defenseman, tallying 72 points in the QMJHL last season. However, his defensive zone coverage needs plenty of work. His work as the power-play quarterback in these games gives plenty of hope, but he will need to fine-tune his defensive game for another year in Moncton.
All in all, it was a successful tournament for the Flames. Players emerged as candidates to make the roster, and more well-known prospects showed that their hype was real. The battles in training camp will be fun to watch, and it all begins on Sept. 20, when Flames camp officially opens.
---

---