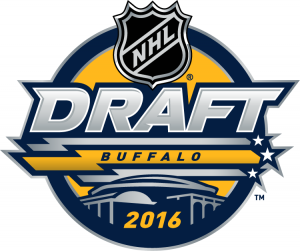 The Florida Panthers were on the prowl for prominent talent while attending the 2016 NHL Scouting Combine, which was held May 30-June 4 in Buffalo's First Niagara Center and HarborCenter.
As the 2016 NHL Draft approaches, however, this year's Panthers find themselves clawing on new ground. Having held a top-5 pick in four of the last six drafts, the club's first pick in 2016 is number 23–quite a difference from previous years. To their credit, the Panthers used those high picks very wisely, resulting in selections like Jonathan Huberdeau, Aaron Ekblad, and Aleksander Barkov, Jr. These are the types of cornerstone players that you build a team around, and the Panthers' current and future success is the result of excellent talent evaluation and development over the past few years.
But Florida still has some needs that should be addressed if the team hopes to continue its dominance of the Atlantic Division. While the team's developmental system overall contains a good level of depth, size, and speed at most positions, the club can still improve its chances for long-term success by adding a talented right winger and a top-tier offensive defenseman to their minor-league rosters.
Bolstering the Back End
First, let's state the obvious: Players in the mold of Drew Doughty and Shea Weber don't grow on orange trees. (Hey, we're talking about Florida, here). But the Cats would do themselves a favor by focusing on an offensive-minded blueliner who can contribute on both ends of the ice. A stalwart D-man who could also quarterback Florida's power play would really help to solidify the team's defensive corps while adding some potency to an anemic power-play unit that ranked 23rd in the league this year.
Sarnia Sting defenseman Jacob Chychrun certainly meets these criteria, and the Panthers would love to get their hands on him. The 6'2″, 200-lb. Chychrun, currently ranked No. 4 on Central Scouting's final ranking of North American skaters, is a Boca Raton native and is almost certain to become the highest Florida-born player ever selected in the draft. "Local boy does good" is always a selling point to a team's fanbase, one the Panthers could use to improve upon their dismal 2015-16 home attendance figures.
Chychrun looked like an elite prospect throughout the season, putting up 49 points (11G, 38A) in 62 games. But given his current ranking, the Sting defender most likely won't be available unless the Panthers make a blockbuster trade to leap up in the selection order. If the Panthers do in fact look to fill this need on draft day, they might be wise to take Saginaw's Markus Niemeläinen, a rangy 6'6″ defender with excellent skating ability and a top-tier hockey sense whose offensive game flew under the radar for a re-building Spirit squad.
Other prospects who might fit the bill in this regard include Brandon's Kale Clague (5'11", 179) and Chilliwack (BCHL)'s Dennis Cholowski (6'1″, 175).
A Right-Wing Lock
While it's fun to think that Jaromir Jagr and his flowing salt-and-pepper locks will be racing down the right side of the BB&T Center's ice for the next 10 years, this obviously won't be the case. (Though if anyone could accomplish this feat, it's the seemingly ageless Jagr.)  The 44-year-old Jagr is nearly the same age that Estelle Getty was when she began playing the role of Sophia Petrillo on The Golden Girls (yet another Miami reference, for those of you paying attention), so Panthers fans can be sure that president of hockey operations Dale Tallon and his team are looking to shore up the right-wing position with an infusion of young talent. This is especially true in light of the fact that the team's top RW prospects, Logan Shaw and Chris Wilkie, look unlikely to replicate Jagr's production at his current age, let alone displayed the ability to supply the type of offensive firepower that the Czech forward provided in his prime.
That's why Val-d'or's Julien Gauthier (6'3″, 220) makes sense here. The huge winger put up outstanding numbers (41 G, 16 A) in 54 games with the Foreurs this season, and scouts are continually impressed with his fluid skating speed, soft hands, and ability to out-muscle opposing players. Like Chychrun, however, the explosively physical Gauthier could very well be off the draft board by the time the Panthers make their first-round pick. A more-realistic option at 23 might be UConn's Tage Thompson. Thompson is a talented-but-raw prospect with a big upside: At 19, the 6'5″, 185-lb. winger will only continue to add size and strength to his massive frame, and we all know that you can't teach size. Power forwards tend to be late bloomers, so analysts' concerns about Thompson's age and unrefined skill set seem premature at this point.
A Deep Draft
Even though they're picking later than they're accustomed to, Florida should be able to find high-quality talent with its selections. League consensus is that there will be a solid group of NHL-caliber talent available throughout the first three rounds. This is good news for the Panthers, who only have two picks in the first three rounds and therefore need maximum value out of these selections. Although predicting which prospects will end up where is generally a futile (but fun) enterprise, don't be surprised if one of the players mentioned above is wearing those cool new Panthers uniforms within the next few years.
Marc has been writing in various professional capacities for more than a decade. He has written on a number of topics including local/state news, government and the media. He remains one of Toms River, NJ's all-time greatest street-hockey goalies.
Feel free to follow Marc on Twitter: @Marc_Cavella