When Dale Tallon became general manager of the Florida Panthers in 2010, he made it a priority to stock the prospect stable with high-end talent. Developing through the draft was his blueprint as GM and later as a senior advisor for the Chicago Blackhawks. It was also the blueprint that led the Blackhawks to a Stanley Cup win with Tallon, and arguably, two more Cups after his departure.
In seven seasons with the Panthers, Tallon and company can point to players like Jonathan Huberdeau, Aleksander Barkov, and Aaron Ekblad as elite assets brought in under their direction. But they are only the tip of the iceberg, as season after season Florida has had their young assets graduate to the NHL roster, most recently defensemen Ian McCoshen and Mackenzie Weegar.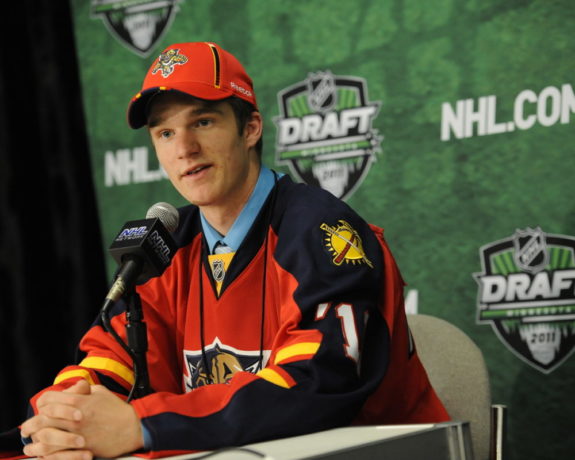 More to their credit, the Panthers' prospect pool has continued to grow even after these graduations. The two headline prospects are Henrik Borgstrom and Owen Tippett. Both are skilled and well accomplished in the NCAA and OHL, respectively. They will have an opportunity to join the big club next season, with Borgstrom's slot being almost assured.
Florida's New Crop of Prospects
The talent doesn't stop there. This year's first-round pick, Grigori Denisenko, is skilled and one of the best Panthers prospects. Many experts believe that Denisenko possesses top-10 talent, so selecting him at 15th overall could be considered a steal in the future. Serron Noel, their second-round selection, is another talented forward for the Cats and at 6′, 200 lbs, he has the size to survive and thrive in the NHL.
Other notables include Jayce Hawryluck, Jonathan Ang, and Riley Stillman. Hawryluck, a center, played in his second AHL season last year and posted a respectable 36 points in 64 games on a struggling Springfield Thunderbirds squad. Ang, another center, put up a career-high 87 points in a season split between the OHL's Peterborough Petes and Sarnia Sting.
Stillman, a defenseman posted 34 points and a plus-23 in a season also split with two OHL clubs, the Oshawa Generals and Hamilton Bulldogs. He also managed 14 points, including five goals, in 21 playoff games with the Bulldogs last season.
One name, however, inexplicably falls under the radar of top Panther prospects. He amassed 204 points in 129 WHL games over two seasons. He has terrific speed in an era where it's a necessity for NHL players and his vision and passing were second to none in the WHL, as demonstrated by his 90 assists last season. Surely a player this credentialed should earn more than a footnote among the team's top prospects, yet he does not. This player is Finnish-born Aleksi Heponiemi.

Getting to Know Heponiemi
Heponiemi was drafted 40th overall by the Panthers in the second round of the 2017 Draft. He accumulated 86 points in 72 games for the WHL's Swift Current Broncos in 2016-17, his draft year and his first season in North America. His passing ability stood out, as 58 of his points were assists. He produced another 8 points in 14 playoff games, all assists. He earned the honor of 2017 WHL Rookie of the Year at season's end.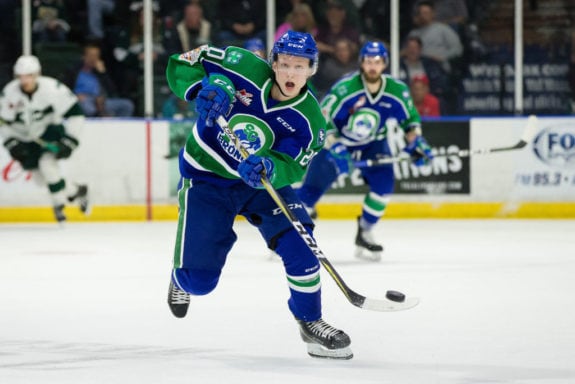 When Florida drafted Heponiemi, they knew they were getting a project. He was viewed as a speedy, talented winger with great hockey intelligence, vision, and passing ability but was undersized at 5-foot-10, 140 pounds. Even with his talent, Tallon and company knew Heponiemi would have to bulk up before sniffing NHL action. But they saw his talent and potential and took a flier on him to see what the future held.

2017-18: Heponiemi's Season of Dominance
As good as Heponiemi's inaugural WHL season was, last season was his coming-out party. His 90 assists set a Swift Current single-season record and he added 28 goals for a career-high 118 points while playing in only 57 games, the result of a couple of international stints for Finland, most notably the IIHF World Junior Championships.
Success followed into the playoffs. He was instrumental in the Broncos' 2018 Ed Chynoweth Cup win as WHL Champions. They competed for the Memorial Cup but failed to qualify for the playoff portion of the tournament. Heponiemi posted four points in three tournament games.
All said and done, he had a tremendous 2017-18 season. In addition to winning the WHL Championship, Heponiemi was recognized as the CHL Bumper to Bumper Sportsman of the Year for demonstrating a high level of skill along with gentlemanly conduct, evidenced by his 28 penalty minutes on the season. He also finished third in the CHL in points despite playing in fewer games than most of the competition and was still first in assists by a wide margin.
Heponiemi's Achilles' Heel Holds Him Back
Even after back-to-back stellar seasons, there is little talk of Heponiemi as a top talent for the Panthers. Why is that? He has the skill and resume to warrant more attention but his size undermines him. After a full season and offseason to add mass, he is now listed at around 150 pounds, still smaller than most NHL players who average around 6 feet and between 195 and 200 pounds.
Players need strength to physically outcompete other players, and they need mass to absorb checks from larger players. It is as much about competition as it is about safety.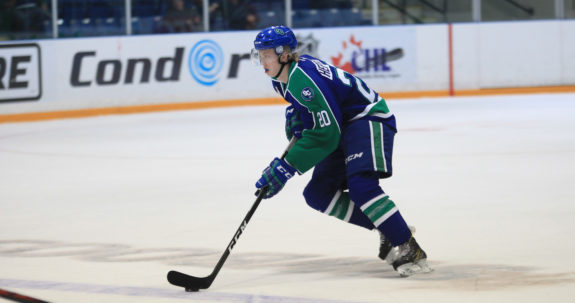 Size has always been a factor in the NHL. As little as 10 years ago, scouts would not approach players of Heponiemi's size. Though smaller players have recently carved out a niche in the league, size remains an important attribute for a player's success and that won't go away anytime soon.
The importance of size and strength cannot be understated, and players lacking in it are instantly put at a disadvantage. It is because of this that Heponiemi fell to the second round despite his skill set. And it is why he continues to fly under the radar among Panthers prospects.
Heponiemi's Strengths for Success
Though there is always a risk in selecting a small forward, there are a lot of reasons to be optimistic about Heponiemi. Examples of successful undersized players are numerous in today's NHL. Johnny Gaudreau, for example, is an undersized forward who flew under the radar before he took the league by storm, with critics pointing to his size as a reason to be pessimistic. Now he is regarded as one of the best players in the league, totaling 288 points in 312 career games.
It is foolish to compare Heponiemi to Gaudreau, as Heponiemi has never played a professional hockey game while Gaudreau is a dominant player in the NHL. But Gaudreau and other successful bantam-sized players share characteristics with Heponiemi that allow them to flourish in the NHL.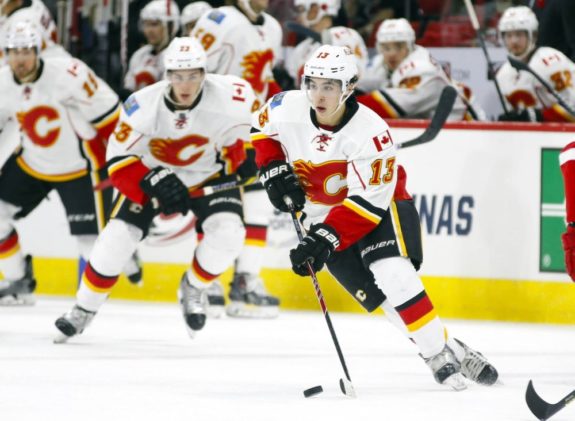 Although size continues to and will always be an important factor, speed is a close second. If you look at some of the league's best young players, including Connor McDavid and Mitch Marner, you notice how fast these skaters are, more than their size. Speed is one of Heponiemi's greatest strengths, one that is beneficial to an undersized forward.
Aside from speed, vision and hockey intelligence are critical for smaller players. Both are necessary to create plays and see opportunities and are invaluable skills that most successful players are gifted with. Heponiemi not only possesses but demonstrates both at a high level on a regular basis.
Elite passing is another skill that has proven to be beneficial for undersized forwards to succeed in the NHL. Passing is arguably Heponiemi's greatest skill. At every level of hockey, he has found success in generating scoring chances for his teammates. In Junior B U18 in Finland, he compiled 65 assists in 39 games. In the WHL, he had 148 assists in 129 games, including 90 in one season. Though the competition has increased, his production has yet to decline.
Heponiemi marries vision, intelligence, and passing ability to be a highly effective and dangerous weapon. It is a combination of skills that other players regardless of size have transferred into the NHL with, and have flourished in the league because of.
Will Heponiemi Be Another Successful Undersized Forward?
Speed, vision, and elite passing are three traits that most successful undersized players possess and all three have been demonstrated by Heponiemi. He is a highly intelligent player on the ice with and without the puck. His passing is immaculate and because of this, he is consistently able to set his teammates up.
As the game picks up in speed and size, it remains to be seen how effective Heponiemi will be when he reaches the NHL. A lack of size will always be a factor in his game and nothing is assured in the NHL, especially when smaller players still pose risk. But he has the skill to overcome this hindrance and become a key piece for the Panthers and may become another great undersized forward.
Western New Yorker with a love for the Florida Panthers, NHL, and sport as a whole. I began playing at age three, played up through club in college, and have since coached, refereed, and now am writing. I write opinion and analysis pieces in hopes of Dale Tallon one day calling me up, but until then I will continue following the Cats as avid fan