On the main rink inside of HarborCenter behind one of the goals there's a wall measuring a little over 41 feet wide by 8 feet high. It has painted white cinderblocks on either side. Above it, there's a series of pipes and a giant vent for air conditioning. Up until a week ago, there was nothing special about it. A wall is a wall and it was pretty darn ordinary. But since Thursday, July 5, when the 11 Day Power Play Community Shift began, it's become something extraordinary.
The Wall of Inspiration
The giant wall has been transformed. It's now emblazoned with the navy and powder blue 11 Day Power Play logo and crest, with a ribbon under it stating its name and purpose. It says, 'Wall of Wisdom: Advice from One Shift to Another' and it's basically a giant poster.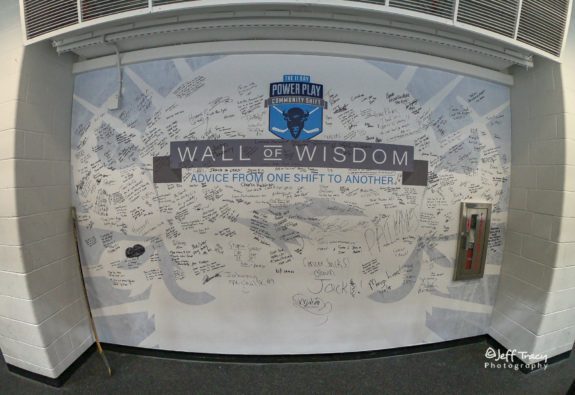 From a distance, the wall looks no different from any other wall in the world. Up close, it's damn inspiring. On it, there are hundreds of messages, all handwritten with a black Sharpie. Some offer hope and encouragement. Others a congratulatory line or two. Still others have used it as an opportunity to remember loved ones with a personal note. There's even a Humboldt Broncos stick that leans up against the wall, in memoriam of the heart-wrenching tragedy that occurred in Saskatchewan in April of this year.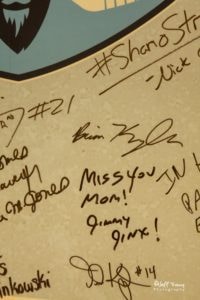 The messages are usually simple and deeply personal. Together, they reinforce the underlying mantra behind this incredible event: that we can, we are, and we will continue to make a difference in the lives of others. It may come in the form of funding research for a cure for cancer, supporting year-round recreational and support activities and experiences for children, adults and families whose lives have been touched by cancer and other life challenges, and/or by granting the wishes of children with life-threatening medical conditions to enrich the human experience with hope, strength and joy.
A Place to Reflect
"One of the things I learned from our 40 players we had last year, when we had our first meeting and had a first go around, a lot of them said, 'I've had to deal with cancer but I've never known what to do to help. I've known people who have died and I've wanted to do something and I've never known an avenue to do that or how I could do it,'" said Amy Lesakowski, one of the event's founders.
The feedback really hit home for Amy. "It was pretty emotional," she stated. "Especially since I was a cancer patient and being on the receiving end of treatment and having my loved ones look at me and watch what I went through. I just kind of thought there needed to be a way for people to heal and the importance of allowing people to reflect."
Hockey is Great Medicine
Hockey players share a special bond. Whether they're playing in Pee Wee or beer leagues, for schools or for professional teams, players often cite the camaraderie of skating together, the lively locker room chatter and just hanging around 'with the guys' at the rink as what they love the most. For those who play the game, it's a club, a fraternity of sorts.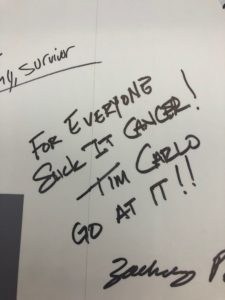 Cancer is relentless. It doesn't discriminate. And it shows no mercy. It cannot be bargained with and it can't be reasoned with. It doesn't feel pity, or remorse, or fear. Those who battle the disease, along with those who form support systems, unite in a similar, if not stronger, dynamic union. Patients, families, friends and medical professionals come together, forming their own powerful bonds. This combined positive energy of hope, determination and love is every bit as important as medical treatment in overcoming the disease.
"People are scared. People are sad. People are grieving. People are feeling guilty," said Lesakowski. "I just wanted to incorporate a place for players to just share whatever they wanted to share."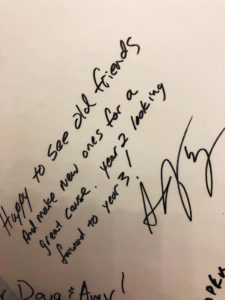 During these 11 glorious days as well as the many pre- and post-game events, these two worlds collide in a big way.
The determination and resolve shared by both hockey players and those fighting cancer create an incredible bond. It transcends all ages, genders and races and it manifests itself in families who show up to cheer on a player at 3 a.m., in signs that are made with crayon and magic marker and taped to the glass surrounding the rink, and in remarkable fundraising efforts like the Pee Wee boys shift that raised an amazing $25,000. Perhaps the best examples are those that are in the form of simple words of encouragement, advice, and thanks, written on that now-special HarborCenter wall.
I have to say that the Wall of Wisdom is my absolute favorite part of the event.   –Amy Lesakowski
"Seeing the emotions come out of that wall and that area is indescribable," Lesakowski said as she searched for words. "And just seeing what's being written by [primarily] men, who often don't share their thoughts… it's not an easy thing for them to do. Just to see them spending time and thinking and wondering what they can share has been really awesome."
Related: A Four-Hour Shift That Lasts Forever
A Life of Its Own
As anyone who has followed the 11 Day Power Play can attest, fighting cancer brings us together in an amazing way. Players, captains, coaches, medical staff, survivors, volunteers, organizers, and sponsors have found a common cause to rally around. The Wall of Wisdom is just another example of that and it's quintessentially Buffalo. The City of Good Neighbors is proudly living up to its nickname.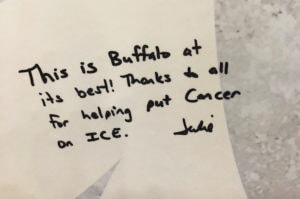 "Mike and I want this to be more than a place for each team to play and get changed and leave–that's typically what happens in hockey. People don't stick around to see what's going on in the next game," said Amy. "This event is so much more than hockey. The [Wall of Wisdom] gives players a place to reflect and hang out while watching the next two teams. It's a place for healing and hope."
At this point, after only the inaugural event and this year's follow-up, it's hard to imagine a year without the 11 Day Power Play. It's been wildly successful; it's united the region and rallied families. It's re-ignited friendships and created new ones. And it's already raised nearly $2.5 million for cancer research and care of those touched by the disease.
It's never too late to get involved. This year, $11 donations can even be made by texting 11day to 71777. There's also merchandise, sweatshirts, t-shirts, baseball hats, pucks, jewellery, that help raise money.
As CB #11 wrote, "To play this game with such great people is an honor. To do it for a great cause and help those we can is what life is about."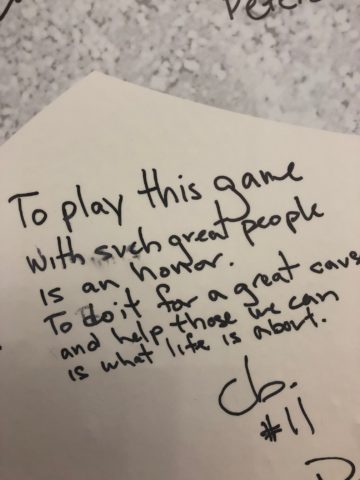 Jeff has been covering the NHL for over a decade for various sites. He's been with The Hockey Writers as a lead Sabres writer three years, while also writing a satire column called "Off the Crossbar."