With the bye week in full swing for the Philadelphia Flyers, I figured now would be a good time to try a fun exercise — putting together a team of only Philadelphia Flyers draft picks. Besides entertainment, this will also give a look at how the team has done in the draft over the last 10 to 15 years.
I've set no parameters for draft years and the only caveats for the players are that they have to be active, whether that's the NHL, AHL or overseas. Undrafted free agents do not count. Perhaps unsurprisingly, the Flyers' draft team is a lot like their 2016-17 roster in terms of position strength.
Flyers' All-Draft Offense
First Line
James van Riemsdyk (1st round, 2007) – Claude Giroux (1st round, 2006) – Jeff Carter (1st round, 2003)
The Flyers' current first-line center will be flanked by two traded former players here. van Riemsdyk, the second overall pick in 2007, has turned into a reliable 20-goal scorer in Toronto — when healthy. Carter is typically a center, but can play wing. He'll serve more of a need playing with Giroux on the top line than farther down the lineup in his natural position.
Second Line
Patrick Sharp (3rd round, 2001) – Sean Couturier (1st round, 2011) – Justin Williams (1st round, 2000)
Sharp was dealt in the worst Flyers trade in the past two decades and Williams was also traded to bring in Danny Markov to help a Stanley Cup run that ended in the Conference Final. Together, they'll give Couturier some offensive production on the second line. Williams and Sharp are both 35, but have scored at nearly a half-point per game this year. They also have the capability of playing a shutdown role.
Third Line
Patrick Maroon (6th round, 2007) – Nick Cousins (3rd round, 2011) – Travis Konecny (1st round, 2015)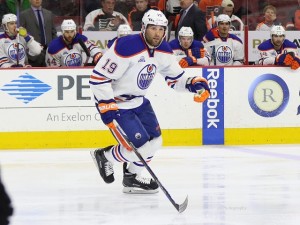 The well is beginning to dry up on offense, but not quite yet. After a few tumultuous years with the Phantoms, Maroon found his game with the Anaheim Ducks. Today, he's superstar Connor McDavid's sidekick in Edmonton and has 25 points in 46 games. Cousins is a popular, but curious, healthy scratch by coach Dave Hakstol often, but would slot in at center on the third line here. If this team was made a year from now, Konecny would probably be on the second line.
Fourth Line & Extra Forward
Michael Chaput (3rd round, 2010) – Mike Richards (1st round, 2003) – Scott Laughton (1st round, 2012) Extra: Taylor Leier (4th round, 2012)
So Richards technically isn't on an active roster, but he is rumored to be looking for a job. He's a solid fourth-line center — gritty and defensive. Chaput, who never played a single game in the Flyers organization, has settled into a fourth-line role with the Vancouver Canucks this year after spending four with the Columbus Blue Jackets. Laughton's NHL experience earns him the last starting spot. Zac Rinaldo could have been the extra skater if experience is the biggest need, but I don't want Rinaldo on any team I'm creating, so Leier takes that spot.
UFA F Mike Richards, who spent 39 games with the #Caps last season, is still hoping to play this year. May look at Europe for options.

— Dhiren Mahiban (@dcmahiban) January 9, 2017
Flyers' All-Draft Defense
First Pairing
Ivan Provorov (1st round, 2015) – Shayne Gostisbehere (3rd round, 2012)
Hakstol doesn't like to pair the rookie and the sophomore together, but if it's a team where the best players play at the top of the lineup, these are the best two defensemen the Flyers have to offer. Provorov has looked nothing like a rookie the past couple of months and Gostisbehere is having somewhat of a sophomore slump, but his advanced stats still remain impressive. However, if a 19-year-old and a 23-year-old are manning the top pairing in a best-draft-picks team, what follows isn't likely to be pretty.
Second Pairing
Luca Sbisa (1st round, 2008) – Dennis Seidenberg (6th Round, 2001)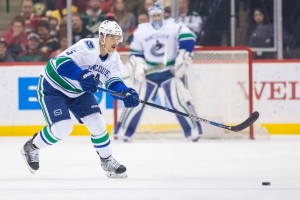 It's a hard drop-off after the first pairing for the Flyers. Sbisa is lamented frequently by Vancouver fans after the Flyers rushed him into the NHL as an 18-year-old. That said, he has 10 points in 46 games this year and much more experience than any other Philadelphia-drafted defenseman besides his blue-line partner in this scenario. Seidenberg is on his last legs with the New York Islanders, with whom he didn't sign until after the World Cup of Hockey in September. He's still reliable defensively, but is better suited for a third-pairing job than a top-four one.
Third Pairing & Extra Defenseman
Sam Morin (1st round, 2013) – Travis Sanheim (1st round, 2014) Extra: Oskars Bartulis (3rd round, 2005)
That's it for NHL defensemen that the Flyers have drafted. Instead it will be Morin and Sanheim, the two defensemen on the Phantoms that appear closest to an NHL gig to take up the last starting spots. Morin, at 6-foot-7, excels defensively at the AHL level, while Sanheim is a speedy puck mover. They're also paired together in Lehigh Valley. Bartulis didn't last in the NHL, but he's a fixture on the Latvian national team and captains Admiral Vladivostok, where he scored 24 points in 52 games last year. Robert Hagg would be the other option here.
Flyers' All-Draft Goalies
Starter: Anthony Stolarz (2nd round, 2012)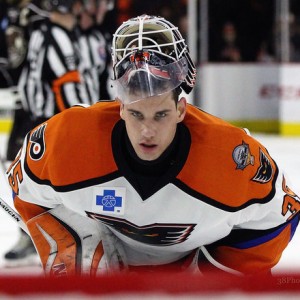 Backup: Jakub Kovar (4th round, 2006) 
Extra: Joacim Eriksson (7th round, 2008)
Three goalies. Three NHL games. That's unsurprisingly the best the Flyers can offer. The position the organization has struggled in the most is the area where it can provide the least. On the bright side, two of those games were wins by Stolarz, who would be the starter.
Kovar never got into an NHL game, but is a solid netminder in the KHL. A .914 save percentage is his lowest in three full seasons in the Russian league. Eriksson played a single game for the Canucks in 2013-14, sporting a .806 save percentage and a 9.99 goals-against-average and now plays in Sweden. One of the Flyers' goalie draft picks over the last couple of years could have taken the last spot. The hope is that over the next few years, they will — and more.