Last week, the Ottawa Senators announced they would buy out the remainder of winger Bobby Ryan's contract, a move that has received its share of criticism. He is now an unrestricted free agent.
Related: Flyers SHowdown – Lindros vs. Clarke
In a recent interview, Ryan mentioned that joining the Philadelphia Flyers was "very high" on his list. He is from Cherry Hill, New Jersey, and grew up a Flyers fan. As he stated to NBC Sports Philadelphia (through the NHL.com website), "Really, the opportunity [to sign with the Flyers] has never presented itself. I'm not sure if it will this time around, but if the Flyers were to make an offer or extend a camp invite, they'd move high on my list because of all the connections. For me, it's one step at a time, just wait to see who makes an offer and go from there."
There are likely those who are not interested in the idea, but the Orange and Black should consider bringing him into the fold.
His Days in Anaheim and Ottawa
Ryan was drafted second overall by the Anaheim Mighty Ducks in 2005. He made a decent early impact, scoring 5 goals and 5 assists in 23 games splitting time between the Ducks and their then-AHL affiliate Portland Pirates.
Ryan quickly became a regular in the NHL and a significant piece of the Ducks' offense. He created havoc alongside teammates Corey Perry, Ryan Getzlaf, and Teemu Selanne among others. After his debut season, he tallied at least 30 goals and over 50 total points in every season he played in Anaheim.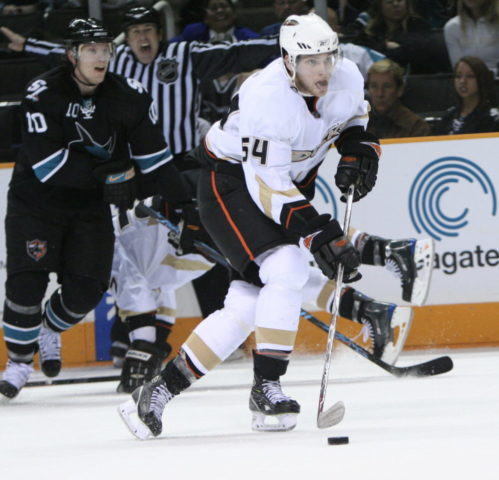 Here are his totals:
2007-08: 5 goals and 5 assists for 10 points in 23 games
2008-09: 31 goals and 26 assists for 57 points in 64 games
2009-10: 35 goals and 29 assists for 64 points in 81 games
2010-11: 34 goals and 37 assists for 71 points in 82 games
2011-12: 31 goals and 26 assists for 57 points in 82 games
2012-13 (lockout-shortened): 11 goals and 19 assists for 30 points in 46 games
Following the 2012-13 campaign, Ryan was traded to the Senators for winger Jakub Silfverberg, Stefan Noesen, and the Senators' 2014 first-round pick. He became the face of the Senators' offense in his first few seasons in Canada's capital. Former general manager Bryan Murray provided Ryan with complementary talent that helped carry the offensive load, including Mark Stone, Kyle Turris, and Mike Hoffman.
Ryan's high point came during the Senators' Stanley Cup run in 2017. In that run, Ryan tallied 6 goals and 9 assists in 19 games. The only Senator with more points was defenseman Erik Karlsson (18 points in 19 games). The Sens battled their way to the Eastern Conference Final where they pushed the Pittsburgh Penguins to overtime in Game 7. Unfortunately, the Penguins won, and the Senators took a dive after that.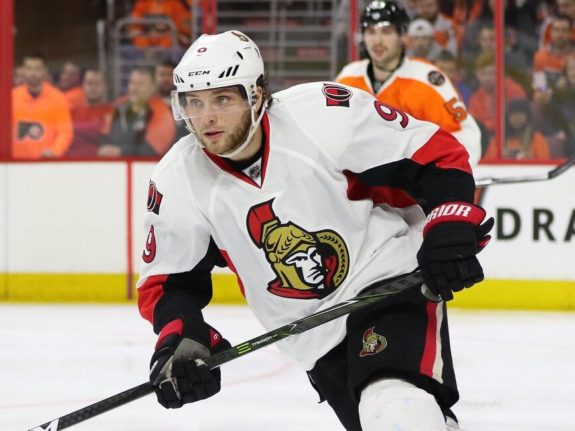 Fast forward to this past season, and Ryan's offense has fallen. The 33-year-old is not the force he once was.
In November, however, news surfaced that Ryan had entered the NHL's assistance program and his personal struggles likely impacted not only his life but also his game. But, he took care of himself and was able to return. He was named the 2020 Bill Masterton Memorial Trophy winner, awarded for player's dedication and perseverance to hockey. I think Ryan will have an offensive comeback in his first full season back since graduating from that program.
Teams have shown interest since he became a UFA, and there is speculation based on Ryan's comments that he could become a Flyer.
What He Can Bring to Philly
Some may be against signing Ryan, but I think it could be the right move for the right price. I think the reason fans do not want Ryan is because they do not think he can put up enough offensive numbers to make an impact on the squad, but I think he can thrive with Philadelphia.
One of the biggest issues with Ryan was his contract. I think fans wanted to avoid trying to acquire Ryan in the past because of his latest deal. It was an albatross of a contract that other teams would've had to deal with at $7.25 million per season. There were two years left on the contract as well. Without that burden now though, teams will be more willing to sign him on a cheaper deal, especially given the flat salary cap next season.
I imagine he probably could get signed on a one-year deal worth about $3 million. Philadelphia could use the contract as a prove-it deal that could eventually lead to an extension. They might have to make a decision on bringing their own free agents back in order to be under the maximum cap though. The Flyers have a little over $6 million in cap space. Bringing in Ryan means someone else doesn't return, such as Justin Braun on the backend or winger Tyler Pitlick, who Ryan would probably be replacing in the lineup. General manager Chuck Fletcher will have to make those calls.
The Flyers have a solid leadership core led by captain Claude Giroux and Kevin Hayes among others. Adding another veteran like Ryan who has dominated in the past could be beneficial for the team's younger players.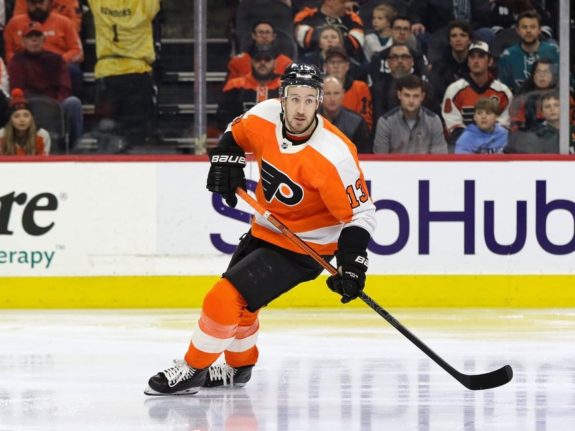 Ryan should be admired for his willingness and dedication to overcoming his personal obstacles and could serve as a mentor for the young Flyers given his work ethic and determination.
Ryan can also be a solid move for the right role as well. Ryan is past the years of being the face of a franchise, and being a consistent 30-plus goal scorer. I think his offensive production will improve, but I don't think he would be more than a consistent 20-goal scorer. His regular-season stats as a Senator are below:
2013-14: 23 goals and 25 assists for 48 points in 70 games
2014-15: 18 goals and 36 assists for 54 points in 78 games
2015-16: 22 goals and 34 assists for 56 points in 81 games
2016-17: 13 goals and 12 assists for 25 points in 62 games
2017-18: 11 goals and 22 assists for 33 points in 62 games
2018-19: 15 goals and 27 assists for 42 points in 78 games
2019-20: 5 goals and 3 assists for 8 points in 24 games
That being said, Ryan does not need to be one of the top forwards in Philadelphia. He could play a lesser role with the club, and still have a significant impact scoring around 20 goals a season. Other key talents on the Flyers like Travis Konecny, Oskar Lindblom, and Sean Couturier can handle more of the offensive workload for him, while Ryan can focus on playing his own game.
Related: Flyers' Best Defensemen of All-Time
I think he should be a welcomed addition. The Flyers do not have to deal with that Ottawa contract he had before, he has offensive production still in the tank and could possibly notch some more goals than he has in recent history, and he can be a nice addition within that locker room as well.
---
---
I have been a hockey fan for most of my life, and have played the game myself for more than six years. I graduated from the State University of New York at Oswego in 2018, with a bachelor's in Broadcasting & Mass Communication. Previous positions held include being a Sports Analyst for Oswego's student-run TV station, WTOP-10; News/Sports Intern for WIVB-TV Channel 4; and Sports Beat Writer Intern for Pro Player Insiders.