Ask any NHL fan some of the historic traits of the Philadelphia Flyers and two of the top answers will be toughness – on the border of goonery – and a lack of goaltending. However, the 2016-17 Flyers aren't showing the latter trait with Steve Mason and Michal Neuvirth in net.
For the first time in a long time, the Flyers have one of the top goaltending duos in the league. Steve Mason has been the starter since he arrived in Philadelphia in 2013, while Michael Nuevirth offered the former Blue Jacket some competition last year for the starting spot.
---
Complete Flyers Coverage From THW
---
But around the league, some teams aren't in such an envious position as the Flyers, most notably the Los Angeles Kings who are suffering without Jonathan Quick. Other clubs like the Dallas Stars and Arizona Coyotes could be looking for improvements in net also.
With two goalies whose contracts end at the end of the year, and most likely the ability to only keep one, rumors are beginning to swirl that the Flyers would be interested in moving a goalie.
There are some positives to moving a goalie, but going that rout would be a terrible idea for a team that has finally found some structure in net during a playoff-expectant season.
Reasons To Trade
On paper, there are several solid reasons for trading one of Mason or Neuvirth. As stated earlier, only one is likely to be back next year.
The pair makes an affordable $5.725 million a year this season. When both contracts end in June, it's reasonable that Mason could make just that on his own. Neuvirth also deserves a raise on his $1.625 million salary.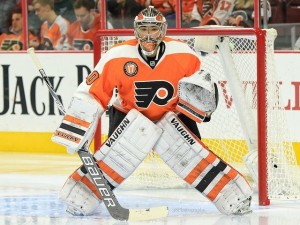 In the system, prospect Anthony Stolarz should be ready for the NHL after completing a third year in the AHL. He'd be a perfect backup, with starter potential, for a couple of years and much cheaper than Neuvirth or Mason.
On the West Coast, the Kings don't have the prospect depth that the Flyers have — or any depth after Quick's injury. Jeff Zatkoff was the starter until he was injured over the weekend. Peter Budaj, who hadn't played an NHL game since the 2013-14 season, is now in net with Jack Campbell backing him up.
Zatkoff should only miss a week, but Quick could be gone for up to three months. With Stanley Cup expectations, the Kings could be a very desperate team. Offering a second-round pick for Neuvirth may not be out of the question. For Mason, it would be an even larger offering.
So if the Flyers are going to lose one of their netminders in eight months for nothing, why not trade one of them now for a high draft pick?
Reasons Not To Trade
Flyers general manager Ron Hextall has built the team with an eye to the future by stockpiling draft picks and keeping prospects in development leagues. Despite that, there are expectations for the Flyers this season.
Missing the playoffs in 2017, after making it ahead of schedule last year, will be a step back in most fan's eyes — especially after adding some of those prospects in Ivan Provorov and Travis Konecny.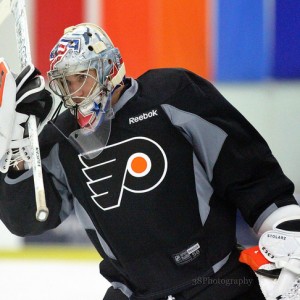 Mason and Neuvirth are in Philly to make sure that doesn't happen. Goaltending is one of the team's strengths during a forward-moving season. Selling it off for help down the road doesn't make sense right now.
Plus, one injury could put the Flyers right where the Kings are. Stolarz isn't ready for NHL back-up duty, let alone an NHL-starter workload.
While that doesn't sound all-too-likely, it happened to the Montreal Canadiens last year and both Mason and Neuvirth missed plenty of games last season due to injury. The pair also go through individual hot and cold streaks, which makes it comforting when there's a capable starter on the bench.
The 2016-17 season marks the end of the Flyers' retooling and the beginning of their contending days. Trading Mason or Neuvirth only puts a delay on that.