The Philadelphia Flyers recently made their first free agency move, signing defenseman Derrick Pouliot to a one-year contract. The 26-year-old has already played in over 200 games in his young career, and looks to become a significant addition to the blueline for the organization.
Related: Hockey History – The NHL 'Second Six'
Many Flyers fans will remember Pouliot from his days with the Pittsburgh Penguins, but there are some who may not know his entire story. This is his journey through the NHL.
Steel City Start
Pouliot played his junior career with the Portland Winterhawks of the Western Hockey League (WHL). He was a solid piece to the puzzle there alongside other future NHL talents in Ryan Johansen, Nino Niederreiter, Sven Baertschi, and Seth Jones, among others.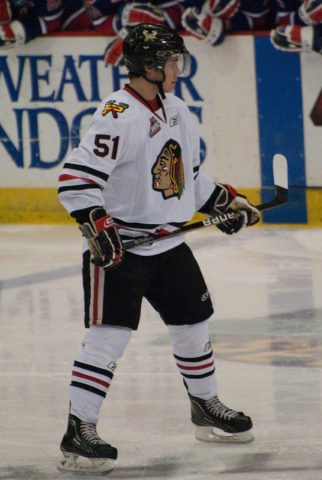 Pouliot put up quality production for the Winterhawks, earning honors such as CHL Defenseman of the Year in 2014. His regular-season stats with Portland are below:
2010-11: 5 goals and 25 assists for 30 points in 66 games
2011-12: 11 goals and 48 assists for 59 points in 72 games
2012-13: 9 goals and 36 assists for 45 points in 44 games
2013-14: 17 goals and 53 assists for 70 points in 58 games
Despite being a defenseman, Pouliot also found ways to be a consistent scoring contributor. This helped the Winterhawks make the postseason four straight times (2010-11 until 2013-14). He was also a force in the playoffs, accruing 73 points in 85 total games (13 goals and 60 assists) during that four-season span.
During the 2012 NHL Draft, the Penguins selected Pouliot in the first round (eighth overall). Pittsburgh made a trade in order to acquire this pick, sending center Jordan Staal to the Carolina Hurricanes for the eighth pick, center Brandon Sutter, and defenseman Brian Dumoulin.
The Penguins were a deep roster to crack into, with other defensemen taking charge on their blue line in Kris Letang, Paul Martin, and Christian Ehrhoff, among others, expected to hold down the fort in the 2014-15 season. Pouliot, after maturing his game more in the WHL, was able to land himself a spot on Pittsburgh. He posted 2 goals and 5 assists for 7 points in 34 games.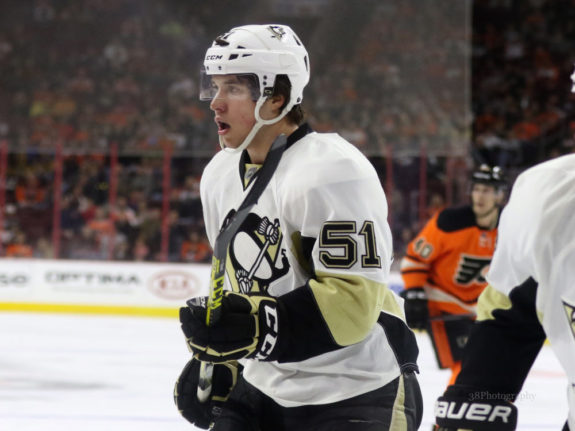 While he was able to put up offensive numbers for Portland, Pouliot's role on the Penguins became less about the production and more centrally focused on the defensive side. He notched the following for the Steel City:
2014-15: 2 goals and 5 assists for 7 points in 34 games
2015-16: 7 assists in 22 games
2016-17: 0 points in 11 games
In total, he racked up 14 points for the Penguins (2 goals and 12 assists).
Stops in British Columbia and St. Louis
Pouliot's time in Pittsburgh came to an end in late 2017. He was dealt to the Vancouver Canucks for defenseman Andrey Pedan and a fourth-round pick in 2018. He was surrounded by skilled players when he got there in the Sedin Twins, Brock Boeser, Bo Horvat, and former Winterhawks teammate Baertschi. He had stellar defensemen to help guide him as well in Alex Edler, Michael Del Zotto, Chris Tanev, and Troy Stecher.
The results were immediate. Pouliot had his best statistical campaign in 2017-18 when he tallied 3 goals and 19 assists for 22 points in 71 games. He followed that up with a stellar 2018-19 season, notching 12 points (3 goals and 9 assists) in 62 contests. He was having better offensive chemistry in Vancouver than he was in Pittsburgh.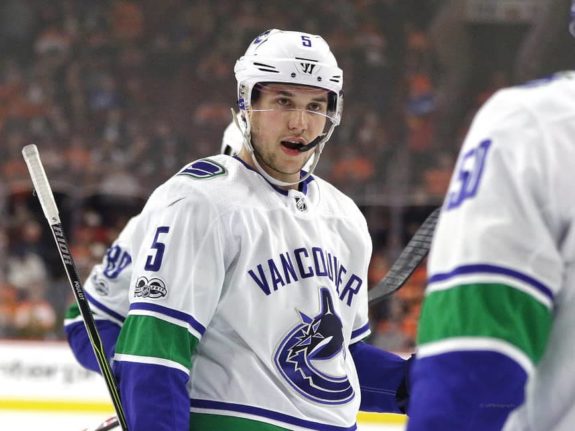 Despite the offensive growth, the Canucks let Pouliot hit free agency by not extending him a qualifying offer to stay with the club. He was then inked to a contract by the St. Louis Blues in the summer of 2019. He played in two games for them, going pointless while spending the majority of the 2019-20 season with their AHL affiliate San Antonio Rampage.
With the Rampage, Pouliot chalked up 7 goals and assisted on 32 others for 39 points in 58 contests.
New Chapter Lies Ahead
Pouliot has his next opportunity to make a difference for an NHL organization. He will have some hard work ahead in order to crack the lineup in Philadelphia. Already in the blueline arsenal for the Flyers from last season include Justin Braun (who re-signed with the club earlier in the offseason), Shayne Gostisbehere, Robert Hagg, Samuel Morin, Philippe Myers, Ivan Provorov, and Travis Sanheim.
Related: Philadelphia Flyers' Forgotten Ones
Philly also signed Erik Gustafsson in free agency, while Mark Friedman will try to snag a more prominent role on the team. Matt Niskanen will not return to the Orange and Black because he announced his retirement.
Pouliot has been back and forth between the NHL and AHL as a depth defenseman throughout his entire career so far. Vancouver was the only franchise he had a permanent spot with in the NHL for the couple seasons he was there.
He will have some legitimate competition in order to play for the Flyers, but he will do everything he can to take advantage of this next hockey opportunity. We will see how he does once the season begins.
---
---