James van Riemsdyk and Justin Braun, pending unrestricted free agents (UFAs) who seemed the most likely to be moved at the trade deadline, are still members of the Philadelphia Flyers organization. Players with term on their deals whose names surfaced in rumors were Kevin Hayes and Ivan Provorov, and they could have provided a bigger return. Joel Farabee, who has not played well this season, unexpectedly appeared in trade rumors after head coach John Tortorella gave him less than four minutes of ice time on Feb. 20 versus the Calgary Flames.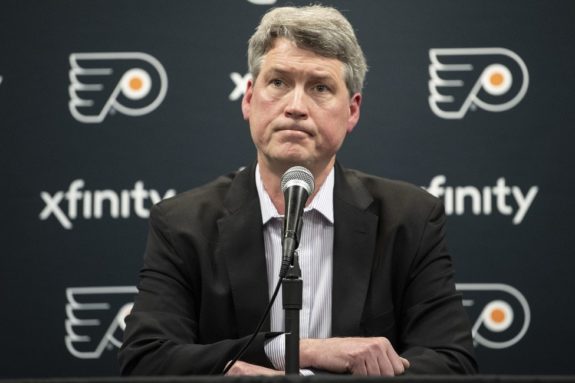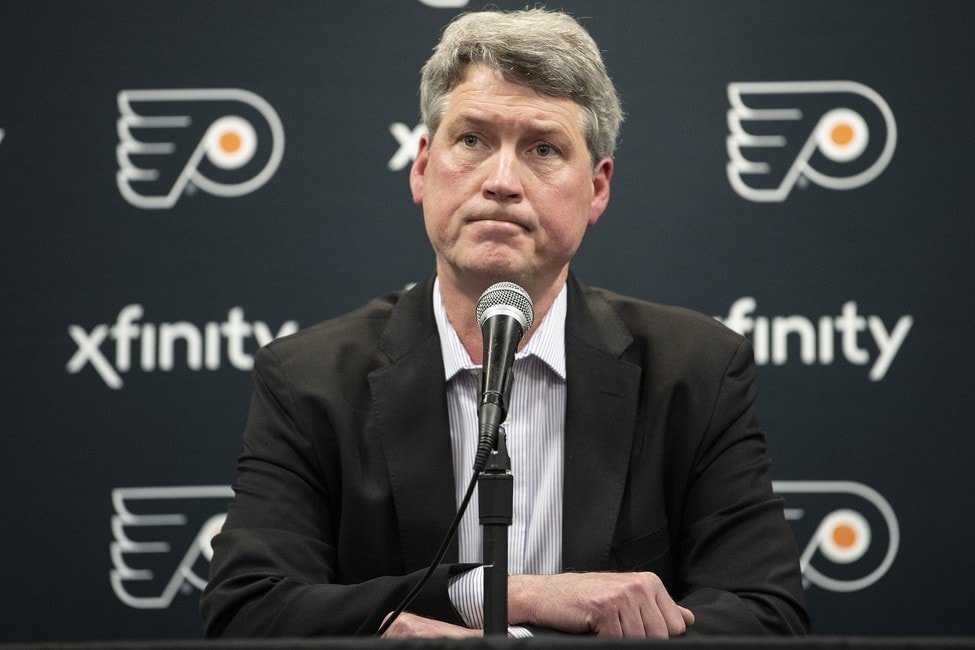 However, Farabee was unlikely to be moved, considering his age and that he appears to be a part of the team's youth movement. The only moves general manager (GM) Chuck Fletcher executed by the deadline were trading away Zack MacEwen to the Los Angeles Kings for Brendan Lemieux and a fifth-round draft pick in the 2024 NHL Draft and moving Patrick Brown to the Ottawa Senators for a 2023 sixth-round draft selection. Many thought more players to be moved who are not expected to be part of the roster reconstruction, but the front office continues to bewilder their fan base with their decisions. Here's a look at why the trade deadline was a flop for Fletcher.
van Riemsdyk Remains With the Flyers
Multiple teams were rumored to be interested in trading for van Riemsdyk. He was not as coveted as Patrick Kane, Bo Horvat, or Ryan O'Reilly and was unlikely to generate a return other than a third-round draft pick. However, he will head for free agency this summer. His cap hit of $7 million would still be challenging for many clubs with limited cap space to take on.
The Flyers and Detroit Red Wings were in talks to make a deal involving him shortly before the deadline, but that didn't happen. Jordan Hall of NBC Sports Philadelphia questioned the Flyers' deadline strategy and whether they could have moved him before March 3, and Fletcher explained why he remained with the club past the deadline:

"I told teams absolutely I would take a player on an expiring deal. I would take a one-way contract in the minors. I could help on the cash," Fletcher said. "I was not interested in taking a player with term unless that player could help us going forward. We tried to be as accommodating as possible. Yesterday, for example, I received two calls – one on JVR, one on another player. And I made 17. I just counted my log. We actively did our best to get an asset and to give JVR the opportunity to play in the playoffs. It didn't happen."
Neither Hayes nor Provorov Was Traded
Hayes also came up in trade rumors in February. He is having a good season, as he will set a new career high in assists and may do the same in goals. Tortorella has used him on the wing rather than at center for most of the season, and he may wish to go to a team that will use him in his natural position. His future with the franchise is in question as the Columbus Blue Jackets are rumored to have an interest in acquiring him this offseason. Unlike van Riemsdyk, he will remain under contract for three more seasons after this one, so he could still be moved this offseason.
Related: 3 Playoff Contenders That Could Trade for Flyers' Ivan Provorov
---
Latest News & Highlights
---
Provorov, the Flyers' first-round pick in the 2015 NHL Draft, has not been the consistent cornerstone defenseman the team envisioned. Despite his struggles, he has term on his contract, and Fletcher wanted a significant haul for him, but clubs pursued other defensive players instead. Provorov might be able to fulfill his potential with a better club. He needs a suitable defensive partner, but the Flyers have been unable to give him one since Matt Niskanen retired following the 2019-20 season. Fletcher thought he found a replacement in Ryan Ellis. Tortorella has put Tony DeAngelo and Cam York with Provorov this season, but it has not worked out as well as it did with Niskanen. The 26-year-old defenseman is another candidate to be moved this summer.


The fanbase has reached its breaking point with the front office. Players that were expected to be moved, notably van Riemsdyk and Braun, remain on the roster. At this point, they need to hire a new GM, someone who can properly orchestrate a rebuild. Fletcher and Flyers governor, Dave Scott, have failed to provide a transparent path for the organization. They have insisted on retooling the roster rather than rebuilding. Tortorella is committed to what needs to be done, unlike the GM, whose minor moves at the trade deadline were not good enough to help the rebuilding process.
Grade: F
---
---