It's time to get used to the new Toronto Maple Leafs. This past season we watched as the Leafs traded away core players in Dion Phaneuf, Phil Kessel, James Reimer, and many others to end up with a grand total of twelve draft picks. The Leafs quickly sunk to the bottom of the NHL and stayed there, which wasn't a surprise to anyone.
By the end of the season most fans had accepted that the Leafs would be mostly building through the draft and it would take at least another two to three seasons until those picks make the NHL. With the acquisition of goalie Frederik Andersen from the Anaheim Ducks it shows that the Leafs intend to do a proper rebuild through the draft while taking every opportunity to better the team as quickly as possible.
Rebuilds Don't Have to Be Slow
Acquiring Frederik Andersen for Pittsburgh's 1st round pick (30th) and a 2017 2nd round pick doesn't mean that Leafs' management has suddenly decided to rush the rebuild. All along they have said that they are going to rebuild through the draft and it usually takes a while, but they also plan to make trades and sign players that fit into their plan for the Leafs future.
During an interview on Sportsnets's Tim & Sid show Brendan Shanahan reiterated the need to focus on more than just drafting during a rebuild. "I think that if you're going to be successful you have to be very good at the draft; it has to sort of be your backbone. But you just don't do this one way. You have to make good trades, you have to sign free agents, you have to do this in every way. And doing one or the other is not going to compromise, I can promise you, what we see as a long-term vision".
If there is a way to improve the team and it doesn't cost major parts of the rebuild (ie. top prospects and top 10 draft picks), then it's an opportunity the Leafs need to take advantage of every time. With Andersen the Leafs have acquired a proven number one goalie at the cost of a late 1st round pick this year and a 2nd round pick next year — there has been no confirmation of which 2nd round pick the Leafs traded.
Andersen is also 26 years old, which puts him into the same age group as the rest of the Leafs core with Nazem Kadri, James van Riemsdyk, and Jake Gardiner. Trading those draft picks won't hurt the rebuild in the long run considering the Leafs already have a bunch of great young players in Morgan Rielly, William Nylander, Mitch Marner, and the 1st overall draft pick this year.
Those two draft picks would take a few seasons, at the very least, to both make the NHL and then be able to make an impactful difference for the Leafs. The Leafs no longer have to take a risk with Jonathan Bernier next season or have to wait for a drafted goalie to make the NHL. Now with Andersen he immediately improves one of the weakest aspects of the Leafs, which is goaltending, and he is part of the team for the next five years.
Frederik Andersen Isn't Like past Leafs' Goalies
Goaltending has been the biggest issue for the Leafs since the days of Curtis Joseph and Ed Belfour. Since then it's been a rotating group of goalies coming to the Leafs with a mountain of promise and leaving in disgrace with their NHL careers ending shortly after. Hopefully Frederik Andersen can be the answer Leafs' fans have waited for all this time.
Management seems confident that they've found their man since they signed Andersen to a five-year contract. Now many are hesitant about this deal since it's reminiscent of when the Leafs traded for Vesa Toskala and Jonathan Bernier. Both of those goalies were expected to be the answer to the Leafs problems in net, but ended up failing to live up to expectations.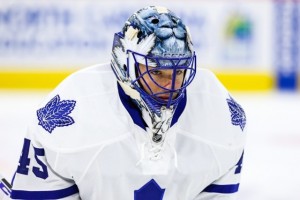 The difference between those two goalies and Andersen is that Andersen has proven himself for two seasons as the Ducks' starting goalie with 125 regular season games played and 28 playoff games. Toskala played 115 regular seasons games and 11 playoff games as San Jose's backup goalie, which was spread out over five seasons. Bernier played just 62 regular season games and 1 playoff game with the Los Angeles Kings as the backup before coming to the Leafs, which was also spread out over five seasons. Both Bernier and Toskala were never starters for their teams while Andersen has been the Ducks' starting goalie in two of his three total NHL seasons.
The difference between Frederik Andersen and every other goalie the Leafs have had the past decade is that Andersen has played consistently and has proven himself in a starting role. That gives me confidence that Andersen will be a solid goaltender for the Leafs and help make goaltending a strength for the team and no longer a weakness.
The New Toronto Maple Leafs
The Leafs have already become a better team than they were this past season just by adding Frederik Andersen. By having consistently solid goaltending it should help push the Leafs out of the bottom of the NHL standings, and that is without considering how the Leafs will look after the draft and after free agency. With the Leafs problems in net solved by bringing in Andersen it allows the Leafs to focus on their other major weakness in defense.
This upcoming season will show off a new Toronto Maple Leafs. In both look, with a new logo and jersey, and a whole new roster of players. There will be many more changes to come for the Leafs this offseason, but the most significant is a new starting goalie which often signifies the start to a new era of hockey in Toronto.