The Vegas Golden Knights have advanced to the Western Conference Final for the second time in three years. Although they lost Game 1 to the Dallas Stars, the Golden Knights have shown tremendous skill both offensively and defensively throughout the playoffs. So, what better way is there to highlight these players than by presenting them with some mid-playoff awards? The categories being presented are best defensive forward, best defensive defenseman, biggest breakout player, and most valuable player.
Best Defensive Forward
This award is basically the Selke without the proper title. For the Golden Knights, their collective defensive effort has been one of the reasons for their success. As a team, they have one of the lowest shots against averages throughout the playoffs. The player that will receive this award is Mark Stone. Nominated for the Selke last season, Stone has continued to show his defensive skillset during the 2020 Stanley Cup Playoffs.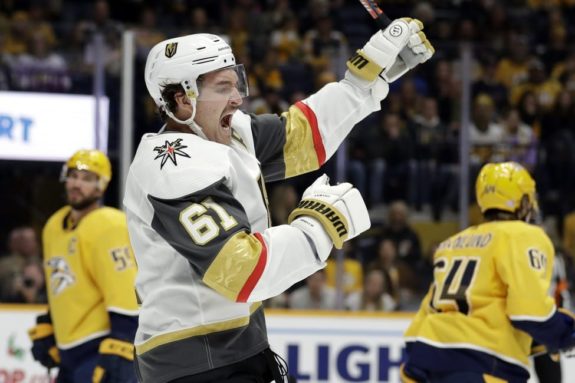 Stone's success on defense has allowed the first-line winger to set a new career-high in playoff points. He currently has 15 points in 16 games which is good for second in points on the Golden Knights. Stone is also second among forwards in time on ice at 18:20 per game.
Best Defensive Defenseman
This award is unlike the Norris Trophy because it solely looks at which defenseman has been the best in their own zone – it does not take into account what the player does offensively. So, with that being said, the winner of this award is Zach Whitecloud. In the 16 games he has played this postseason, he has 40 hits, 36 blocked shots and carries a plus-one rating. This is an impressive stat line considering Whitecloud was signed as an undrafted free agent by the club in 2018.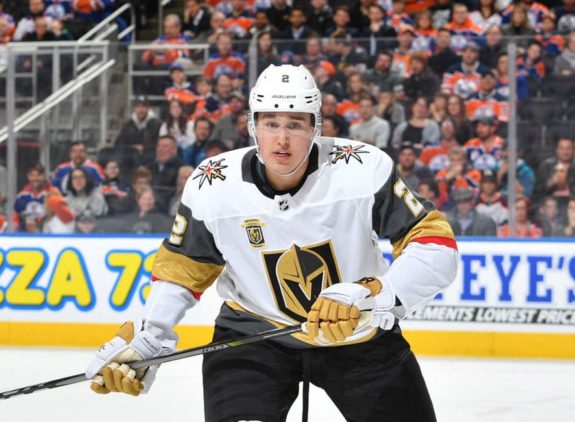 Whitecloud's numbers while short-handed are ultimately what won him this award. So far, on the penalty kill, Whitecloud has been on the ice for 57 minutes. During this time, the 23-year-old defenseman has only seen four goals against. Considering Vegas' penalty kill struggles prior to the playoffs, Whitecloud's presence while short-handed has boosted Vegas' chances of killing a penalty. 
Biggest Breakout Player
The breakout player award goes to the individual who has been the biggest surprise during the playoffs. This award goes to Alex Tuch. He missed most of the regular season with a leg injury, but Tuch was able to return to the lineup due to the COVID-19 pause. He is currently playing on the third line for the Golden Knights, but his production has been that of a top-six player. Tuch leads Vegas in goals with eight, three of them being game-winners.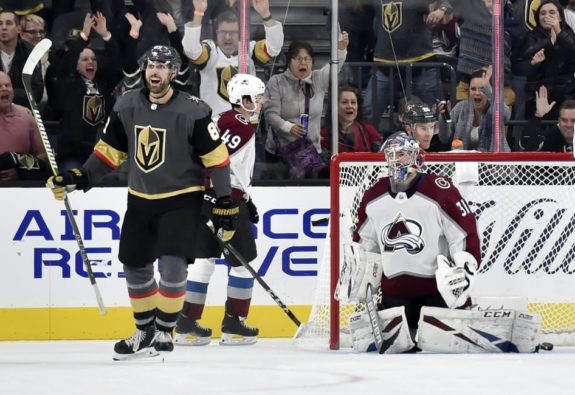 In addition to his scoring touch, Tuch has been a factor on the forecheck. His combination of size and speed makes it hard for opposing teams to make quick decisions when he is pressuring them. During the playoffs, Tuch has 37 hits and 8 blocked shots. His presence is being felt on both ends of the ice. If Tuch were to continue this level of play, he could be a dark-horse for the Conn Smythe if Vegas were to make it to the Cup Final.
Most Valuable Player
The Golden Knights have their fair share of standout players in the playoffs. Players such as Robin Lehner, Reilly Smith and Jonathan Marchessault have all played exceptional hockey during the Golden Knights' quest for the Cup. However, one player has been operating at a full level higher than everyone else – Shea Theodore, who has truly emerged as Vegas' No. 1 defenseman during the playoffs. He currently leads the team in points, assists, and power-play goals. He also ranks second in goals, time on ice and plus/minus rating.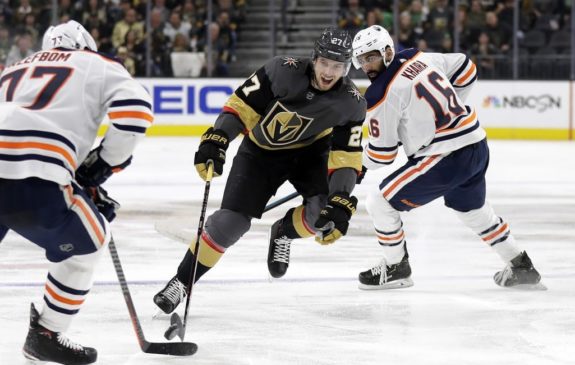 Theodore has seemed to put the team on his back and is playing some inspired hockey with 24 blocks and has a plus-five rating. Theodore is also doing the small things right during the playoffs. For example, 56.4 percent of his shots make their way to the net. By getting more than half of his shots on net, it allows his teammates the opportunity to score off rebounds and create chances.
Related: Ranking NHL Teams By Defensemen
He also has 13 takeaways and is showing that he is more than just an offensive defenseman. If Vegas were to win the Stanley Cup this year, Shea Theodore would be one of the main reasons why. As of right now, he is one of the best players still playing in the entire playoffs and has the chance to win the Conn Smythe if he continues his level of play.
---
---
I am a former Jr. A hockey player that is currently attending school at San Diego State University. At SDSU, I study Journalism and Public Relations while also playing on the school's rugby team. Hockey has been a big part of my life, as I have been playing since I was three years old. Other than hockey, I enjoy watching and playing all kinds of sports.