The Vegas Golden Knights' regular season demonstrated the club's balance and the effectiveness of the system implemented by head coach Bruce Cassidy. Their triumphant first round series against the Winnipeg Jets offered a reminder that the big-money stars up front are pretty good, too. In their second round series against Connor McDavid and the Edmonton Oilers, both of those things will need to be true.
Against the high-octane Oilers, Vegas' trademark system-minded discipline will be crucial, but continued strong play from their own formidable group of talent up front certainly wouldn't hurt either. It's no surprise that the line of McDavid, Leon Draisaitl and Evander Kane lit up the Los Angeles Kings to the tune of 25 points (13 goals, 12 assists), but it should also be noted that the Golden Knights' trio of Mark Stone, Chandler Stephenson and Brett Howden delivered 20 points of their own (nine goals, 11 assists) in one game fewer.

In fact, several forward standouts could loom large for Vegas heading into the second round. Stone spent the first round demonstrating his miraculous recovery post-back surgery, Jack Eichel fit right in during his first taste of NHL postseason hockey and Stephenson carried over his stellar regular season play. All four men, plus red-hot goaltender Laurent Brossoit (.915 save percentage, 2.42 goals-against average), could go a long way in matching Edmonton's star power.
While their names might not have the same level of cache as McDavid and Draisaitl, let's take a look at some of the Golden Knights' big guns and how they have stood out ahead of the franchise's first-ever playoff showdown with the Pacific Division rival Oilers.
Mark Stone
By the time Stone hit the ice for his return to the lineup in Game 1 of the club's first round series victory over Winnipeg, it had been just under 100 days since he had last seen game action – and it showed. The 30-year-old winger had no points and finished with a minus-3 in a 5-1 defeat on home ice. From there, however, the rust came off pretty quickly.
Game 2 saw Stone record two goals and an assist – all in the third period – as the Vegas captain served as the main driving force behind taking a game deadlocked at two and injecting a shot of momentum into the club as they ran away with a 5-2 victory. In the clinching Game 5, he potted the eventual game-winner and assisted on two other goals as part of a 4-1 win. All told, he notched three goals and five assists in five games, matching the eight-point total he managed in 19 games during the 2021 Postseason.
---
Latest News & Highlights
---
Stone will now be tasked with serving as one of McDavid's foremost shadows. While he doesn't have the speed to keep up with the Oilers superstar, his reach and elite stick work offer an imposing, disruptive threat to the attack-minded McDavid. And if he can keep rolling on the offensive end, then all the better.
Jack Eichel
Eichel had 476 regular season games to get himself ready for a taste of NHL playoff action, so it's no surprise he's been guns-a-blazing since the league's second season got underway. The club's leading regular season scorer notched 66 points in 67 games this year and has carried that production into the playoffs, producing at the same point-per-game clip.
Most notably, Eichel was the best player on the ice during Vegas' 5-4 thrilling Game 4 double overtime win. Although Michael Amadio delivered the sudden death heroics, it was Eichel who produced two goals and an assist while averaging 24:44 of ice time, the second-most of any Golden Knights forward (behind Stephenson's 27:32). The former Buffalo Sabres' heroics prompted the club's Twitter account to do a little cheeky trolling of his former club.
Now, he moves on to a playoff showdown between the top two picks of the 2015 NHL Entry Draft. For as good a career as Eichel has had, there's simply no comparing the production of him and McDavid to date in the NHL. Still, if Vegas' No. 1 center can match at least some of the production of the league's leading scorer and probably Hart Trophy winner, that would represent a significant neutralizer.
Chandler Stephenson
The Golden Knights' 2019 trade of a fifth-round pick for Stephenson continues to climb the ranks of the club's all-time best acquisitions as the former Washington Capital keeps producing regardless of circumstances or linemates. With eight points (four goals, four assists) through five games in Round 1, the All-Star forward has followed up coming one point shy of the regular season team scoring lead by sharing the lead through one playoff round.
Against the Jets, Stephenson's speed put all kinds of pressure on a thin blue line missing Josh Morrissey. After going scoreless in the disastrous Game 1, he recorded multi-point efforts in each of the remaining four games. Some goal regression is likely given the 29-year-old's obscene 50% shooting percentage in the Winnipeg series.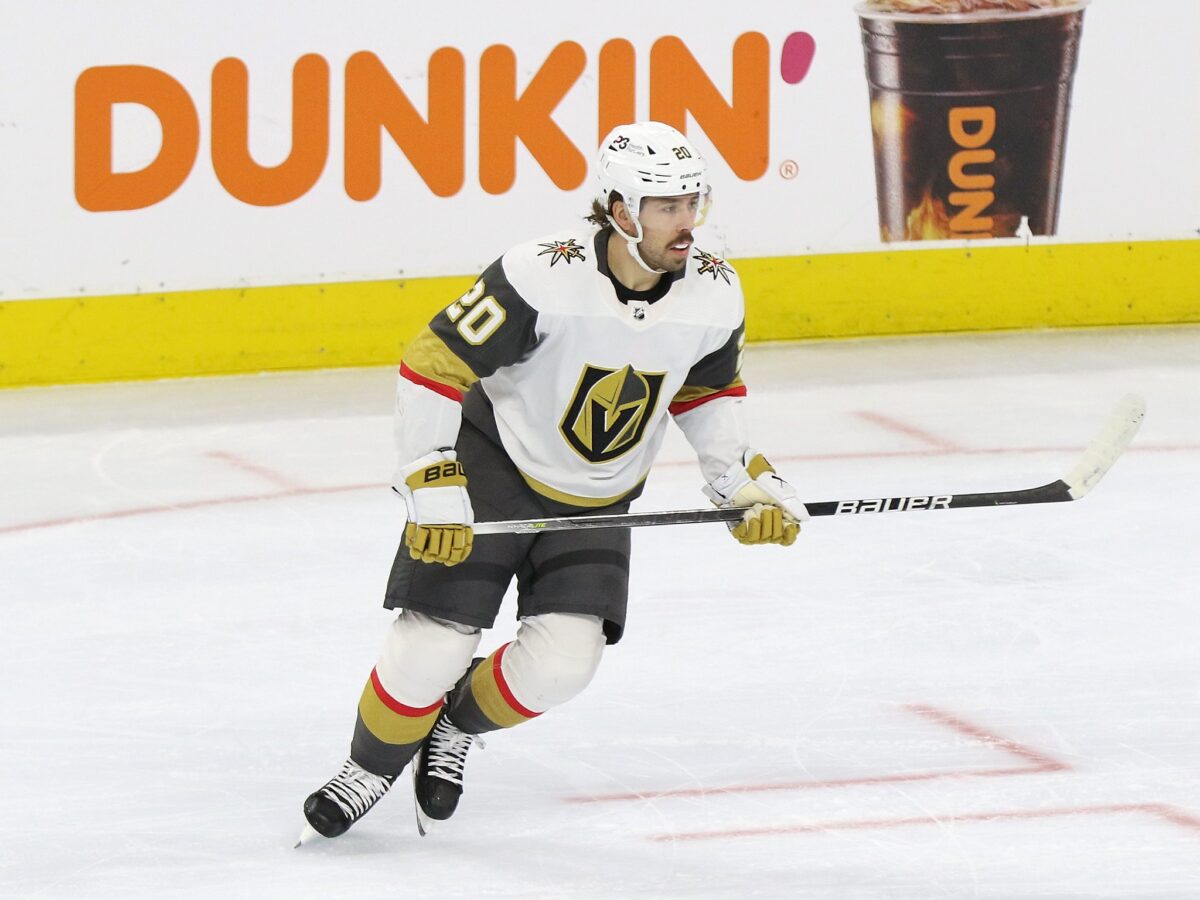 That being said, Stephenson still has many ways in which he can affect a game and serve as a dangerous threat against another questionable blue line (this time with shakier netminding behind it).
You Might Also Like
Laurent Brossoit
Speaking of the goaltending, Brossoit has taken the unlikely path from afterthought to suddenly establishing himself as a trusted presence between the pipes when the games matter the most. The pending free agent wasn't always busy in the crease (he faced just 30.6 shots per game in the first round, many of which were low-percentage opportunities), but he made some timely saves and locked the Jets down after a shaky Game 1, all the while outshining former teammate Connor Hellebuyck.
Against a more dynamic Edmonton team that isn't plagued with Winnipeg's lengthy injury list, the task for Brossoit certainly gets harder. But the 30-year-old's confidence seems to be at an all-time high, and he suddenly stands as more of a sure thing than the goaltender occupying the opposing net, whether that ends up being Stuart Skinner or Jack Campbell.
Highlighting these four contributors ignores some excellent first round performances from a host of players, to say nothing of the imposing blue line that lived up to its reputation, even with an injury to Brayden McNabb. However, against a team anchored by two of the biggest point producers in the sport up front, it's only fair to focus on Vegas' own top-tier talent and some of the key figures who will decide their second round series.