HERSHEY – The Albany Devils (23-11-3-3) have been one of the best American Hockey League teams at shutting down opponents when they have a lead. But even with a 3-1 advantage heading into the third period, the Hershey Bears (19-14-3-3) forged ahead, coming away with a 4-3 shootout victory over New Jersey's AHL affiliate.
"We believe that we can win every game now," Hershey Bears coach Mike Haviland admitted after the game. "You see it out there. I thought the first period we were really good, the first eight minutes of that second period we were really good again. They just believe they can win every game and they just don't give up."
Hershey defenseman David Kolomatis, who was scratched for a recent short stretch of games, knotted the game at three apiece with 3:04 remaining in the third period, after Ryan Potulny brought the Bears to a 3-2 deficit 10:49 into the frame on his first goal of the season and 300th career AHL point.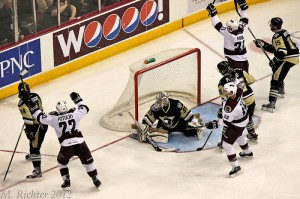 "I forgot about that until (Nate) Schmidt told me," Potulny said of reaching the milestone. "Hopefully there's more to come, but it feels good."
"It was huge," said Haviland of Potulny's goal which starter the Bears' comeback effort. "I think it's gonna give him confidence. He's getting himself in shape. It's a tough thing to comeback and sit out, I think he's starting to come now. Potsy and I had a really good talk after the game last night man-to-man."
"I got a lot of respect for him. He really wants to play, he wants to show what he's got. I'm really happy that he got that goal tonight obviously for the team, but for himself too. We have guys that can put up points and that's a good feeling."
Hershey picked up their sixth consecutive win at Giant Center, improving to 13-6-1-3. With the victory, the Bears also rose to eighth in the Eastern Conference Standings, passing St. John's for the final playoff seed.
First-year Bears forward Dustin Gazley continued to play well, opening the scoring 11:19 into the game on the power play. Hershey went 2-11 on the power play, against the 16th ranked Albany penalty kill, which entered the night at an 81.5% rate when killing penalties.
"We took Patrick Wellar out (of the lineup) who has played extremely well for us," Haviland explained of the lineup decisions tonight. "We spoke to Wellsy and he felt a little tired so we thought 'Kolomatis goes in.' I feel comfortable with all four lines."
The Bears' eleventh ranked penalty kill continued to shine for Washington's AHL affiliate, killing off all four Devils' power plays. Hershey's PK has killed off 15 straight power plays over the last five contests.
Forwards Mike Sislo, Tim Sestito and Rod Pelley (shorthanded) all scored for the Devils who entered with the fifth ranked offense coming into the game, averaging 3.21 goals per game. With the three goals they surrendered today, the ears have allowed three goals in six of their last seven games.
Hershey begins another three games in three nights stretch Friday night in Syracuse. They then return home for a rematch against the Crunch Saturday night at Giant Center, followed by a Sunday night contest against the Wilkes-Barre/Scranton Penguins.
Game Notes
Attendance: 9,719
Bears Injuries: Chay Genoway, Nathan Walker, Patrick Wellar (upper body), Stanislav Galiev (upper body), Garrett Mitchell (shoulder) and Tomas Kundratek
Hershey Healthy Scratches: Derek Whitmore, Joel Rechlicz and Josh Brittain
Hershey's comeback was their third win when trailing after two periods (3-10-0-1)
Three Stars
David Kolomatis (one goal, four shots on goal)
Rod Pelley (one goal, one assist, two shots on goal)
Dustin Gazley (goal, two shots on goal)
You can follow Matthew on twitter @m_speck and email him at mspeck21@yahoo.com with any questions or comments.