The roster of each NHL team is carefully calculated. A head coach needs a great balance of his shooters and his playmakers up front. Then he needs to find a mix of offensively strong defenders with his best shut down defensemen. Finally, his top two goalies come into play. Rosters change every game. Healthy scratches and suspensions force coaching staffs to get creative sometimes.
Our complete Hockey 101 Series – for those just picking up the game
The Anatomy of a Roster
20 active players make up a roster. 18 skaters and 2 goalies are required for each game. These players must obviously be signed to the team and under team control. While there is no rule for each player's role, it is most common to have 12 forwards and 6 defensemen.
A forward is more often the attacking player on the ice. Forwards spend their time deep in the offensive zone and at the top of their defensive zone. Divided by centers and wingers, centers obviously being in the middle, forwards are the shooters on the team.
A defensemen is one of two players who spend most of their time at the blue line while their team is attacking. Defensemen are capable of scoring but specialize in keeping opponents out of their own net. They tend to be bigger than forwards in terms of size.
A goaltender is the last line of defense on the team roster. He stands in front of his team's net and is not considered a skater. He does not sub out like his teammates (unless doing very poorly) and will usually play the entire game.
Line Combinations
Forwards are split off into four separate lines. The top line is usually reserved for forwards with the best ability to score. Three forwards are grouped together and play most of their ice time together. An example of a top line is the Chicago Blackhawks top line of Alex Nylander, Jonathan Toews, and Patrick Kane. They are a mix of playmaking ability (passing) and sharp shooting.
Defensemen are paired together in groups of two. This puts five skaters on the ice (one forward line of three and one defensemen line of two). The top defensive pairing on a team is usually deployed when their opponents best scorers are on the ice. This is called the shut down pair. For instance, the Hurricanes defensive pairing of Brett Pesce and Jaccob Slavin. There are three defensive pairings on teams.
In most instances, the top two lines of both forwards and defensemen earn the most playing time. You can usually find elite players in the NHL on the top two lines on their teams.
Power play lines and penalty kill lines are specialized lines that come out in case of a penalty. A power play unit has five skaters and employs the best shooters of a team. For instance, the Toronto Maple Leafs top power play unit uses Andreas Johnsson, John Tavares, Mitch Marner, Morgan Rielly and Auston Matthews. Rielly is the only defender and the four remaining forwards are positioned on three separate lines under normal conditions! The penalty kill only has four skaters on it, as one is in the penalty box. Usually, two forwards and two defensemen man the penalty kill. These skaters are particularly good at blocking shots and disrupting passes.
Captains and Alternate Captains
See that little letter "C" or "A" on the front of some skater's sweaters? These denote the leaders of the team. Standing for Captain and Alternate Captain, at most three skaters can have these letters on their jerseys. The skaters with this privilege have the ability to discuss any interpretation of a rule with the officials. Players without a captaincy cannot discuss rules with the officials and risk a penalty if they do so.
See: our complete hockey 101 guide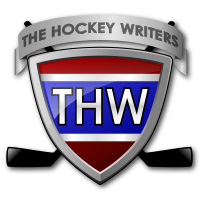 The archives of THW contain over 40,000 posts on all things hockey. We aim to share with you some of the gems we've published over the years.