A Hall of Fame induction is one of the greatest achievements that can be bestowed on an athlete. For a hockey player, the honour of being named to the Hockey Hall of Fame is a benchmark of their career and an acknowledgement of the impact they left on the game.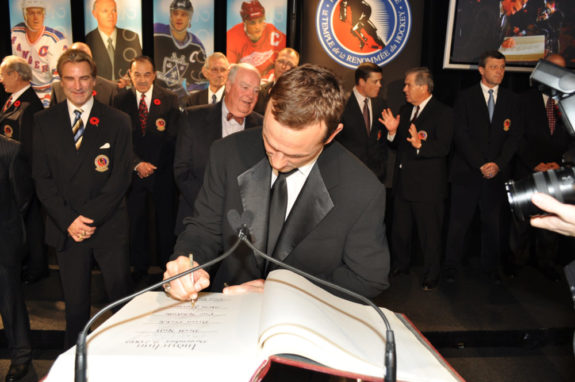 The NHL announced in October that there will not be a 2021 Hockey Hall of Fame class, which will make the crop of newly eligible players for the 2022 Hall of Fame induction that much larger. This HOF class will include players who hung up their skates in both 2018 and 2019. However, this may be a blessing in disguise for some players, as the crop of new eligibles for 2022 looked weaker than usual.
Roberto Luongo
Headlining this class of new eligibles is one of the greatest goaltenders of all-time. With 1,044 NHL games under his belt with the New York Islanders, Florida Panthers, and Vancouver Canucks, as well as 10 separate stints representing Canada in international tournaments, Luongo left his mark on the sport.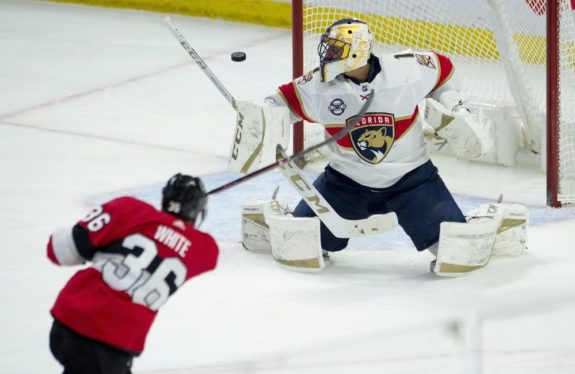 In his career, Luongo earned many accolades, boasting a William M. Jennings Trophy, a Mark Messier Leadership Award, two selections to the Second All-Star Team, and six NHL All-Star berths.
Although he never won the Stanley Cup or a Vezina Trophy, he came close to winning both; he backstopped the Canucks to Game 7 of the 2011 Stanley Cup Final and earned a nomination for the Vezina Trophy that same season. Over his 19-season NHL career, he finished top-ten in Vezina voting nine times, and in five of those, he was in the top-five.
Luongo also holds a handful of NHL records, including the most saves in a single season (2,303) and the most shots faced in a single season (2,488). He is also near the top of many goaltending categories, including third in all-time wins, ninth in shutouts, ninth in save percentage, and second in games played.
At the international level, Luongo earned himself two gold medals at the Olympic Games, two more at the World Championships, and another at the World Cup of Hockey, alongside silver medals at the World Championships and World Juniors.
The Hockey Hall of Fame is notorious for being strict on inducting goaltenders (from 'Why is there a baffling lack of goalies in Hockey Hall of Fame?,' New York Post, 11/28/2015), but this might be because, in the 1990s and 2000s three goaltenders dominated the league, Patrick Roy, Dominik Hasek, and Martin Brodeur who are generally the consensus picks as three of the greatest goaltenders of all-time.
The shadow cast by these greats may be the reason why so many other goalies from that era have been left out of the Hall of Fame. Whether Luongo is engulfed by this shadow remains to be seen, but he has a very solid case to make the Hall, even as a first-ballot inductee.
Caroline Ouellette
Caroline Ouellette was one of the most dominant hockey players ever to lace up skates. Everywhere she played, she was a step ahead of her competition. Whether it was college hockey or in the CWHL, or for Team Canada, she was more often than not the best player on the ice. She is one of the greatest women's hockey players of all-time.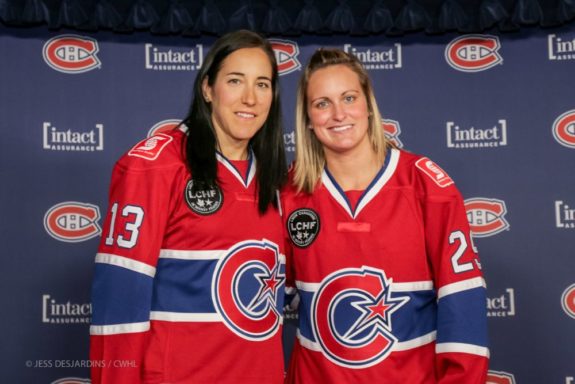 Ouellette's achievements speak for themselves. She ranks third all-time in points per game in women's collegiate hockey, with 229 points in 97 games; she is the third-highest scorer on Canada's National Women's Team, with 242 points in 220 games, and now that the CWHL has folded, she will forever hold the league's all-time points and goals records, with 143 goals and 346 points in 202 games. To put her dominance into perspective, if Oullette had never scored a CWHL goal, she'd still be fourth in all-time points.
Nearly everywhere Ouellette went, she won championships. Starting with the University of Minnesota-Duluth, she became an NCAA champion in 2003. From there she moved on to the NWHL (a now-defunct league with no relation to today's NWHL) where she briefly played for the Montreal Axion and won a championship.
In the Western Women's Hockey League, she made it to the finals with the Minnesota Whitecaps, before she found a home in the CWHL. In nine seasons with Montreal, she won four Clarkson Cups and two Most Valuable Player awards.
Ouellette's teams also dominated international tournaments. Every time she represented Canada at the Olympics or World Championships, she won either gold or silver. This is all the more impressive considering she played for Canada 16 times, taking home nine gold medals and seven silvers. Of her nine golds, four were won in consecutive Olympic Games, a feat that only four other Olympic athletes have been able to achieve. Including her Clarkson Cup wins, she is an unofficial member of the Triple Gold Club.
Boasting one of the most impressive lists of awards and accolades of any hockey player, Ouellette has a very strong case for induction. Despite this, there are only seven women hockey players in the Hall of Fame, meaning that she may have to wait a while.
Henrik and Daniel Sedin
It's only fitting that these two would be grouped together, and it would be even more fitting to see them inducted alongside Luongo, their former Canucks teammate. They were the faces of the franchise for years, and like Luongo, the Sedins left a lasting impression on the sport.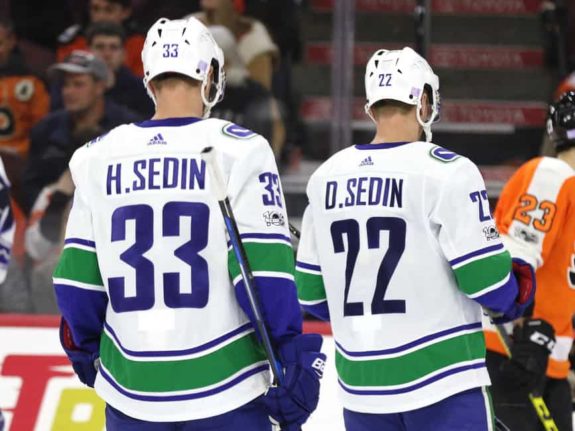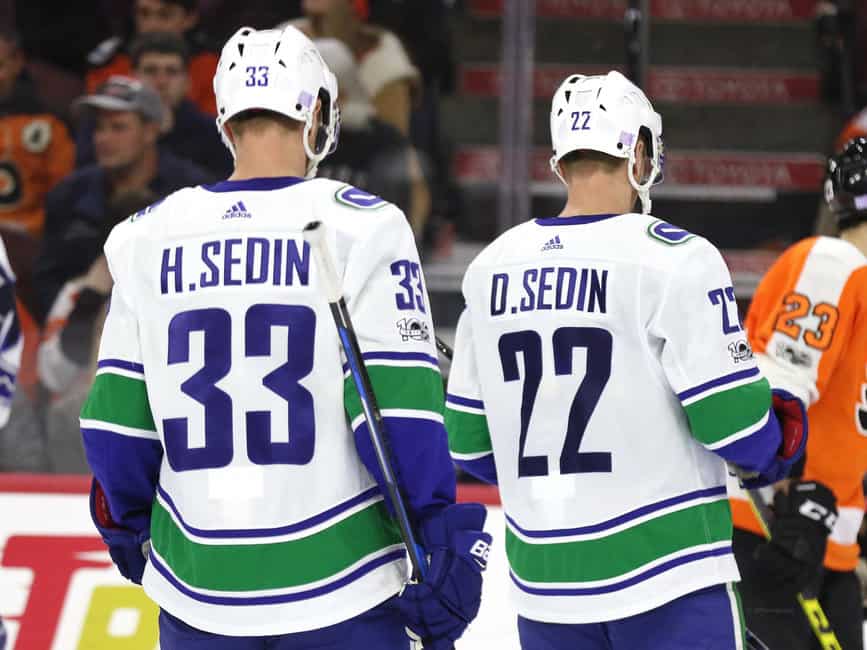 The Sedin twins were drafted together, entered the league together, played together in Vancouver for 17 seasons, and exited the league together. In those 17 seasons, the two amassed a combined 633 goals and 2,111 points, earning numerous accolades and awards along the way.
The brothers won almost every individual award they could at the NHL level. Their trophy case features a King Clancy Trophy apiece, multiple All-Star Team selections, a Ted Lindsay Award for Daniel, a Hart Trophy for Henrik, and an Art Ross Trophy for each of them, making them the only pair of brothers to have both won it.
They also shined internationally, representing Sweden on many occasions, earning gold medals at the Olympic Games, World Championships, and World Juniors, an Olympic silver medal, and two bronze medals each at the World Championships.
Having dominated the NHL in tandem for nearly 20 years, the Sedin twins have built a near-surefire case for the Hall of Fame. Seeing them inducted together would be the perfect bookend to their careers.
Henrik Zetterberg
Another super-Swede, Henrik Zetterberg, stepped onto the scene with the Detroit Red Wings in 2002 and quickly established himself as one of the NHL's top talents. A driving force on some powerhouse Red Wings teams, he could always be counted on to show up in big games and won the Conn Smythe Trophy as playoff MVP in Detroit's 2008 Stanley Cup run.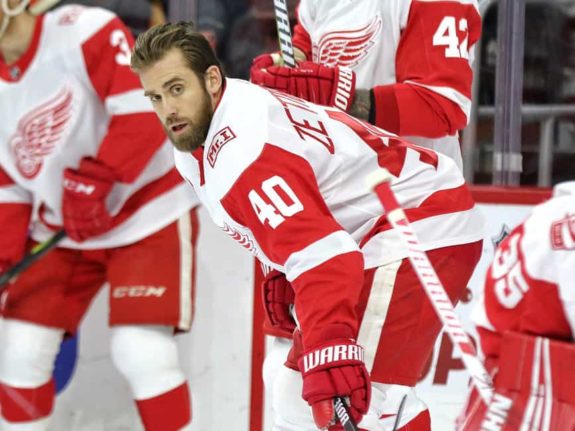 The Cup might be the crowning jewel of Zetterberg's career, but there is much to be proud of during his 15 seasons in the NHL. Often overshadowed by his Hall of Fame and future Hall of Fame teammates, Nicklas Lidstrom, Pavel Datsyuk, and Brendan Shanahan, Zetterberg usually flew under the radar, despite his fantastic career.
He scored 337 goals and finished just shy of 1,000 career points, with 960. Still, Zetterberg was largely unrecognized by NHL award voters, with a King Clancy Award and a single Second All-Star team selection to his name. He came close many times but never won the Frank J. Selke Award, finishing near the top in voting on five separate occasions, proof of his earned reputation as one of the premiere two-way forwards of his era.
Like the Sedins, Zetterberg represented his country on the international stage many times, taking home his share of hardware. With Sweden, he earned gold and silver medals at the Olympic Games, as well as gold, silver, and two bronze medals at the World Championships. His two gold medals and Stanley Cup victory make him one of only 29 players included in the Triple Gold Club.
Whether Zetterberg was representing Detroit, his country or his Swedish club, Timra, the teams he played for were almost always competitive. A natural leader, he was the obvious choice to take over as captain of the Red Wings after Lidstrom and filled the shoes of other legends including Steve Yzerman and Gordie Howe. He captained the team during a transitional period, but Zetterberg's leadership was never in question (from ''One of the best': Wings teammates recall Zetterberg's leadership, ability,' The Detroit News, 14/09/2018). While he may not have the accolades to solidify himself as a surefire Hall of Famer, he made a solid case for himself through his leadership and play.
Meghan Duggan
The heart and soul of American women's hockey, Meghan Duggan was the ideal captain. A leader in all senses of the word, she was crucial to Team USA's success and represented her country for 14 years in international play.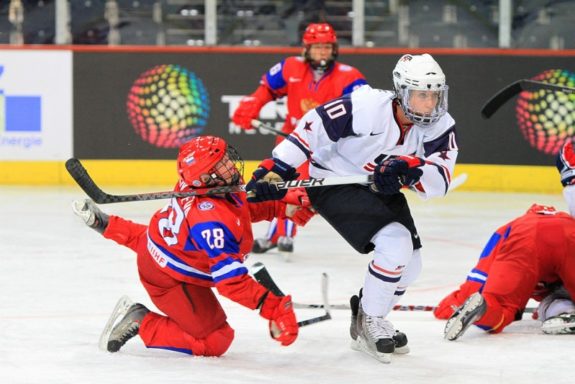 With Team USA, Duggan earned herself seven gold medals and a silver at the Women's World Championships. At the Olympics, she earned two silvers, alongside a gold medal at the 2018 Winter Games, when she served as captain. In 137 games with the U.S. National team, Duggan amassed 75 points.
Duggan's success isn't limited to international play, as she's the all-time leading scorer at the University of Wisconsin, putting up 238 points in 159 NCAA games. She was a born winner, tasting victory nearly everywhere she played, winning championships in the NCAA and the CWHL. She also spent two seasons in the NWHL with the Buffalo Beauts and Boston Pride, scoring over a point per game in both seasons, and she was instrumental in guiding her teams to the playoffs.
Duggan was an extremely successful and very skilled player. However, her most important contribution to hockey was off the ice. She was a key figure in the negotiations with USA Hockey for fair compensation for women players.
She led a boycott that would have seen her team sit out the 2017 World Championships and played a crucial role in securing equitable support of Team USA's women. Because of Duggan and those who stood with her, USA Hockey and the U.S. women's national hockey team came to an agreement that increased wages and provided support for Duggan and her teammates.
Other Notable New Eligibles
While the class of new eligibles for the 2022 Hockey Hall of Fame is headlined by Luongo, Ouellette, the Sedins, Zetterberg, and Duggan, there are a handful of other players who will also be newly eligible and deserve to be mentioned.
The Columbus Blue Jackets' first-ever star, Rick Nash, played in over 1,000 NHL games, scoring 437 goals for the Blue Jackets, New York Rangers, and Boston Bruins. His crowning achievements are two Olympic gold medals and a Maurice "Rocket" Richard Trophy which he shared with Jarome Iginla and Ilya Kovalchuk in 2004.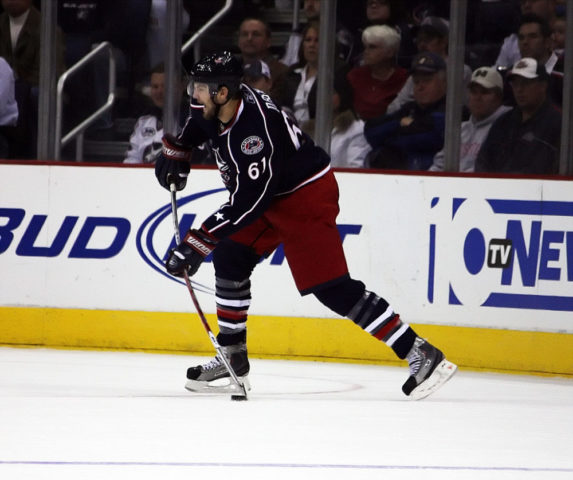 While he never won an individual NHL award, Patrick Sharp was a key contributor to the Chicago Blackhawks' dynasty of the 2010s, with three Stanley Cup wins. His resume also boasts an Olympic gold medal that he won with Team Canada in 2014.
A two-time Olympic gold medalist, Haley Irwin was a valuable member of Team Canada, representing her country at the Olympics and World Championships eight separate times, winning a gold or silver medal in every appearance. She also earned herself an NCAA Championship, playing for the University of Minnesota-Duluth in 2008.
The 2022 Hockey Hall of Fame Class Will Be a Strong One
Alexander Mogilny, Rod Brind'Amour, and Curtis Joseph, who have long-awaited their call to the Hall of Fame, will be joined by new eligibles in Luongo, the Sedins, Zetterberg, and Duggan, among others. With this solid pool of players to choose from, the 2022 Hockey Hall of Fame class is shaping up to be one of the strongest in recent memory.
---
---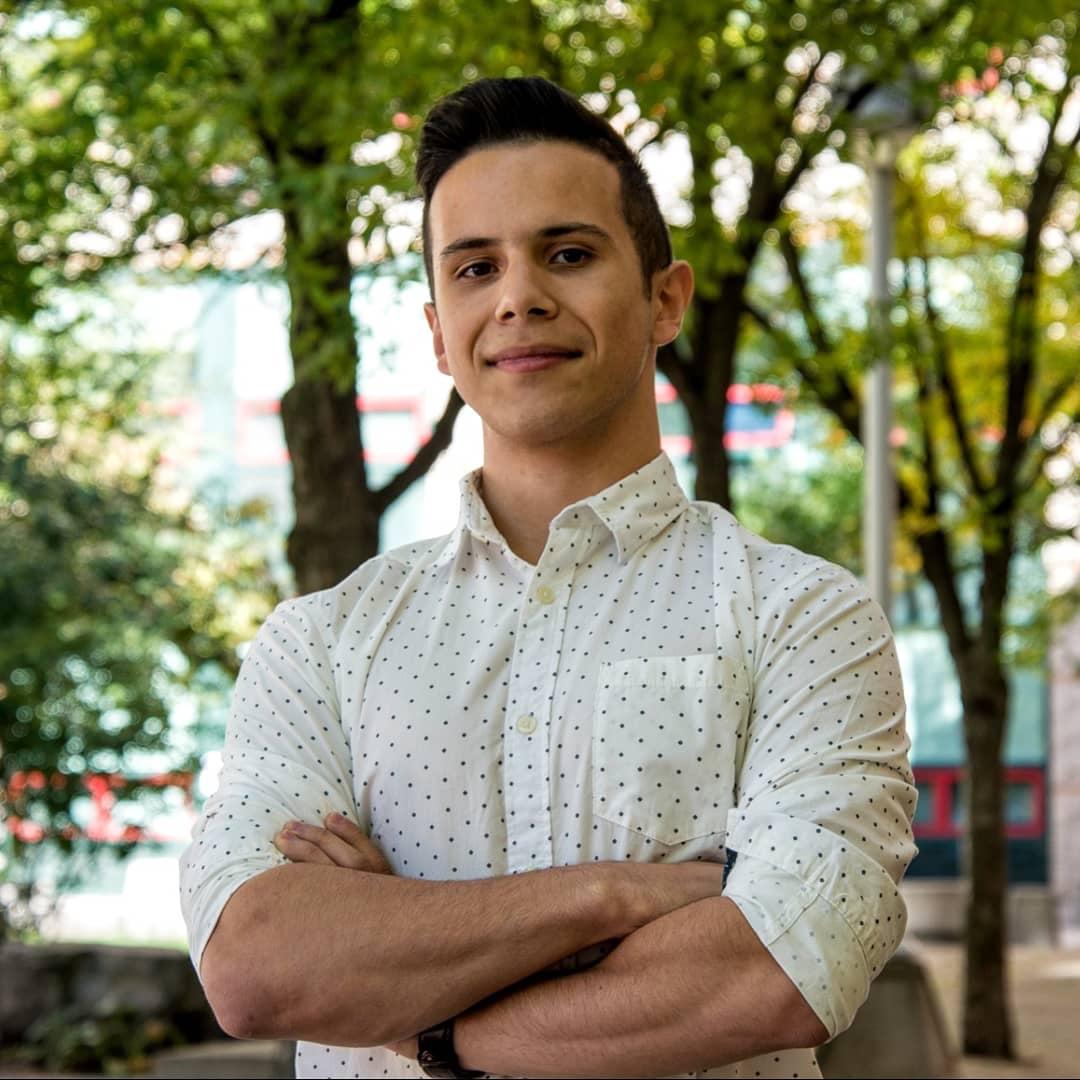 Hey everyone, I'm Chris! I'm a Ryerson University alum and a huge sports fan. I love to spend my time combing through hockey history and it's current events, looking for interesting and unique stories to tell.
I cover the Philadelphia Flyers for THW and strive to tell compelling stories and provide unique perspectives on the team!