Today's prospect and rumors post has a Finnish focus to it. A top prospect for the 2022 NHL Entry Draft scores his first goal in Finland's top league. A Calgary Flames former first-round pick is dominating in Finland after missing the entire 2019-20 season, Aleksander Barkov may be on his way to Finland as part of a loan move and the Minnesota Wild sign their ninth-overall selection from the 2020 NHL Entry Draft.
Lambert Scores First Liiga Goal
While the focus remains primarily on Kingston Frontenacs youngster Shane Wright for the 2022 NHL Entry Draft, the most likely competitor for first overall is excelling in Finland. Brad Lambert scored his first Finnish Liiga goal on Friday in a game against Vaasan Sport. Lambert plays for JYP Jyväskylä after transferring over from HIFK earlier this year. He showed off his exceptional speed and shooting ability with a rush up the left side and a deadly accurate release to beat the netminder.
At 16 years of age and a late December birthday, Lambert becomes the first 2003-born player to score in the Finnish Liiga. Born in Lahti, Finland, Lambert holds both Finnish and Canadian citizenship. However, he's strictly represented Finland at the international level.
He spent the majority of the 2019-20 season with HIFK in the Jr. A SM-liiga, in which he amassed 18 goals and 20 assists for 38 points in 42 games played. He also featured in four games for HIFK at the Liiga level, posting two assists in four games played. To start the 2020-21 season he currently has one goal and one assist in seven games played. It's going to be hard to dethrone Wright from the number one spot, but Lambert has the best chance out of anyone to do it.
Välimäki On 6-Game Point Streak
What a run it's been for Flames prospect Juuso Välimäki after being loaned to Tampereen Ilves in the Finnish Liiga. The former 16th-overall pick in the 2017 NHL Entry Draft has two goals and eight assists for 10 points across a six-game point streak. That puts him second in league scoring, trailing only Petri Kontiola of HPK. What makes this start even more impressive is that this is the first action for Välimäki since he suffered a torn ACL during the offseason and missed the entirety of the 2019-20 season.
His last game time was during 2018-19 where he split the season between the NHL and American Hockey League. In the AHL, he amassed four goals and 14 points in 20 games played for the Stockton Heat. With the Flames, he managed to post one goal and two assists in 20 games played. Flames fans will be excited to see him back in Calgary for the 2020-21 season, especially after T.J. Brodie left the team and signed with the Toronto Maple Leafs.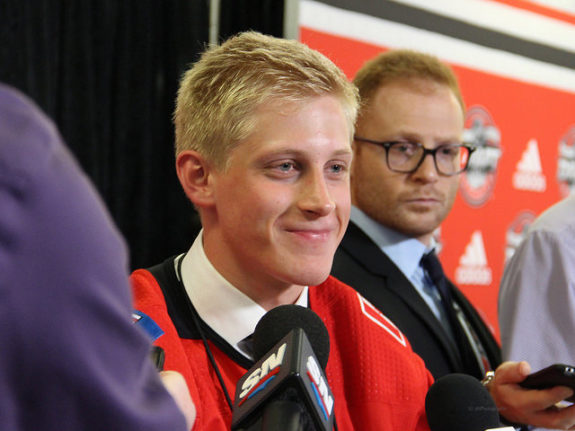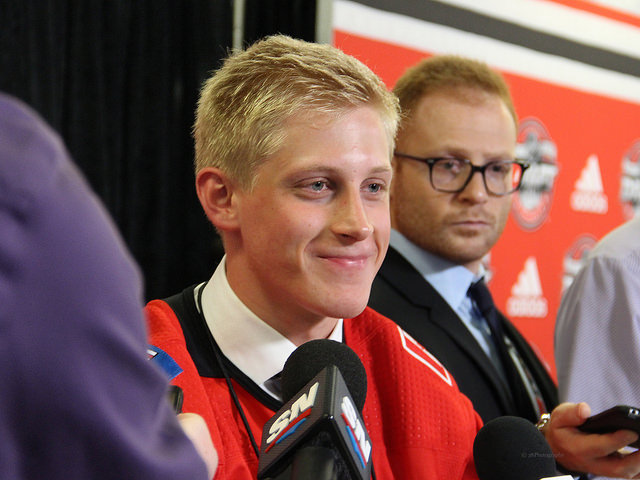 As mentioned previously, he should be familiar with Ilves after playing in their U16, U18, and U20 systems before he came over to the Western Hockey League in 2015. The Finnish defenseman is impressively averaging over 22 minutes per night and at least three shots per game. Not usually known as a dynamic offensive defenseman, it's a development that should get Flames fans excited. He will be able to return for training camp and will be eligible to play in the NHL in the 2020-21 season.
Barkov Considering Loan to Finland
"Covid Loans" have become a regular occurrence for NHL teams across the league looking to find some playing time for their younger players. Even with some higher profile names heading over in recent weeks — see Jesperi Kotkaniemi — we haven't seen anyone loan one of their top players. However, that could change with rumors stating that Aleksander Barkov could be considering a loan move to Tappara in the Finnish Liiga.
Barkov has been training with the Tampere-based team for the last few weeks, so it doesn't come as a major surprise that he'd consider playing for them. He also has a part ownership stake in the club and was born in Tampere. He last played for Tappara during the 2012-13 season where he amassed 21 goals and 27 assists for 48 points in 53 games played. The only thing missing to make the move official is a green light from the Florida Panthers organization. Barkov's insurance premium would also be covered by the Panthers.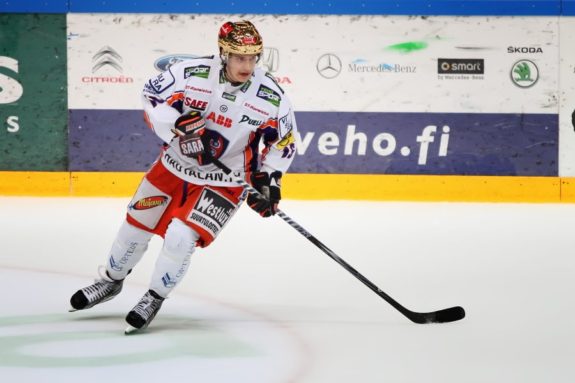 In the shortened 2019-20 NHL season, Barkov had 20 goals and 42 assists for 62 points in 66 games played. He's one of the premier pivots in the modern NHL and would immediately become the Liiga's best player. Barkov's 2018-19 season set career high's across the board with 35 goals and 61 assists for 96 points in 82 games played. He would return to the Panthers for the start of training camps for the 2020-21 NHL season.
Wild Sign Marco Rossi
The Wild announced on Friday that they've agreed to a standard three-year, entry-level contract for Marco Rossi, drafted ninth overall in the 2020 NHL Entry Draft, Rossi spent the 2019-20 season in the Ontario Hockey League (OHL) with the Ottawa 67's. The Austrian forward amassed an impressive 39 goals and 81 assists for 120 points in 56 games played. He received the Eddie Powers Trophy for the most points in the OHL and the Red Tilson Trophy of OHL Most Outstanding Player.
After the 2020 NHL Entry Draft, I had this to say about how Rossi fits into the Wild's plans for the future.
What a way to replace your franchise center in Mikko Koivu. The Minnesota Wild pair incoming Russian superstar Kirill Kaprizov with a dynamic Austrian center in Marco Rossi. The Wild deserve an injection of excitement and skill into their lineup and they'll be getting that for years to come with that duo.
Rossi will likely aim to make the starting roster for the Wild for the 2020-21 NHL season. He is still able to return to the OHL, but it's been rumored that he will either play in the NHL or head to Europe for the season. ZSC Lions in Switzerland seems the be the likely destination. Wherever he plays there will be plenty of eyes on him this season.
---
---