Making the case for the Detroit Red Wings to keep Jimmy Howard…for now.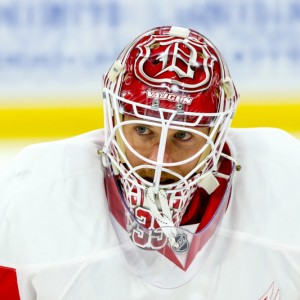 Dating back to the 2015 playoffs, it has become clear that Petr Mrazek is the goaltender of the future for the Detroit Red Wings—not veteran Jimmy Howard. Though not a favorable forecast for Howard, it has nothing to do with his game—just that of Mrazek, who has the potential to be a world-class goalie.
This past season was trying for both goaltenders, with each experiencing high highs and the lowest of lows along the way. And after Mrazek eventually seized the starting role, Howard could have imploded with self-doubt. Instead, he chose the high road. He stayed hungry. And he found his game when the Red Wings needed him most.
That—along with his diminished trade value and Mrazek's small sample size of experience—are reasons why the Red Wings should keep Howard…for now.
Hungry, Hungry Howard
You have to admit, Howard has handled his changing role very well. Howard understands the position he is in, has kept a positive attitude, and wants everyone to benefit in the end.
Howard would like to play more. Understands situation with roster. Says he would be open to trade but sad to go. Expects roster changes!

— gregg krupa (@greggkrupa) April 25, 2016
For someone in a backup or part-time role, this is exactly the kind of demeanor you want. It also helps young Mrazek develop better. There's a healthy competition between the two with no ill will. The Red Wings don't need Mrazek worrying about someone trying to usurp him on a daily basis—and that won't be happening with Howard on the roster. This is exactly why the Red Wings acquired Mike Vernon in the mid-90s: to back-up Chris Osgood and mentor the young netminder.
Roller Coaster Value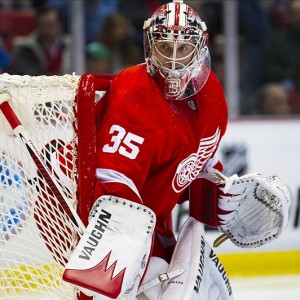 Over the past two seasons, Howard's trade value has been as volatile as the stock market has been in the same timeframe. Midway through the 2014-15 season, Howard was named to the All-Star Game. Then, he got hurt and never regained his all-star form.
This past season, Howard split duties and never really took over until Mrazek faltered down the stretch. His game was unspectacular, but, to his credit, Howard never got a chance to get on a roll. The game-by-game approach to choosing a starting goalie did not help the veteran.
Considering his tumultuous recent history, Howard's trade value is not high. It's certainly higher than it was last summer, but moving Howard still would not net much in return unless he is packaged with other players and picks.
Right now, the Red Wings need to improve across the board. Moving Howard for cap space would not necessarily help to improve the roster. Ken Holland and the 29 other general managers will be the first (through 30th) people to tell you that you just cannot move players for "nothing" anymore. Each player, prospect, and pick matters.
Holland: will explore trades more at draft this year.

more aggressive.

— gregg krupa (@greggkrupa) April 25, 2016
There are only a few teams that are looking for a starting goalie (and can take on a $5.3 million cap hit) this offseason. As George Malik of Kukla's Korner pointed out, Calgary and Carolina are possible destinations for Howard. But they are just that. "Possible destinations" does not equal "where he will definitely end up." If Detroit does indeed move Howard, they'll want a player back that can immediately help the team. That ask will also mean the Red Wings will have to send more than Howard at this point. Essentially, Howard's value to the Red Wings is higher than his current market value.
With that being said, Holland will have to decide if selling low on Howard and his cap hit is the best move for the team. They can also hold onto him and hope his stock rises once the season starts. Either way, this decision is likely the next priority after the Red Wings learn Pavel Datsyuk's fate.
Teaching the Young Padowan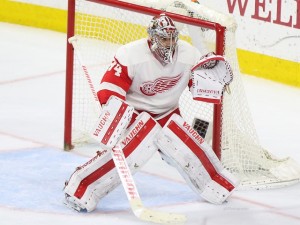 One benefit of keeping Howard on the roster is that he can help Mrazek improve as a young netminder, just the way Osgood did for him during the 2009-10 season. Kind of reminds you of Star Wars, eh?
While Mrazek is a great goaltender and has potential to be otherworldly, he is still relatively green and could use a veteran mentor to help him constantly improve. New goaltending coach Jeff Salajko will help, but having Howard on board is an even better situation for Mrazek.
How does this help Howard? Look at Brian Elliott in St. Louis and Michal Neuvirth in Philadelphia. Elliott was retained and Neuvirth was signed by their respective teams to be a dependable, veteran presence that backs up the "goalie of the future." You can argue that both Elliott and Neuvirth have boosted their value since the start of the season. Now that Mrazek is officially Detroit's franchise goaltender, Howard has the opportunity to emulate Elliott and Neuvirth: he can use his limited opportunities as auditions for his next starting job. Another team will need a full-time or part-time starting goalie at some point. And when that happens—if Howard has been performing well and kept a great attitude—his suitors will be calling Holland, rather than Holland calling potential suitors.
The Grind Line Mailbag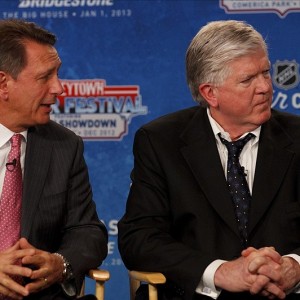 Have a question about Howard, potential draft picks, or draft day deals? The Grind Line is discussing the draft in our upcoming mailbag. Tweet your question and #AskTGL to @THW_RedWings and we'll answer it in our next mailbag post.
You're the GM
If you're Holland, what do you do with Howard?
Keep him or trade him?
Make a move soon or wait until training camp?
Comment below with what you would do and what you'd expect as a reasonable return for Howard (plus others, if necessary).