Carolina Hurricanes center Jesperi Kotkaniemi has continued to build on the momentum he carried into the All-Star break with a strong start to the second half. In the 10 games since the break, Kotkaniemi has produced 10 points, including five goals, all while continuing to excel on the defensive side of the ice. The most impressive performance of this stretch came on March 5 when he finished with a career-high five points (one goal, four assists) in the Hurricanes' 6-0 win over the Tampa Bay Lightning.
Kotkaniemi had another memorable highlight a couple of days later in a matchup against his former team. While it wasn't the strongest performance in regulation for the 22-year-old, he found the net in the sixth round of a shootout to give Carolina a 4-3 road win over the Montreal Canadiens. It was a storybook ending for Kotkaniemi who had heard boos all night from the Montreal fans. Following the game, he was asked by the media about his current situation in Carolina and whether he wonders what it would've been like to be coached by Martin St. Louis in Montreal, and he responded by expressing his happiness with his current situation in Carolina:
"Not for a second. I'm happy where I am right now. I really love my life in Raleigh. I love this group. We have a great group of guys and everything is working out really well so far."

– Jesperi Kotkaniemi
Kotkaniemi's recent streak of production is no surprise to those who noticed the confidence and momentum he built over the final few games heading into the All-Star break. On the heels of a five-game pointless streak, the Finnish center went on to produce four points over the next four games before the 10-day layoff. Through 62 games played this season, he has a plus-minus of plus-8, which would be a career-best as his previous best was plus-3 in 2021-22.
Strong Defense Continues
Kotkaniemi has been primarily known as a defensive-first center, and for much of his career, his defensive skill set and production have been a step ahead of his offensive game. While his offense has been much better at times this season, it is still inconsistent overall. However, Carolina head coach Rod Brind'Amour can always count on high-quality defense from Kotkaniemi and that's been no different this season.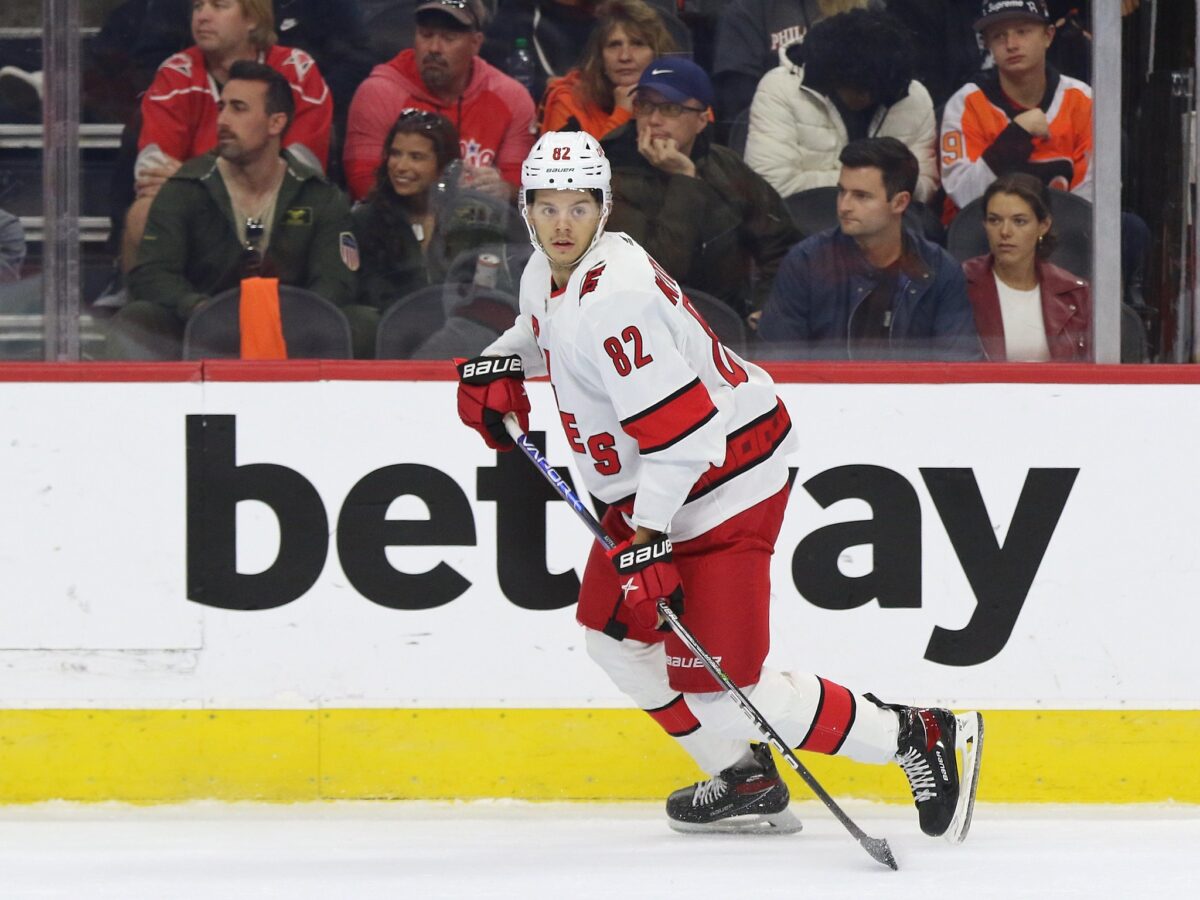 If he can continue to improve on the offensive end and become a much more consistent threat for Carolina, he has the potential to develop into a very talented two-way 2C. This is a very promising development for both Kotkaniemi and the Hurricanes organization, given the uncertainty surrounding that particular position the past few seasons.
Related: Hurricanes Fill Holes with Gostisbehere, Puljujärvi Trades
---
Latest News & Highlights
---
Career-Best Year
The Hurricanes and general manager Don Waddell have received a lot of criticism for the eight-year, $38,560,000 extension they signed Kotaniemi to last March. We are just a little over one year removed from the extension and he is in the midst of a career-best season. With 20 games left in the 2022-23 season, he needs one goal and five more points to set career highs in those categories. I expect him to surpass these numbers within the next few weeks and wouldn't be surprised if he eclipses the 40-point mark for the first time in his career. As I mentioned previously, he is also on pace to finish with a career-best mark in the plus-minus category as well with a plus-8 to this point in the season.
You have to think that the Hurricanes are very pleased with his performance so far this season and thrilled that they signed him to the extension when they did. It will be interesting to see if Kotkaniemi can keep this impressive stretch of play rolling down the stretch and into the postseason.