"With the 5th pick in the 2013 NHL draft, the Carolina Hurricanes select…" Those are the words every Hurricanes' fan should hope to hear during next month's draft.
Mr. Rutherford….no swapping please?
Gary Bettman's mere presence is almost always met with a chorus of boos, but if he steps up to the podium instead of a caravan of Hurricanes' front office personnel, draft parties in Raleigh may join in for another reason: a trade is coming.
While swapping the pick outright has seemingly paid off last year in the form of Jordan Staal, the team simply cannot afford to make the same type of deal this year.  Despite almost never being a cap team, the Canes have spent quite a bit over the last few years and are now nearing the ceiling.  General Manager Jim Rutherford has committed $42 million a year to seven players for each of the next three seasons.
A time not too long ago, that $42 million may have represented the Hurricanes' entire payroll.
Locking up his young talent has been both Rutherford's biggest strength and biggest weakness.  Guys like Jeff Skinner, Eric Staal and Cam Ward won't be distracted by contract talks for the next couple years, but it can't help but be asked: were they been overpaid?  Are these contracts going to hamstring the franchise for the next couple years?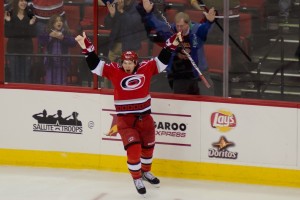 The beauty of drafting a player who can step in immediately is that he will come cheap.  Skinner, 7th overall in 2010, scored 64 goals and 131 points over his just-expired entry-level deal that came at only a $1.4 million cap hit.  Skinner's production may be the exception to the norm, but any player on an entry-level deal provides value beyond the ice.
With new deals due next offseason to Justin Faulk, arguably the team's best defender, as well as Jiri Tlusty, suddenly a first-liner and the team's leading goalscorer a year ago, the need for a player on an entry-level deal is exacerbated.  There simply isn't the cap room to trade away a high pick for a second consecutive year.
"Missing" on this selection is also not an option.  While the top 5-7 players look like sure bets, nothing is guaranteed.  Should Rutherford opt to trade down rather than outright, he runs the risk of losing out on an exceptional player, and one that can join the team immediately.  With his lack of success in later rounds–Faulk seemingly the only impact player–extra picks would do little.
Interested to see if Carolina trades the 5th pick. Need a top 4 D. Could be part of a package. Told Rutherford is getting lots of calls.

— Darren Dreger (@DarrenDreger) June 25, 2013
Still, speculation about Carolina trading the pick remains.  Rutherford undoubtedly receives many tantalizing offers for number five daily, but short of finding a blockbuster deal that allows him to shed salary and pick up an overpayment, he cannot justify pulling the trigger.
Going for now costly?
Even disregarding Jordan Staal, Rutherford has been no stranger to trading away the future for the now.  Two separate deals saw Jack Johnson and Andrew Ladd depart for Tim Gleason and Tuomo Ruutu.  Over the last couple years, Johnson and Ladd have been the better duo and have cost around the same amount with much more tread left on their tires.
It's a mistake that Rutherford has continually made, and one that has nearly painted him into a financial corner.  The team needs defensive help in the worst way but the money for one just isn't there.
The disappearance of the "second contract" was partially the cause of the NHL's latest lockout, and "small market" teams have been especially suffering.  Thus, the importance on selecting a player that can step in and call Raleigh home as soon as next season and at a reasonable price.  The long-term financial health of the team depends on it.
Andrew Luistro graduated from Appalachian State University. An avid sports fan, he began beat writing for the Sunbelt Hockey Journal, part of The Hockey Writers Network, with a focus on the Carolina Hurricanes. Andrew also actively follows the Boston Red Sox and Carolina Panthers, among other teams. Follow him on Twitter @ndrewL7