The Vancouver Canucks made it official Tuesday afternoon as they introduced new head coach John Tortorella to the media and their fans. In a strange turn of events Tortorella takes over after 'switching' jobs with former Vancouver head man Alain Vigneault. 
Tortorella is a high profile coach as he has a Stanley Cup win under his belt and just came off of a five year stint leading the New York Rangers. While he came up short in the Big Apple the Canucks and general manager Mike Gillis are banking on the fiery coach to get the Canucks over the hump. 
With a vastly different on and off ice style than Vigneault it will be interesting to see how Tortorella handles the Canucks veteran ladled roster. 
The knock on Vancouver the last few years, and really throughout the whole Vigneault era, was that they were not physical enough — didn't play with enough grit, passion or fire. Instead they relied on skill, speed and the use of strategic deployments of players.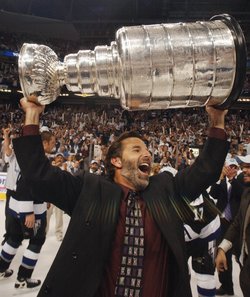 That isn't the style of hockey that Tortorella is known for. 
Tortorella's Rangers were a defense-first club that played with grit, blocked shots and would grind out games. Can he turn the Canucks, as they are currently put together, into that kind of club? 
Is Tortorella a square peg to the Canucks round hole? 
There is an old adage in sports that good coaches adapt to the players they are given to lead rather than force them to play his way. By all appearances Tortorella is a good coach, so will he adapt his system to the players he has? 
This will be an interesting thing to watch as the Canucks hit training camp later this summer. He has already announced that he plans on utilizing Henrik and Daniel Sedin to kill penalties – perhaps a sign of things to come? 
The Sedins used to kill penalties quite regulary when Marc Crawford coached the club and were arguably the best penalty killers on that team. Tortoella's desire to use them again may not be a sign that he's going to force the Canucks to his will. Utilizing them this way will keep them on the ice more, keep them in the flow of the game which ultimately is a good thing.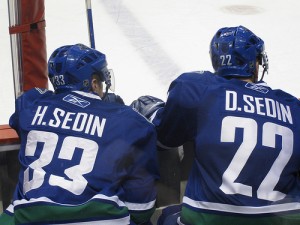 While the current Canucks roster may not be filled with grinders there are some players who might benefit from Tortorella's style of hockey. Zack Kassian may be the biggest beneficiary. He seems like a guy who could flourish under Tortorella. Big, strong and has shown a willingness to play with an edge this may finally be the year that Kassian breaks out. 
Other players, like Ryan Kesler and Kevin Bieksa, seem to be perfect matches for Tortorella. 
Tortorella Hybrid? 
Perhaps the more likely answer is that Tortorella will find a way to mesh his style with the more up-tempo style favored by the Canucks players. Tortorella has not had the success he has by trying to turn players like the Sedins into grinders. 
He has been around the block, with a lot of success, enough to know that you have to put your players in the best possible position to be successful . So don't look for the twins to be mucking it up on the forecheck anytime soon. In his press conference Tuesday he already mentioned that the team needed more 'push' as the team seemed too comfortable the past couple of years. Perhaps that alone will be the way Tortorella can affect change.
That being said it does stand to reason that you will see a more cohesive defensive approach from the Canucks, something that let them down at times this past season. We can probably count on them blocking more shots and hitting more. 
In the end, Mike Gillis is hoping that mixing his skill players with the right amount of Tortorella grit will be the perfect elixir to get the Canucks back on top. For Gillis, it has to work, as time and patience for his continued captaincy of the Canucks ship may be on thin ice.