The Carolina Hurricanes will be happy to start the season with a win, but Thursday's 3-0 victory over the Detroit Red Wings had even more underlying positives that indicate they are already showing signs of improvement.
One game isn't nearly enough time to make an accurate assessment of a team, but in a shortened 56-game season, where all regular-season games are played within your division, the urgency to get ahead early is more prevalent than ever.
Here are three key takeaways from the Hurricanes' season opener:
Hurricanes Played a Full 60 Minutes
Shaking off the rust has been a common theme in this early NHL season. With a shortened training camp and no preseason games, some teams have struggled to maintain a high tempo through a full 60 minutes.
But not the Hurricanes. Thanks to their renowned conditioning levels and grueling work ethic instilled by head coach Rod Brind'Amour, they were able to dominate play for most of the game.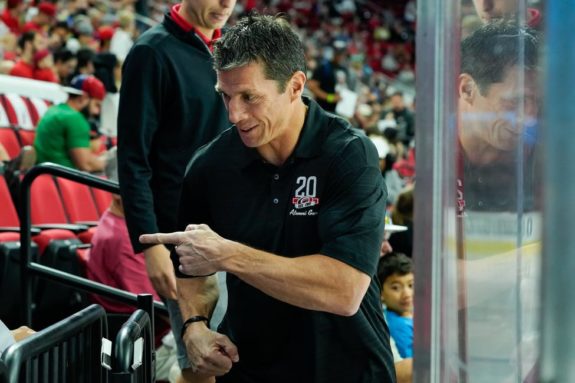 The Hurricanes took the lead early with a goal by Nino Niederreiter at 3:38 of the first period and the score remained 1-0 for the majority of the game. For most teams, especially the Hurricanes of the past, it would be easy to sit back or get discouraged from a lack of results. But their persistence was eventually rewarded with two goals in the final three minutes to seal the victory.
---
More Hurricanes Content:
---
The Hurricanes peppered Red Wings' goalie Thomas Greiss with 43 shots while surrendering just 14. They also outhit Detroit 27-19, while controlling play with an expected goals-for of 65.35 percent.
The Hurricanes were 19-18-2 when outshooting their opponents last season, but 18-7-3 when getting outshot. Even against an opponent as weak as the Red Wings, it bodes well for the Hurricanes that they were able to squeeze out a clean, deserved win when last year, so many of those games went against them.
Defense Pairs Are Working Magnificently
We all knew Jaccob Slavin and Dougie Hamilton would be dynamite together on Carolina's top pairing, but the other two duos on the Hurricanes blue line didn't have much – if any – experience together.
In their debut as a pairing, Brett Pesce and Brady Skjei were impenetrable on the back end. Pesce, who hadn't played a game since Feb. 22 because of shoulder surgery, was his solid usual self on defense, and specifically received praise from Brind'Amour following the game.
"We got used to playing without [Pesce], then you stick a guy in there like that… Wow. He was pretty darn good for being out almost a year. We missed him, and we're really, really excited that he's back, because he is world class."

– Rod Brind'Amour on Brett Pesce's performance in the season opener
Pesce's new blue line partner, Skjei, also made his mark on the game with his physicality and willingness to join the rush, which resulted in several scoring chances.
The third pairing of Haydn Fleury and Jake Gardiner also showed signs of promise. Fleury had a revolving door of defense partners last season but did play with Gardiner for about 28% of the year. Gardiner, who struggled with consistency issues in his first year with Carolina, is looking to elevate his game to that next level, and Fleury's emergence may help make that possible.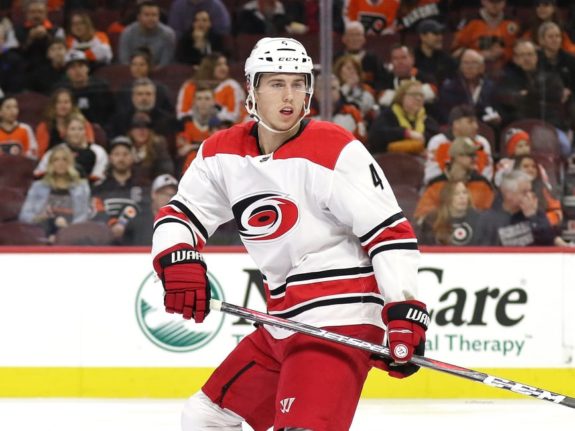 Fleury led the Hurricanes with 2:36 shorthanded time-on-ice (TOI) on Thursday as the 'Canes went 3-for-3 on the penalty kill. He logged a total of 18:40 TOI in the game, which is a massive upgrade from the 13:40 he averaged last season.
Fleury broke out in last season's playoffs and he looks to be right on track to continue his upward trajectory this year as well. If that confidence can infect his partner Gardiner, the Hurricanes will have one of the league's finest defenses.
2 Struggling Players Get Huge Confidence Boosters
Confidence is everything in the early going of a season. Wins can provide that, but personal achievements also matter. For Niederreiter and Ryan Dzingel, 2019-20 was a frustrating and disappointing season. Struggling to provide offense, both players found themselves lost trying to contribute to the team when the puck just wasn't going in for them.
But in Game 1 of the 2020-21 season, both Niederreiter and Dzingel found the back of the net, which is guaranteed to provide a much-needed jump start to their morale.
For Niederreiter in particular, getting the monkey off his back early is huge. To provide a more threatening offense, Brind'Amour has elected to separate Andrei Svechnikov from Sebastian Aho and Teuvo Teravainen, even though the trio worked so well last season.
Niederreiter knows what's expected of him if he's going to play on the Hurricanes' top line, and after scoring just 11 goals and 18 assists in 67 games last season, he's looking for a fresh chance at a redemption year. Getting his first goal out of the way will be a massive boost to his confidence, which is probably the biggest factor in getting the big Swiss winger up and running.
Similar to Gardiner, Dzingel faced his share of ups and downs in his first year in Carolina. After signing a two-year, $6.75-million contract in the summer of 2019, he was expected to provide some goal scoring, but he floundered with just eight goals in 64 games last season.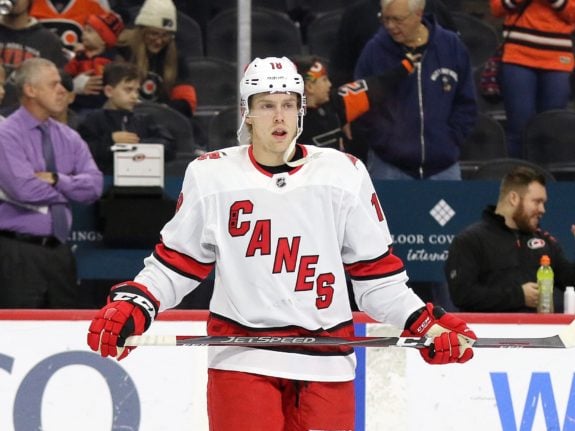 As the season progressed, he fell out of favor with Brind'Amour, even sitting as a healthy scratch for half of the Hurricanes' playoff games. But he is in a prime position to bounce back this season, even if he's currently relegated to the fourth line. He has the talent to gradually ascend through the lineup – if Brind'Amour chooses – and a goal in the first game of the season is sure to help his cause.
The Hurricanes have seven more meetings with the Red Wings this season. They will stay in Detroit for the second half of their doubleheader Saturday before traveling to Nashville to play the Predators on Monday.
---
---