The Carolina Hurricanes over the past 25 years have seen their share of ups and downs. They went from playing in Greensboro in 1997 to eventually moving to their current location in 1999. They experienced heartbreak in 2002 after losing in the Stanley Cup Final to eventually winning it all in 2006. The team even went through a dark period for ten seasons by not making the playoffs. After those ten tumultuous seasons, the team and the fans have been living through a modern-day renaissance of Hurricanes hockey in the triangle. Through it all, they have had Hall of Famers come through their doors and make a lasting impact on the franchise. Even more so, they have three names high in the rafters of PNC Arena that have given fans memories for a lifetime.
The players that are forever immortalized in PNC Arena are Rod Brind'Amour, Glen Wesley, and Ron Francis. These three, in their own way, have cemented themselves in Hurricanes lore. Even currently, Brind'Amour is making even more memories as their head coach. He has led this team to five straight playoff appearances while winning five first-round series in a row. Furthermore, three straight division titles with back-to-back Metro Divison titles. All that being said, there are some guys in the past, and even currently playing, that have made a case to get their numbers retired by the franchise at some point as well.
Two names that have been mentioned are Cam Ward and Justin Williams. Although for Williams, it won't be his number 11 that will be hoisted into the rafters. In some cases, it is to be said that his number 14 should be going up there for his impact in his second stint with the team. Another reason why it won't be 11? That leads to the main point of this article. The number 11 that should be in the rafters when his career is all said and done is none other than Jordan Staal. Along with that, there is a case to make his jersey retirement a family affair as the Hurricanes should retire his number along with his brother Eric's number 12.
Jordan Staal 2012-Present
The current captain of the Hurricanes recently signed a four-year, $11.6 million ($2.9 million average annual value) deal back on June 25. Staal will be going into his 12th season with the Hurricanes this upcoming season. His brother, Eric, played 12 years in Carolina as well. Once his new four-year deal is completed, Jordan will have played more seasons in Carolina than anyone else in franchise history. He has played 742 games in a Hurricanes sweater and that will only continue to climb over the next few seasons.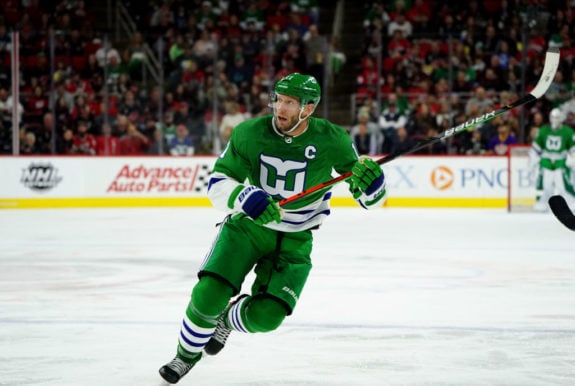 What makes Jordan Staal someone who is worthy of getting his number retired is that he has been in Carolina through the tough times. He came to the Hurricanes via a trade from the Pittsburgh Penguins back on June 22, 2012. The Penguins received Brian Dumoulin, Brandon Sutter, and a 2012 first-round pick (eighth overall). Furthermore, Staal has been someone who's been consistent over the years. Currently, he is four points shy of 400 as a Hurricanes player. Also, he is 55 points away from 700 for his career. Both feats, more so the 400 points in Carolina, could happen this season.
Related: Hurricanes Re-Sign Jordan Staal to 4-Year Deal
---
Latest News & Highlights
---
Ever since that trade, Jordan has gone through some rocky seasons before Brind'Amour took over as head coach in 2018-19. He was a constant rock that the team leaned on for his experience along the way. Staal year in and year out was always in Selke Trophy conversations. He is known around the league to be someone that is hard to play against, especially in the faceoff dot.
Whether or not he wins a Stanley Cup in Carolina, his number 11 should be retired. He will be close to almost 1,000 games played in a Carolina sweater. He stayed throughout the bad and good of this franchise. He will be someone who was a huge piece to the resurgence of hockey relevancy in the league and in sports in North Carolina. Putting his number 11 in the rafters would be a huge nod to the guy who became captain after his brother Eric who in his own right deserves his number retired as well.
Eric Staal 2003-2016
When mentioning one Staal, one cannot forget about the other. The original Staal has made a significant case for himself to get his number retired in Carolina. Eric Staal was drafted by Carolina with the second overall pick back in the 2003 NHL Entry Draft. In his rookie season back in 2003, he tallied 11 goals and 20 assists for 31 points in 81 games. Unfortunately, he could not build off of that the next season due to the lockout. However, the 2005-06 Cup season saw an explosion of what Carolina saw in Eric to take him second in the draft.
In the 2005-06 season, Staal finished with 100 points accumulating 45 goals and 55 assists. He was named to the All-Star team that season and somehow finished only fourth in Hart Trophy voting. He also led in multiple categories in that year's playoffs as well in games (25), assists (19), and points (28). That 100-point season for Staal is still the only time a Hurricanes player has hit the century mark.
In his 12 seasons with Carolina, Staal had 775 points in 909 games played. He played with the Hurricanes from 2003 to 2016 where he got traded to the New York Rangers for Aleksi Saarela, a 2016 second-round pick, and a 2017 second-round pick.
Related: Eric Staal Traded To New York Rangers
Staal currently is the only active player left from the 2006 Stanley Cup team after the recent news of Andrew Ladd's retirement. It will be interesting to see if a team picks him up for the upcoming season as he is still an unrestricted free agent.
Hurricanes Need to Retire Them Together
Nonetheless, there is a case for both Staal brothers to have their numbers retired. Both will have played at least 12 seasons in Carolina once the upcoming season ends next summer. Eric and Jordan will have both been captains of the franchise and in their own way made impacts on the team. Eric was a part of the 2006 Stanley Cup team whom he himself had a phenomenal season that year and had a great career in Carolina. Jordan is the current captain and someone who helped guide the team from the darkness into what is the most successful stretch run of hockey the franchise has ever seen.
When it is all said and done, both of these guys should have their numbers retired. Plus it would be a great public showing to have the Staal brothers be honored together for a franchise that has had a Staal on the roster since 2003. It only makes sense to do so for Carolina. It will give the fans even more memories to share especially seeing Eric and Jordan have their 11 and 12 immortalized in the rafters next to Brind'Amour, Wesley, and Francis. Plus, hopefully along next to Williams' 14 and Ward's 30.