The Carolina Hurricanes organization has reached new heights under the leadership of head coach Rod Brind'Amour. He has led the team to the playoffs in each of his first five seasons at the helm, including two trips to the Eastern Conference Final in 2018-19 and 2022-23. The team had missed the playoffs nine straight seasons prior to his hiring.
So you might be wondering, what's the secret? How did Brind'Amour take a struggling franchise and turn them into a consistent contender overnight? While it's impossible to attribute the success to just one person or one area, one advanced statistic might hold a piece to the puzzle. That statistic is known as Corsi, an advanced metric that is derived by taking shots attempted for and dividing it by the shots that the opposing team attempts.
Related: 6 Improved NHL Teams From 2023 Offseason
While the overall importance of the Corsi number or the relevance it holds towards winning can be a highly contentious subject, there's no doubt that the Hurricanes are a solid case study for those who believe the metric is a good measure of overall success.
| Year | Corsi Percentage(CF%) (NHL Rank) |
| --- | --- |
| 2018-19 | 55.13% (1st) |
| 2019-20 | 54.01% (1st) |
| 2020-21 | 53.93% (3rd) |
| 2021-22 | 55.77% (1st) |
| 2022-23 | 59.87% (1st) |
Carolina Hurricanes NHL rank in CF% since 2018
What Does It Really Mean?
So you might be wondering what a high or low Corsi number indicates. In its simplest form, a high Corsi means that a team is attempting more shots than their opponent. Proponents of Corsi argue that it can also be used to measure quite a few different offensive metrics such as possession time and overall offensive pressure applied by a team. Teams that possess the puck more than their opponents over time while applying persistent offensive pressure will most likely win at a higher rate than teams that are on the opposite end of the spectrum.
Why Does Carolina Dominate Corsi?
It is no surprise that the Hurricanes have dominated the Corsi rankings under the leadership of Brind'Amour, in large part due to the team identity he has created and perfected over the years. This identity is characterized by aggressive forechecking, disciplined blue-line play, and belief in the system.
---
Latest News & Highlights
---
This style of play has allowed the Hurricanes to consistently control puck possession and tally up plenty of shots against their opponents over the years. Sounds a lot like a recipe to have a solid CF%, right?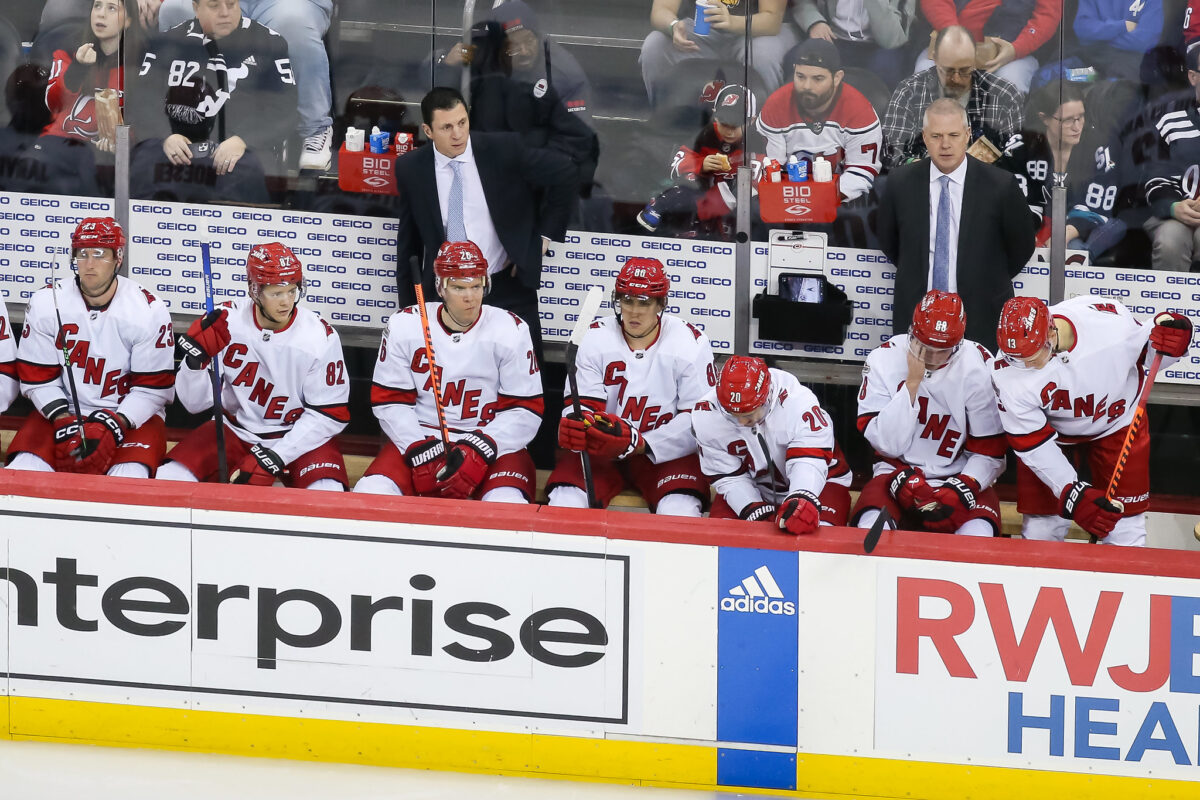 However, as many hockey fans know, dominating shots on goal and possession doesn't always lead to wins especially if the opposing goalie is playing at a high level. This was proven several times last season for the Hurricanes, most notably when they broke the franchise record with 67 shots on goal against the Nashville Predators on Jan. 5 in a 5-3 loss. Despite outshooting the Predators 67-25, the Hurricanes were unable to overcome a legendary performance from Nashville netminder Juuse Saros.
Will the Dominance Continue?
I think it is a safe bet that as long as Brind'Amour is behind the bench the Hurricanes will lead the Corsi rankings or at least be inside the top-five of the category. This is simply due to their style of play that I mentioned earlier, which allows them to dominate puck possession thus leading to more shot opportunities than their opponents on most nights. While the offense can struggle to score at times against dominant netminders, I believe the Hurricanes' system can lead them to their first Stanley Cup since 2006.
It will be interesting to follow how the Hurricanes perform in the Corsi rankings throughout the 2023-24 campaign, as well as how the new additions of forward Michael Bunting and defenseman Dmitry Orlov mesh with their new teammates.