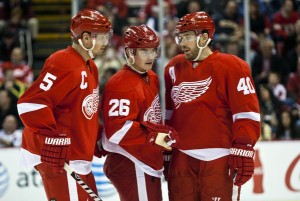 When your National Hockey League franchise misses the playoffs for a third straight season and its American Hockey League affiliate loses in the second round of the playoffs, it's natural to presume that changes are coming. So it's not all that surprising that Calgary Flames general manager Jay Feaster has been active, via trades and free agency, in bringing in some new faces to both the Flames and the Abbotsford Heat for the 2012-13 campaign.
But the prevailing question is whether the Flames' additions will transform them into a playoff team, or merely allow them to tread water in the extremely competitive Western Conference.
In the interest of answering that question, here is a quick glance at the Flames spring and summer-time additions.
D Dennis Wideman
Acquired: trade with Washington
Price Tag: $5.25 million cap hit
Arguably the Flames' flashiest move of the summer was acquiring Wideman's rights from Washington prior to July 1. Wideman fills a need in Calgary's top four – he can eat minutes and provide some flash on the back end, while allowing the team to shelter Chris Butler, Derek Smith and T.J. Brodie a bit. He's also expected to bolster Calgary's middling power-play with a much-needed cannon from the point. That said, the cap hit is high.
Potential Impact: Moderate; He'll definitely improve the power-play, but he was in the bottom pairing for the Capitals in the playoffs.
D Brady Lamb
Acquired: college free agent
Price Tag: $925,000 cap hit
A veteran of four years of wars in the NCAA, including a national championship win, Lamb brings some veteran presence to the Flames' organization despite technically being a rookie. A Calgary native, Lamb will probably start in Abbotsford and will provide some physicality on the back end. He's also got a bit of offensive flair to his game, so he could find a home on the Heat power-play before too long. The fact that he hasn't played any pro at all makes him quite valuable for a Heat club that was hamstrung by injuries and the AHL development rule last year.
Potential Impact: Minimal; He'll be in the AHL, at least to start, due to Calgary's log-jam of defenders.
D Joe Callahan
Acquired: free agent
Price Tag: AHL contract
Added as a depth option for Abbotsford, Callahan is a fairly reliable veteran with AHL stints in Springfield, San Antonio, Portland, Bridgeport, Worcester, Utah, Rochester and Hamilton. He's also amassed 46 NHL games between the Islanders, Sharks and Panthers.
Potential Impact: Very Minimal; AHL body, but will likely sit often due to AHL development rule.
D Zach McKelvie
Acquired: free agent
Price Tag: AHL contract
At times a star with the U.S. Military Academy hockey team in the NCAA – he was a conference all-star in 2008 – McKelvie was unable to turn pro for two years as he served with the American armed forces to fulfill his service requirements. He wobbled between the Providence Bruins and Reading Royals last season and is probably just a depth option for the Heat.
Potential Impact: Very Minimal; AHL (or ECHL) body, but he's got potential.
F Roman Cervenka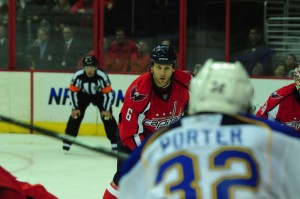 Acquired: free agent
Price Tag: $3.775 million cap hit, including a lot of potential bonuses
Sometimes touted as the best forward outside of the NHL, Cervenka was courted by many teams but signed by the Flames, possibly because Calgary's lack of top-six scorers meant that Cervenka is immediately going to get a lot of ice-time. He was very good in the KHL, but he's also 26 and has never played North American hockey before. If he can adjust to the ice-size and speed right away, he'll be a good addition.
Potential Impact: Moderate to High; If he can get adjusted to the NHL game quickly enough, he'll give the Flames some upper-end depth.
F Jiri Hudler
Acquired: free agent
Price Tag: $4 million cap hit
If you're Jay Feaster and you've just signed a flashy Czech forward who's never played in North America before and speaks no English, it probably seems like a smart idea to sign a veteran Czech who's played in North America for years and has a Stanley Cup ring. You'd be right. Hudler will provide the Flames with a nice depth option, but he'll suffer a bit from not having the line-mates he had in Detroit.
Potential Impact: Moderate; Hudler's a great complementary player. His impact depends on who he's supposed to be complementing.
F David Eddy
Acquired: college free agent
Price Tag: $532,000 cap hit
Jumping to the pros after three years at St. Cloud State, Eddy plays a strong two-way game and has some offensive upside. He'll anchor a fairly underrated forward group in Abbotsford.
Potential Impact: Minimal (in the NHL), Moderate (in the AHL); Eddy probably won't crack the Flames roster for awhile, but he'll give Troy Ward some great depth in key situations.
F Sven Baertschi
Acquired: 2011 NHL Draft
Price Tag: $1.425 million cap hit, including a lot of potential bonuses
After a five-game emergency call-up in the winter, 2011 first round pick Sven Baertschi finally hits the NHL full-time this season. Baertschi was incredible at times in his short stint and while he's likely going to have some adjustments to make once he's a full-timer, he's going to give the Flames a lot more offensive options.
Potential Impact: Moderate; Baertschi will be given every chance to score, but he'll have to adjust to the physicality of NHL defenders.
F Max Reinhart
Acquired: 2010 NHL Draft
Price Tag: $870,000 cap hit
The eldest son of former NHLer Paul Reinhart, Max is a very adaptable, cerebral player. He made the jump from the WHL to the AHL late last season and looked strong. He's got a bit of work to do in terms of adding body mass, as he's still rather lean, but he should become Abbotsford's all-situations utility player right away. He'll get a long look at the NHL camp because of his last name and junior playoff success alone.
Potential Impact: Moderate; Reinhart will be a great top-six option in Abbotsford and could provide great bottom-six support in Calgary, provided that he can add some mass and not lose what makes his game work.
F Turner Elson
Acquired: undrafted free agent
Price Tag: $548,000 cap hit
Signed after a fairly strong performance as a try-out at last year's training camp, Elson graduates from a very good Red Deer Rebels team and will have to forge an identity as a pro. He's shown leadership capabilities in Red Deer, as well as being a rough-and-tumble two-way player that makes life hard for the opposition. He could project to be a Lance Bouma type over time, but he'll have to show he can hack it in the AHL first.
Potential Impact: Minimal; Elson has to show what he can offer at the AHL level.
F Ben Street
Acquired: free agent
Price Tag: $575,000
A familiar name to Heat head coach Troy Ward (who was an assistant coach when the University of Wisconsin was recruiting), Ben Street had a good five-year tenure with the Badgers, even serving as captain for two (albeit injury-shortened) years. He has since put up very good numbers in the ECHL and strong numbers in the AHL with the Wilkes-Barre/Scranton Penguins. He'll add an offensive option for the Heat that doesn't have to be hindered by the AHL's development rule.
Potential Impact: Minimal (in the NHL), Moderate (in the AHL); Street's been great in the minors, but not great enough to earn an NHL call-up. He projects to be a depth option for Calgary, at least until he shows how well he fits into their systems.