Pittsburgh head coach Dan Bylsma announced that James Neal and Jordan Staal are the latest injury victims during his 'State of the IR' report on Sunday.  Staal suffered a left knee injury and is expected to miss 4-6 weeks, while Neal broke his foot blocking a shot on Saturday night against New Jersey and will miss "weeks, not days," according to Bylsma.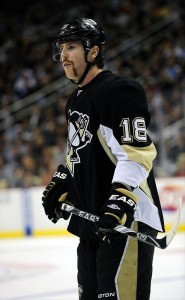 The Penguins were already without the services of Sidney Crosby (concussion-like symptoms), Kris Letang (concussion), Arron Asham (upper body), and Dustin Jeffrey (knee), before penalty-killing specialist Craig Adams also had to be helped off the ice on Sunday with a lower-body injury.
Losing Neal and Staal simultaneously is even more difficult to swallow given their contributions on special teams for the Penguins.  Neal leads the entire NHL with 10 powerplay goals and Staal is widely regarded as one of the league's best penalty-killing and shutdown centers.
Following a 2010-11 season that saw Pittsburgh lose 350 man-games due to injury, it was hard to envision a tougher scenario for the team to overcome.  With Neal and Staal now out of the lineup for an extended period of time and no timetables available for Crosby and Letang's return, the Penguins, who currently sit in 8th in the Eastern Conference, could be facing disaster.  The team is already on pace for 431 man-games lost due to injury this year.
What Happens Now?
Dan Bylsma's 'replacement squad' still finished fourth in the Eastern Conference with a 49-25-8 record last year, but nine victories came via overtime or shootout after Malkin went down with a knee injury on Feb. 4.  It won't be easy to repeat that performance with arguably four of their top five players out of the lineup.
The kneejerk reaction is to demand trades from General Manager Ray Shero and his staff.  Short-term stopgaps, long-term changes, anything to keep the team from falling into a hole in the standings they can't dig themselves out of.  That probably isn't realistic.
Just ten days ago, we suggested Shero reach out to desperate Columbus GM Scott Howson in an attempt to swing a deal from a position of leverage and roster abundance.  The injuries to Neal and Staal have turned the tables on Shero, leaving him in a tough spot with his peers knowing how badly the Penguins will need goal-scoring in the coming weeks.
Salary Cap Ramifications
The Neal (Cap hit: $2.875m) and Staal (Cap hit: $4m) injuries provide little value to the Penguins from a salary cap perspective.
Both players will likely miss 10 games and 24 days, allowing the Penguins to utilize the long-term injury exception.  Unfortunately, the benefits of LTIR are only temporary in this situation.  The two roster spots can be replaced with players from the minor leagues or acquired via trade, but the Penguins must be salary cap compliant once Neal and Staal return to the lineup.
This means Shero can't go out and acquire a player like Alex Kovalev ($5m cap hit), as he did last year when Evgeni Malkin was ruled out for the rest of the season.
(*A common question: The Penguins also do not 'bank' any unused LTIR money for use at the trade deadline.  The LTIR exception only serves as temporary salary cap relief for a team that suffers serious injuries.)
The Impact of Crosby and Letang
How the team handles the recoveries of Sidney Crosby (Cap hit: $8.7m) and Kris Letang (Cap hit: $3.5m) is a different story, and a much more challenging one at that.  News and status updates regarding both players has slowed to a trickle, leaving fans to wonder whether either player will even return this season.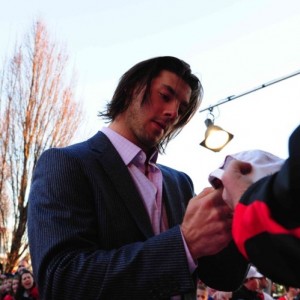 Letang has been skating with strength and conditioning coach Mike Kadar as of late and seems to be the more likely of the stars to return.  If either player is ruled out for the remainder of the season, Shero would have the room to acquire multi-million dollar players under the LTIR scenario above.
However, it's important to remember that despite constant misreporting, the salaries of players on LTIR do not disappear or 'come off the books'.  The players are still paid in full and their cap hit still applies.  The Penguins are merely allowed to exceed the salary cap ceiling.  It's impossible to predict exactly how much salary cap space Shero will have to work with until we get closer to the trade deadline, but this wrinkle could come into play down the road when it comes to determining that dollar amount.
It's also important to remember that just because the team might have the ability to add $8 million in salary at the deadline, that doesn't mean ownership will be willing to spend the extra money.
The Penguins PR staff will also have the challenge of managing fan expectations without crimping Shero's leverage in the trade market.  If doctors decide Crosby will not be able to return this season after possibly suffering his third concussion in 12 months, Shero's top priority becomes finding a legitimate center to replace him. If the team announces Crosby will be shut down for the season, the price to acquire that replacement center immediately rises.
You can be sure GM's and staff from other teams will be sniffing around trying to find out the latest on Crosby's recovery before engaging in trade talks with Shero and the Penguins.  The team staying mute on Crosby's day-to-day status won't be easy for paying customers to digest, but it'll be vitally important for negotiations in the weeks leading up to the Feb. 27 trade deadline.
Despite being in a desperate situation at last year's deadline, Shero was still able to make deals that benefited the Penguins in the short-term (Kovalev from Ottawa) and long-term (Neal/Niskanen from Dallas).  The Ottawa Senators were in the midst of a full rebuild and were looking to unload any asset they could, while the Dallas Stars were attempting to free up cap space to re-sign Brad Richards in the offseason.
We're only at the halfway point of the season and most teams are still in the thick of playoff contention at this point.  The list of sellers is far shorter than the list of buyers.  Shero's best bet is to stay idle and see if his team can survive a tough stretch of games before the All-Star break.  At that point, he'll have a better feel for the status of Crosby/Letang and more trade options will be available.
In the meantime, fans and team officials are hoping the run of bad news finally comes to end.  The past two seasons have been an injury nightmare for Shero, Bylsma, and the players themselves.  Maybe the Penguins are beginning to regret building the Consol Energy Center on the former site of St. Francis Hospital.  Right now, that's the only logical explanation.
___________________________________________