In this translated interview, originally appearing on the Russian website sports.ru, Sergey Zborovskiy talked about his move to Canada, described his feelings in the WHL and told some interesting histories from his first year in North America.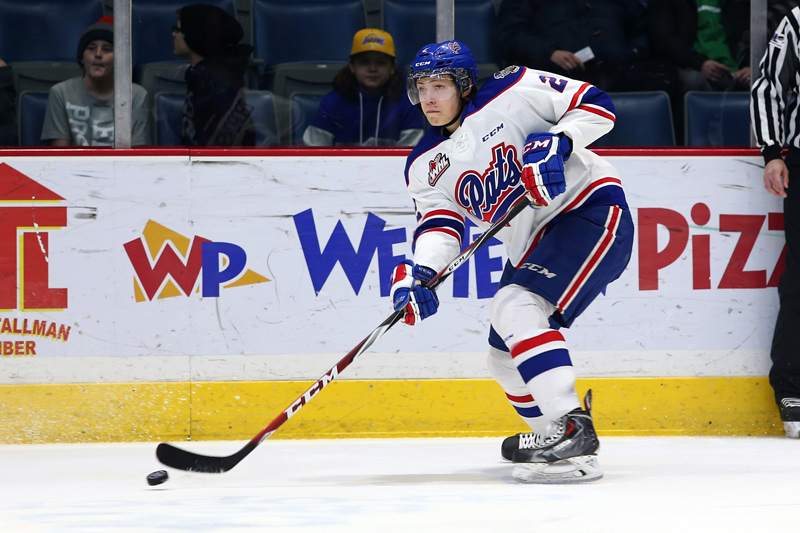 * For the original sports.ru article by Kirill Novokshchenov, click here.
– How did you become a hockey player?
– When I was born, a close friend of my father advised him to make me play hockey. My father thus said: "Well, we'll see". Then when I was a little bit older, I've lost a tooth, and thus my father said "Ok, that means that we should get you playing hockey". I started playing for the "North Stars" hockey school in Moscow, near the Babushinskaya metro station. I didn't make the cut at the first attempt, but at the second try I've been picked up in the team. I was five, my first coach was Sergei Zotov.
– If I recall correctly, you had a chance to play in the MHL in 2014 January, but you played only 4 games. Why didn't you break the lineup?
– I don't know. I feel that I was good enough to play there, but the coaches dediced otherways. The good thing is that I didn't waste a year and I could keep on playing.
– Did this short period give you something good?
– Yes, I gathered some good experience in playing with older guys, all is different there. Guys are paid to play, and you need to show that you're worth such money. The MHL it's high-level hockey, you don't play with kids anymore.
– Did you know that you would play in Regina before the draft?
– At the end of last season I decided to move to Canada because I thought that I wouldn't play much in the MHL. Therefore I talked about it with my agent, Alexander Chernykh. Before the draft they gave me some questions, like: "Are you physically and mentally ready to go? You'll be away from your parents, you'll be alone in a new country, a new environment. And you'll have to do this while playing hockey." So I replied yes, that I already decided, and my agent told me that a team is interested in me and that I'll be drafted by that team. He didn't tell me what team the talk was about.
– Does this mean that you were preparing to depart at the start of last season?
– Well, at the start… I already had such thoughts, but I didn't want to think about it because I wanted to stay focus [on the current season]. Once the season was over, I decided to go. If I had a chance, then I will use it. And I don't regret to have crossed the Ocean.
– Do you picture yourself more as a stay-at-home or as an offensive defenseman.
– I would say neither one. I can play hard on defense, but I can also join the rush. But not as often as pure offensive defensemen. If I have a good chance, I'll join the rush.
– How much ice time do you get per night?
– Thanks God I got to the right team in the right moment. We have a good, young team, and the coach trusts me. This is great and I try to give him back. But you always need to showcase yourself during every practice, and keep on working. I think this is the most important thing for an athlet, regardless of the sport. You always have to progress. Especially so in Canadian hockey, if you stop progressing, they'll simply tell you bye-bye.
– Do you play on special teams?
– During penalty killing stretches I almost don't get out of the ice. Regarding powerplays, we have two good lines, and I'm on the second unit. We have a very young team and I and other guys lack of some experience, and for now we are second-last in the powerplay realization standings. But lately we're working more on it during practices and we're getting some results.
– Unfortunately I didn't find any video of your goals. Can you tell us about them?
– I remember my first goal. [Regina Pats forward Pavel] Padakin, he's my friend, he's from Ukraine, got the puck and went forward, I noticed that our opponents were changing, and I decided to join the rush. I received the puck, shot, and all. My team mates congratulated with me and I was awarded with the puck later.
– Did you fight this season yet?
– No, not yet, but I think it's important before the draft. I think that a defenseman should know how to fight. We still have games in front of us, and I'm sure that I'll have a fight. The most important thing is that before you fight, you think a lot and you don't know what a fight is. This is not like children hockey, when you just skate around and hit someone, this is a real fight. You need to keep control of yourself. My team mates told me that until you try, you can't really understand and it's hard to realistically imagine it. And it lasts less than one minute! You need to be really focused on it.
– Your coach is John Paddock, who scored during the Stanley Cup Finals, then coached in the NHL. Does he tell you about his past as a player?
– We are his first junior team. He's a great coach, with a strong personallity. I don't remember him telling stories, but he's very demanding. You can compare him with Petr Vorobiev. He is a master of Russian hockey, while Paddock is a master of Canadian hockey.
– Who is the best player for the Regina Pats?
– We have a very young team, and there is a guy who was born in 1998, Sam Steel, he was the second overall pick of the WHL draft. A very good center. I think he's the most talented player of our team.
– Do you think your game suits the small ice better?
– I don't know. Canadian hockey is more interesting, I like it the best. I think that if a player wants to progress, he should get here. The game is a higher tempo, you need to take decisions faster, you always need to be focused on the game. I got here to improve as a player, because hockey here is better.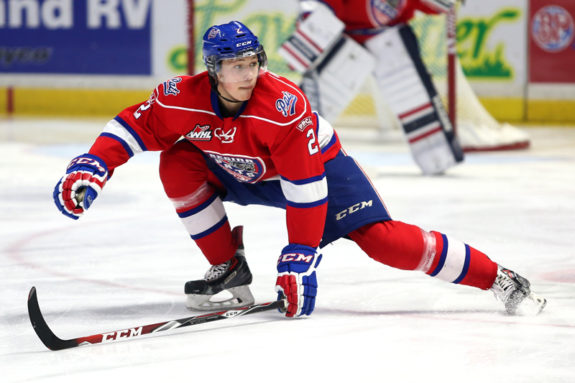 – What do you think about your fellow countryman Ivan Provorov of the Brandon Wheat Kings?
– I think that he's a very good defenseman, he's good both forward and on defense, and he's among the leaders of his team. I think that he has a big future in front of himself. And this isn't his first year in North America. I think that he has everything to become a great player.
– You have quite a large frame. Don't you have mobility issues because of it?
– Thanks God I do not. I talked with many scouts and I know that my skating is good. I know that I need to improve, but I'll work on it. Once that a tall defenseman gained some speed, is difficult to stop, the problem is the acceleration. Every tall defenseman has this kind of problems, and I'm working on it.
– Did you feel any difference in practice routines between Canada and Russia?
– Of course. In Russia practices are more focused on skating, practices are harder. In Canada at the end of the practice we work on tactics, our coach tells us how to play, we work on powerplay, penalty killing. Practices here aren't too hard because we play 72 games during the regular season, and that's very demanding.
– How is your English?
– I made a mistake here. I think I should have attended an English language school. I will next year. I can understand pretty much everything, but I can't reply right after when they talk to me. I need to think for a few seconds. I am lucky that we have Pavel Padakin in our team, he plays here for a few years already and I don't know what I could do in many situations if he wasn't here. It's the first year we play together, but we are big friends already.
– Can you tell us your funniest story from your experience in Canada?
– In Saskatchewan there are such huge snow storms, I have never seen anything similar before. Recently we got a game postponed, we couldn't reach our bus, you could not see anything out there, not even the road. So our coach told us that we weren't going to play, and we were somewhat happy, because that meant a day off. So we got back home, and the next day we had a very hard practice. It was incredible: when I got up in the morning the sun was shining, the weather was great and there were birds singing in the sky. Then we got to the autobus and all started. It was a bit scary, because you couldn't see ten feet in front of you. I also remember our trip to Vancouver. The city, the Canadian landscape, it was truly beautiful. And we went to the game against the Victoria Royals by ferry, as the team is on the Vancouver Island. We had some great views there.
Read Also: Interview with 2015 Eligible Yakov Trenin
A professional hockey writer and translator. Loves Russian culture, language, and hockey. Reachable on twitter @AlexSerenRosso