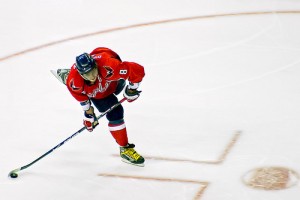 Last night Alexander Ovechkin turned in his greatest playoff performance.  His three goals were all difference makers and each shot he fired on net was an absolute rocket.
Alex Ovechkin is, without a doubt, one of the best players in the National Hockey League and the NHL's most feared goal scorer.
Which is exactly why it might be time for Penguins coach Dan Bylsma to question the curve on Ovechkin's stick.
Several times last night you could see Ovechkin switching his stick for another one on the bench.  Why?  Is he very particular about his lumber?  Or is he trying to hide something?
After scoring his second goal of  the game on the power play during yesterday's contest, Ovechkin remained on the ice as the Penguins returned to even strength.  His stick did not.
Ovechkin scored the goal, celebrated and then quickly switched sticks before the faceoff.  Again, the question is why?
There is no doubt that Alexander Ovechkin is an outstanding hockey player.  Even if he is playing with an illegal curve, he is still a great player.  The curve on your stick does not help you find space on the ice, deke around opponents or deliver crushing checks.  It does, however, help you cup the puck and unleash a harder shot.
Ovechkin dominated last night and he put the Penguins in a must win situation.  Unless the Pittsburgh Penguins are able to win both games at home, this series is as good as over.  This is exactly why, going home for game three down two games to none, it is time for Bylsma to ask for a stick measurement.
Well, Bylsma wouldn't actually be the one asking for the measurement.  A players stick can be measured if "a formal complaint is made by the Captain or Alternate Captain of a team" (NHL.com)  That means it would likely be Sidney Crosby making the call.  Of course Crosby – who has already been branded as a whiner – would probably be mocked by the fans and media for requesting the measurement, but that doesn't matter.  Crosby needs to make the call.
If it turns out that Ovechkin is using an illegal stick, he would be "assessed a minor penalty and a fine of two hundred dollars."  If the Penguins ended up being wrong, " a bench minor penalty shall be imposed against the complaining Club in addition to a fine of one hundred dollars."
Now, whether the Penguins being on the power play would actually help them is debatable, but it's worth a shot.  If done early in the game, when the Pens suspect Ovechkin of using an illegal curve, it could gain them some momentum if they are right.  Ovechkin would be forced to use a legal curve for the rest of the game.  If they're wrong and they receive a penalty, the damage would be minimal if it took place early in the game.  The Pens would have time to get back any goals scored on the Capitals power play.
Is it a desperation move?  Of course it is.  But right now the Pittsburgh Penguins need to do anything possible to gain any advantage in a series that where they are quickly losing ground.
Now, how angry Ovechkin would be at the measurement is unknown.  There is a chance that after the call – regardless of the outcome – a motivated Ovechkin could score another hat trick and destroy the Penguins' hopes, but that's a chance the Penguins should be willing to take.
Stick measurements are rarely done these days.  Teemu Selanne had his stick measured earlier in the year and it was legal.
The Montreal Canadiens famously asked for a measurement on Marty McSorely's stick in the 1993 Stanley Cup Finals.  His curve was illegal, the Habs scored on the insuing power play and they went on to win the Stanley Cup.
It has long been suspected that Alexander Ovechkin's stick has an illegal curve at least part of the time.  He has never been called on it.  At this point, with the Pittsburgh Penguins' season hanging in the balance, it is time to make that call.
Ovechkin Stick = Measure the curve.