James Neal has been in and around the NHL for quite some time. At age 30, he has played for four NHL teams, all of which were experiencing their primes. It is no surprise to anyone that, when the light is shining brightest, he is going to perform. Throughout his career, Neal has managed to score when his team needed it most. Now in Las Vegas, James Neal is proving to everyone that he is still capable of those feats.
Neal scored his first NHL goal of his career in his first start. The Dallas Stars faced off against the Columbus Blue Jackets in that game, but Neal made sure to leave his mark on the game. It is a mark that he has left on many games throughout his career, stepping up in the biggest of moments and accomplishing great feats on the ice. Flashy goals and scoring in debuts are only two of his most common goal-scoring accolades.
Debut Goals
As previously mentioned, James Neal scored his first NHL goal in his first career NHL game. Neal's goal came after a long penalty kill opportunity for the Columbus Blue Jackets. After executing a quick line change, the Stars pushed into the offensive zone and Neal finished off the rush. His goal found the left side of the net on a quick one-timer. His goal opened the floodgates for his career. By the end of the year, Neal held the team's rookie goal record, scoring 24 goals on the season. His total was seven more than Jussi Jokinen's previous record of 17.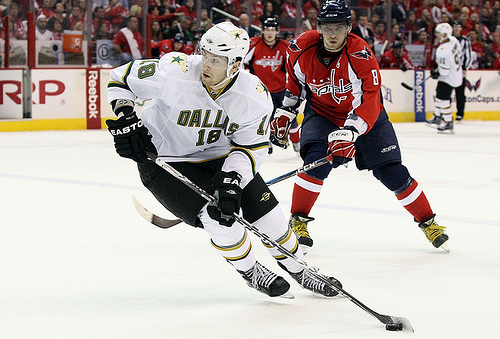 Neal finished his Dallas tenure with 72 goals, an average of 24 per season. He fills up the net, plain and simple. His ability to score finesse sniper-type goals make him an excellent fit for the Knights. Flash forward to the Vegas Golden Knights' first game this season. Down one goal to Neal's original NHL team, the Knights needed some magic.
Neal came on the ice after a delayed penalty was called on the Stars. This led to goalie Marc-Andre Fleury being pulled, allowing Neal to sneak into the offensive zone. His quick shot deflected off a Dallas defender, changing its flight path and sending it into the back of the net. This debut was an emotional one for the franchise. Following the tragedy in Las Vegas, the team showed out as a unified bunch in a comeback win.
James Neal – Clutch goals
Neal has also made his career on the backs of clutch goals. Some of these have been done with flair. Back in 2011, Neal found himself in position to win Game 4 against the Tampa Bay Lightning. Tied up in the second overtime period, the Penguins dumped the puck down the boards to Neal. Neal scooped it off the boards and put the puck away for the victory.
Coming back to the current NHL season, James Neal has found himself in another clutch situation. In the inaugural game for the Vegas Golden Knights, it was Neal who took the game in his hands. Tied deep into the third period, Neal found himself with the puck and an open lane to the goal off a great pass. Having to drop to his knees, Neal scooped the puck from the ice and put it top shelf on Dallas' goaltender.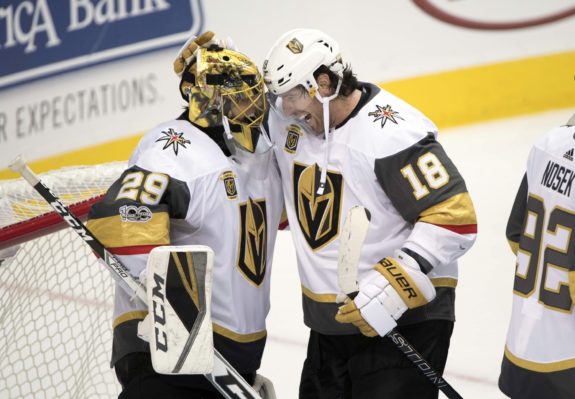 Neal's 12 goals in the first quarter of the season have him on pace for his highest total thus far in his career. Some of his more clutch goals have played into this, as well as Vegas needing his prowess and experience on the ice. Twice in his career, Neal has managed to top 30 goals – once with Pittsburgh and once with Nashville. He will continue to score clutch goals all season long.
One thing is for certain, James Neal has made the Vegas Golden Knights a much more relevant team this season. Alongside William Karlsson and Jonathan Marchessault, the Knights have managed to piece together effective scoring in most of their games this season. James Neal will continue to impress this season.
Eric Hall has been an avid sports fan for as long as he can remember. Growing up in Ohio, he learned about hockey through heated college games between Ohio State and Michigan. His NHL love was universal, and to avoid becoming a bandwagon fan, his allegiance fell to the newest expansion team, the Vegas Golden Knights.