What defines a captain? According to the dictionary, a captain is a person of great power and influence, who is the head over others. Every team has a key player with these characteristics, and is basically the leader of the team.
When you go up and down the Devils roster, there is only one name that comes to mind when you read the definition of a captain; this player is right winger Jamie Langenbrunner.
Jamie Langenbrunner was born in Cloquet, Minnesota on July 24th,1975. Jamie was selected 35thoverall in the 1993 NHL Entry Draft by the Dallas Stars. He played in the minors for his first two seasons with the Peterborough Petesin the OHL and he made his NHL debut with the Dallas Stars in that second year.
Langenbrunner did not see significant time in the NHL until the 1996-1997 season. Langenbrunner had some great years in Dallas and he played an huge role in their road to the Stanley Cup in the 1998-1999 season, where he scored 10 goals and had 7 assists.
After this season, Langenbrunners numbers began to drop consistently and soon the Dallas Stars dealt him to New Jersey in the 2001-2002 season. The New Jersey Devils sent Randy McKay, Jason Arnott, and a draft pick to the Dallas Stars for Jamie Langenbrunner and Joe Nieuwendyk.
The following season it was clear that Jamie Langenbrunner had found his true home.
In the 2002-2003 season Langenbrunner had a great year.  He had 22 goals and 33 assists, which tallied to a then career best of 55 points on the season. Jamie also performed extremely well in the playoffs that year. He scored 11 goals and 7 assists, and helped lead his team to a Stanley Cup Championship. The Stanley Cup victory was the second of his career and the third for the New Jersey Devils.
Jamie Langenbrunner has always peformed well in the playoffs. Currently, he is fifth among active NHL players in career playoff winning goals, with 12 game winning goals and 4 career playoff overtime goals.
It's fair to say that the finest moment of Jamie's career came in December of the 2007-2008 season, when he was named captain of the New Jersey Devils. Many questioned head coach Brent Sutter's decision to name Jamie the captain, but it has become abundantly clear that he made the right decision. Ever since the day Jamie Langenbrunner has been named captain, he has gone out and shown everyone what it's like to be a true captain.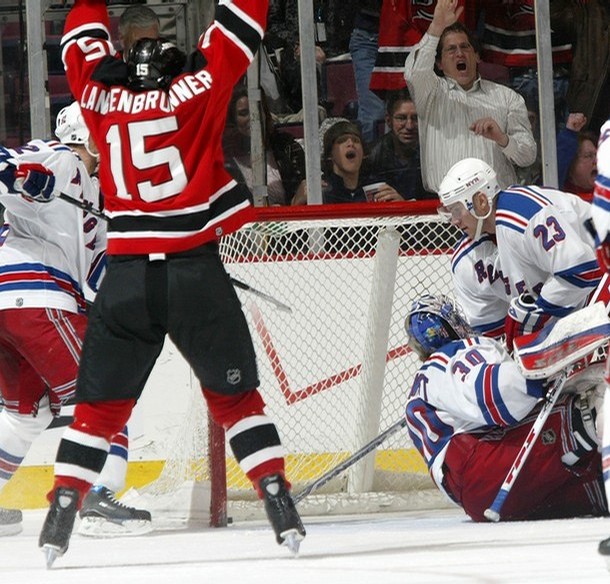 Now what does it mean to be a true captain? A true captain goes out there night in and night out and gives 100 percent to his team all the time. A captain steps up and makes plays when the team needs them most. Most importantly, when things aren't going a teams way, the captain steps up and tries to make something happen.
Jamie Langenbrunner has displayed these traits since the day he became captain. It has also been very clear this year as well.
Every night Jamie is out there playing hard and creating scoring opportunities. It's fair to say that the guy never takes a night off. This year Langenbrunner has scored huge and timely goals, which has helped the Devils be so successful this season without Martin Brodeur.
When things aren't going the Devils' way, Jamie is always trying to get something started. An example of this was seen last week on February 7 when the Devils faced off against the Los Angeles Kings, the Devils played possibly their worst game of the season. In the third period, Jamie got into a fight to try and create a spark. Jamie rarely fights and it just goes to show what a captain is supposed to do in situations like that.
Maybe Chris Drury can learn a little bit from Jamie (sorry Ranger fans).
Jamie Langenbrunner is having yet another outstanding year this year and is showing everyone what it takes to be a captain. I believe when all is said and done Jamie Langenbrunner will go down as one of the greatest New Jersey Devils of all time.
Being a fan of the New Jersey Devils, I have seen many great players come and go and I must say Jamie is one of the most hardworking players I have seen play for the New Jersey Devils. I'm extremely proud he is a Devil and I hope to see his number raised to the rafters someday.
Jamie Langenbrunner is a great player and a great captain. He shows night in and night out, what it takes to be a great captain in the NHL
Langenbrunner Highlights:
.