Hart = Most Valuable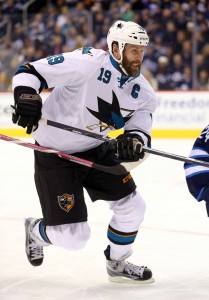 Unless one has a negative bias towards one of the following players based off ridiculous stereotypes, the following are the best centers in the National Hockey League: Sidney Crosby, Jonathan Toews, Anze Kopitar, Patrice Bergeron, Evgeni Malkin, Ryan Getzlaf, Joe Thornton, Claude Giroux, John Tavares, Pavel Datsyuk.
Being below 50% in the face-off circle, star scorers Tyler Seguin and Steven Stamkos play much more of a traditional right wing type of game. This isn't to say they are less skilled players than the group of 10 above, just simply not as valuable as the traditional center. If you are not called upon to take a face-off late in a tie game in your own zone, you simply don't make my list of considerations for the Hart trophy.
The Hart Memorial Trophy is not supposed to be awarded to the game's most talented player or even highest producing player. It is meant to be awarded to the player most valuable to his team. Haters of Joe Thornton (winner of the 2005-06 Hart Trophy) can roll their eyes and chastise yours truly for having "teal colored glasses" but there is a case to be made for the 35-year-old center.
First and foremost, the biggest reason Thornton has a case is because opponents never have the puck when he is on the ice. "Jumbo" leads the entire NHL (of players having skated over 400 even strength minutes) in Corsi-for percentage at 58.8. Not a fan of blocked shots? Well Thornton's Fenwick-For percentage is 4th overall in the NHL at 58.0, and first in the league among forwards. His 28 points in 33 games is tied for 19th in the league, tied with Toews but behind Crosby, Getzlaf, Malkin, and Giroux.
Furthermore, 36.6% of Thornton's face-offs are in the defensive zone, the 10th highest percentage in the league. The only other top line center (from the above group) in the top-10 in defensive zone start percentage is Giroux, 2nd overall with 40.3% of his face-offs in the defensive zone. Thornton's overall 56.1% face-off percentage is fifth among the 10 elite centers.
PDO + Linemates
In terms of points, Thornton still leads the Sharks and as mentioned above is tied for 19th in the league despite a PDO of just 99.1. PDO, the added total of shooting percentage and save percentage isn't entirely about luck, but is widely considered to be a tool to judge offensive and defensive puck luck. Filip Forsberg is no doubt having a great season, but how much of his 82.9% goals for percentage and 108.9 PDO attributed to having Pekka Rinne between the pipes? Forsberg's 12% shooting percentage is nearly 3.5% better than Crosby, that almost certainly can't last. Forsberg is a tremendous young player but he is not that much more of a dynamic goal producer than the game's most talented player.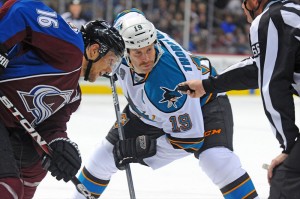 Crosby, Giroux, Toews, and Malkin all have significantly higher PDOs than Joe Thornton. The Sharks have an unusually low shooting percentage of just seven percent when Thornton is on the ice. A year ago Thornton's on ice shooting percentage clocked in at around nine percent. Furthermore, Sharks goaltenders have saved only 92.16% percent of the shots against with Thornton on the ice. Logan Couture plays in front of the same goalies and has a 92.89% percent on-ice save percentage. What all this means is Thornton's relatively low (for a top player) 51.5% goals for percentage at even strength is due to rise rather significantly as we go along.
Not to mention Thornton is doing all of this, without Brent Burns on his line anymore. The two of them did ridiculous damage on Western conference opponents last year. A year go, Burns' 3.49 goals for per 60 even strength minutes was seventh best among all NHL forwards. Thornton last year clocked in at 3.29 per 60. This year, Thornton is currently 67th among forwards at just 2.25 goals for per 60 but is on pace for only six fewer points this season. While his current even strength line with Hertl and Pavelski is flourishing, neither of those two wingers bring the speed and separation abilities that Burns brought next to Thornton. Pavelski has never been fast and Hertl has lost a step of his explosion after a knee injury cut short his rookie season. Over the years, Thornton is used to having a speed winger on his line in either Patrick Marleau or Burns. This year he doesn't have that element, and is still producing at the highest of levels.
To add to Thornton's case, you have to look at the Sharks power-play. A lethal unit clicking at nearly 24% (fourth overall) features Thornton, Marleau, Couture, Pavelski and Burns. In the first 29 games, Thornton amassed just five power play points while Marleau and Couture piled up 10 each. With any luck at all, Thornton would certainly have a couple more power-play assists to his stat sheet. Consider this, last year the Sharks power-play struggled finishing just 20th in the league at 17.2%. Thornton picked up exactly 25% of his 76 points on the power-play a year ago, a season in which he and Burns crushed it at even strength. This season, with the even strength scoring down, but the power-play much improved, one would expect a much bigger percentage of Thornton's points to come on the man advantage. However, only seven out of Thornton's 28 points have come on the power-play, exactly 25%. No change in point production on the power-play. Again, he has been terribly unlucky points wise, could easily have 32 or 33 instead of 28.
Eye Test & Giroux
Thornton also plays the toughest minutes out of all forwards on the Sharks. He plays against top competition night in and night out and has more defensive zone starts than Marleau and Couture. Thornton leads the league in Corsi-for percentage but does so more frequently starting in the defensive zone than other elite forwards.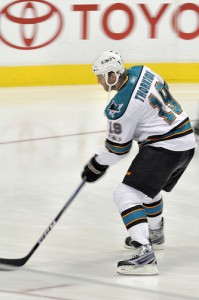 There are a lot of numbers to consider when gauging a player's value to his team. None of them are perfect and there is still the need for the eye test. Watching the Sharks on a consistent basis, it makes one cringe to imagine just how much worse they would be without Thornton. Couture bumped up to top line duties, both he and Marleau have struggled in the face-off circle this year. Then James Sheppard bumped up to second line center? Or perhaps Pavelski slides into a second line center role, but then the Sharks would be extremely thin at the wings with Burns at defense and Pavelski in the middle. In that case their top line wingers from the previous year would now both be at different positions and their top line center out of the lineup. Losing Thornton basically screws everything up for this team. If we're talking about value to his club, Thornton is right up there with the most valuable in the league.
Now personally, based on all the advanced numbers, my choice right now for the Hart Trophy would be Giroux. Better goals for at even strength, even higher defensive zone start, playing against elite competition, likewise leading a terrific power-play, and dominating in the face-off circle for a team that would be miserable without him. That said, the 35-year-old Thornton has a case, whether you want to believe it or not.
Andrew has been credentialed to cover the Sharks since 2010 and the 49ers since 2012. He graduated with his BA in Broadcast Electronic Communication Arts in 2013 from San Francisco State University.