I hope that everyone here in the lower 48 had a safe and enjoyable Memorial Day Weekend.
To all of those who paid the ultimate sacrifice for my freedoms, a very heartfelt thank you.
---
In terms of news out of Penguins' camp, there isn't much, but here are a few quick-hit thoughts from what I do know regarding the Pens' ongoing search for a new GM:
Jason Botterill – Former assistant GM to Ray Shero and current interim GM. Ownership stated that Botterill would be a candidate for the opening, and it is my opinion that he is the front-runner based on his talent managing the NHL's salary cap and his knowledge of the Penguins' roster and farm system.
Pat Brisson – Sidney Crosby's agent and good friend to co-owner Mario Lemieux. His name just won't go away despite his stated lack of interest in the job. There is no doubt that this would be a huge conflict of interest, not to mention that Crosby would need to find a new agent. Not something I'm sure he wants to deal with.
Julien BriseBois – Current assistant GM in Tampa Bay under Steve Yzerman. Like Botterill, BriseBois is a wiz with the salary cap, and is considered one of the league's up-and-coming assistant general managers who is just about due to land his own gig.
Rossi further notes that ownership is seeking someone who has a successful track record in both scouting and player development. Each of these departments seemed to suffer under Shero's guidance.
One thing that leapt off the page while reading Rossi's blog was this:
"Bylsma has two years remaining on his contract, and Penguins ownership is said to be growing comfortable with the potential for him to return for next season."
Huh? In an interview with Lemieux, co-owner Ron Burkle, and team president and CEO David Morehouse conducted by Tribune-review columnist Dejan Kovacevic just after the announcement of Ray Shero's firing, Kovacevic and Burkle had this exchange:
"DK: What's the best way to describe how disappointed you guys are? I know how you felt about Ray as a GM and person. How disappointed must you be to have reached this point?

Burkle: I think we looked hard at ourselves last year. We spent a lot of time sitting in this very room last year, trying to figure out what changes should we make, what should we do. And we made the decision to bring another coach in and have a look, see if we could be more flexible, try to adapt between how we were playing in the regular season and in the playoffs.

DK: Jacques Martin.

Burkle: Yes. And Ray made a strong argument for what he wanted to do, for the continuity he wanted, for extending the contracts, all the stuff you know about. I think the piece that was added, really by Mario, and that was embraced by Ray was to bring the other coach in and change the ability to adapt to situations. And if you look back at that today, in some ways, I wish we hadn't made that bet. Because that's another year. So if we're disappointed, it's that we lost a year to the change that we should have made already."
So let me see if I understand this: After the 2013 campaign, ownership was in favor of firing Bylsma, but Shero convinced them otherwise. At Lemieux's behest, Jacques Matin was brought in as an extra set of eyes, and a different voice in terms of making adjustments.
Now, ownership has done a complete 180 and as Rossi said, seems to warming up to the idea of keeping Dan Bylsma around. Ownership (who the actual quote belongs to in unknown to me) has even gone so far as to say that if the new GM wants to fire Bylsma, they will want justification as to why.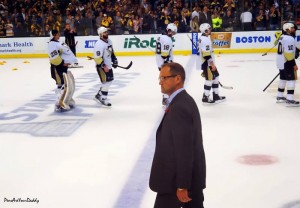 I'm thoroughly confused by all of this. I've sat with it for a while, and the only thing that I can come up with is that Dan Bylsma's regular season success is playing a HUGE role in ownership's (somewhat) support of him. Which implies to me that ownership, perhaps at the direction of the former politician Morehouse, is almost (I said almost) more concerned with the sellout streak than the Stanley Cup or its playoffs.
After a slow week as it pertains to Penguins' news, it would seem that things will be heating up this week over at Pens' HQ. We should have something worthy of being branded "BREAKING NEWS" in the next week or two. Should be interesting in the coming days.
Inbox is TDTorraoTHW@gmail.com