On Oct. 4, 2020, the Los Angeles Kings' acquired Olli Maatta via a trade with the Chicago Blackhawks. With the NHL season just recently kicking off, it's emerged that he is going to be partnered with Drew Doughty, who has been one of the best blue-liners in Kings' history.
This duo has the potential to become one of the league's best defensive tandems and could play a pivotal role in the Kings' vision of making the playoffs in the 2020-21 season.
Winning Pedigrees
Both members of this tandem have very successful histories in the NHL. Maatta played a pivotal role in the Pittsburgh Penguins' back-to-back Stanley Cup victories in 2016 and 2017. In the 2016 playoffs, his average time on ice (TOI) was 17:44 per game. This ranked seventh on the team but was only two seconds less than what fifth-placed Phil Kessel averaged. Maatta produced seven points, which ranked third among the team's blue-liners.
In 2017, Maatta played even more in the postseason, as his TOI average was a whooping 20:36. This ranked third on the team and was ahead of the likes of Sidney Crosby, Phil Kessel, Evgeni Malkin and Justin Schultz. Maatta had eight points in the 2017 playoffs, tying for third on the Penguins blue line.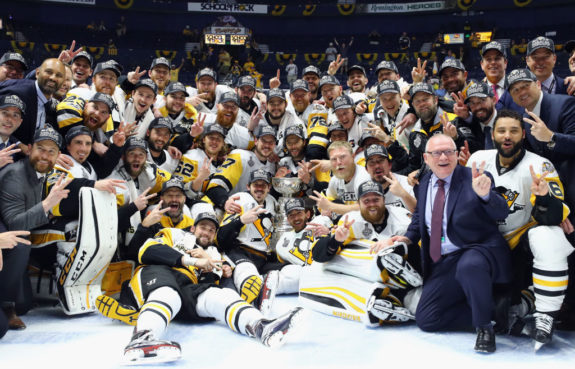 Similar to Maatta, Doughty's winning pedigree includes two Stanley Cups. In both of LA's 2012 and 2014 Stanley Cup victories, Doughty led the team in TOI.
In 2014, his TOI was the most impressive, averaging 28:45, which ranked fourth in the entire playoffs (Alex Pietrangelo, Jack Johnson and Ryan Suter averaged more). His time on ice was over five minutes more than Jake Muzzin's, who skated the second most for LA.
2012 saw Doughty averaging a TOI of 26:08, which ranked first on the Kings and was almost a minute more than his teammate Willie Mitchell averaged (25:19 TOI).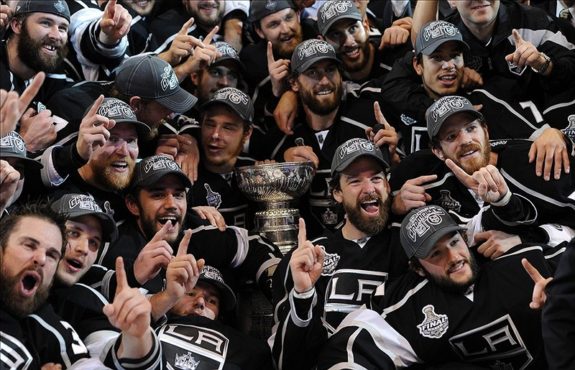 Both Doughty and Maatta know what it takes to win and have played important roles in a combined four Stanley Cup victories.
Doughty Is a Future Hockey Hall of Famer
Doughty has achieved vast amounts of success aside from winning the Stanley Cup. He won the Norris Trophy in the 2015-16 season. He's been named to five NHL All-Star games. Representing Team Canada, he's won gold medals in the Vancouver Olympics (2010), Sochi Olympics (2014), World Junior Championship (2008) and World Cup of Hockey (2016).
Related: Drew Doughty: Hall of Fame Worthy?
Doughty has built up a strong resumé throughout his career and has the ability to make a less-skilled defensive partner look better. Maatta is a skilled player, which is evidenced by him playing an important role from the blue line in the Penguins' Stanley Cups. Together, they should be able to make each other look better.
Maatta Was Fantastic the Last Time He Played
Although the Blackhawks didn't last long in the 2020 playoffs, Maatta played his best stretch of hockey in the bubble and played a pivotal role in their upset of Edmonton in the Qualifying Round. In the four-game series, Maatta scored two goals and added two assists, averaging a point per game (P/G).
Chicago met up with the Vegas Golden Knights in the first round of the playoffs. In that five-game series, Maatta scored a goal and added an assist for two points, which tied for fourth on the team. Combined, he posted six points in the playoff bubble, which ranked fourth on the team behind Patrick Kane, Jonathan Toews and Dominik Kubalik. Maatta's plus/minus rating of plus-7 ranked first on the team.
Although it's highly unlikely that Maatta will sustain this level of play for an entire season, it does indicate that he could perhaps have a breakout season offensively.
A Motivated Doughty Is Dangerous
Doughty has put together a Hall of Fame career and has won two Stanley Cups. This means he can be an extremely dangerous player. However, he's had back-to-back down seasons after finishing second in Norris Trophy voting in 2017-18.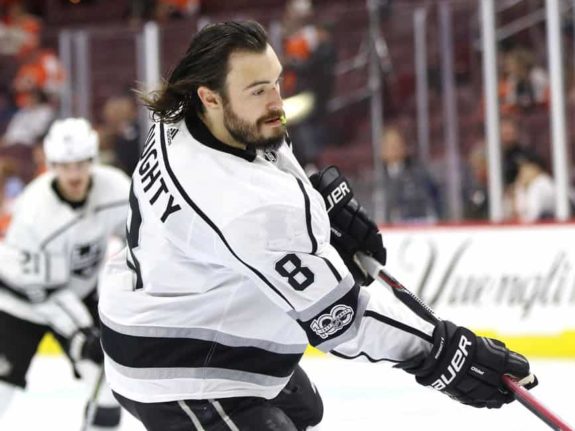 At the dawn of 2021, Doughty told The Athletic's Lisa Dillman that "A lot of people have me written off as not even a good player anymore." He added, "And so all that becomes personal and all that drives me to be better this year to make our team better." (From 'Drew Doughty has heard the criticism and is ready to prove naysayers wrong', The Athletic, 12/31/20).
Related: Kings' Doughty Driven & Determined to Have a Bounceback Season
Doughty is determined to spite his critics in 2020-21, which should lead to him playing much better than he has performed recently.
Both Play Similar Styles
Both Doughty and Maatta play similar styles that should mesh well together. Maatta has averaged a blocked shot per game every single season he's played in (his career average is 1.58 blocks per game). Doughty has blocked a shot per game in nine out of the 12 seasons he's skated in, boasting a career average of 1.29 blocks per game

Maatta has thrown over a hit per game in every season since 2015-16, and his career average hits per game is 1.3. Doughty has dished out a hit per game in all 12 seasons he's played, with a career average of 1.76 hits per game.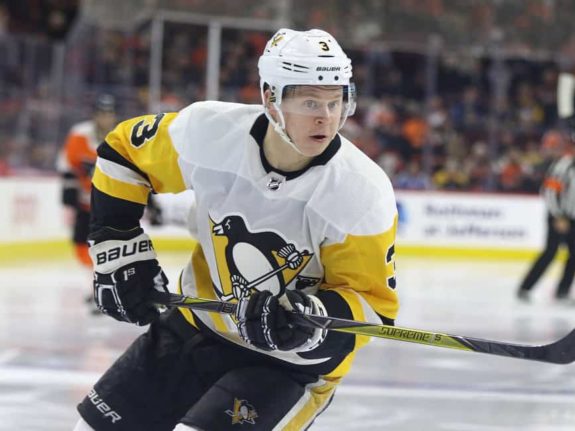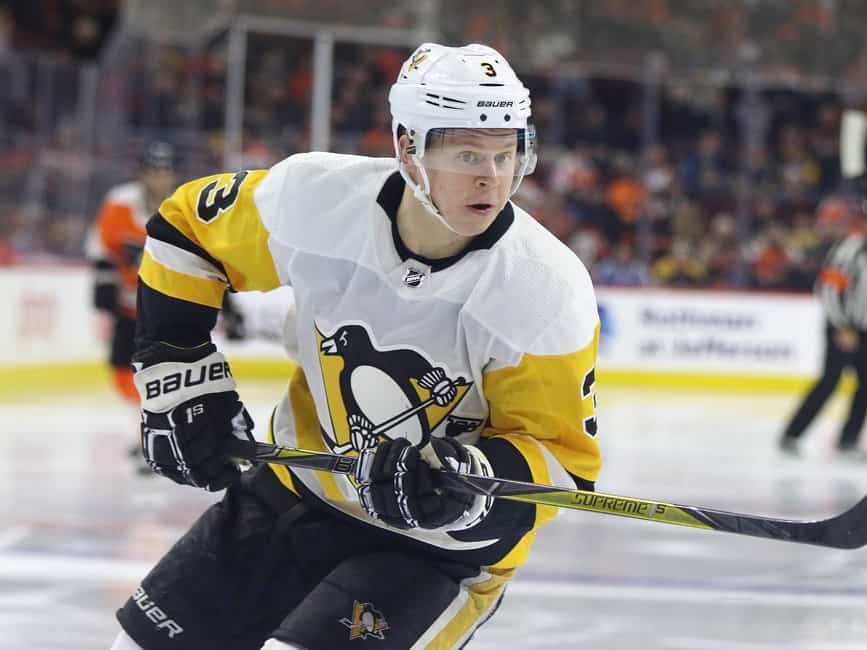 Maatta has hit 14 or more points in five out of his seven seasons, however, it would be six had he not missed a significant amount of time in 2014-15 (he had nine points in 20 games that season). Meanwhile, Doughty has only hit below 35 points twice, which came in his rookie campaign and in the lockout-shortened 2012-13 season.
Overall, both players have similar playing styles. They both throw over a hit per game and block over a shot per game while maintaining consistent offensive totals.
A Long Time in the Making
This pairing has been a long time in the making. Maatta played Junior hockey with the London Knights of the OHL. Doughty is from London, Ontario, so he sometimes skates with the team during the summer. When he skated with them between 2011 and 2013, he would often skate with a young, blue-chip prospect named Olli Maatta.
Maatta and Doughty both have experience winning in the NHL and know what it takes to be successful. Both play similar styles. Both could potentially have better seasons than they have had recently, as Doughty is poised for a bounce-back and Maatta is looking for a breakout season offensively. This pairing has been a long time in the making and both players will want to show that they can compose a top defensive unit together.
---
---