The biggest weakness for the Los Angeles Kings this season has been goaltending. Earlier this morning, they finalized a trade to acquire Joonas Korpisalo and defenseman Vladislav Gavrikov from the Columbus Blue Jackets. However, the deal didn't come without some controversy, as Kings legend Jonathan Quick was a part of the return for the Blue Jackets. Here are the full details: 
Los Angeles receives:
Columbus receives:
Jonathan Quick
2023 first-round pick
2024 third-round pick
The first-round pick is in 2023 and has a condition on it, while the third is in 2024 no matter what, per Darren Dreger. The Kings seem to have improved their team with this trade, but at what cost? Here are trade grades for each side. 
Kings Fill Some Needs, But…
At 34-20-8, there's no doubt the Kings are a legit contender in the Western Conference. But to make a run in the playoffs, they had to improve their goaltending ahead of the trade deadline. Before the trade, their team save percentage of 88.08 percent ranked second-worst in the NHL to the Vancouver Canucks. 
Related: THW's 2023 Trade Grades
The fact that they have the record they do with that goaltending is impressive, and with Korpisalo, they should be able to maintain those winning ways. In 28 games this season, he has a .911 SV% to go along with a goals saved above expected of 10.18. The latter number ranks 16th-best in the NHL among all goaltenders, so he's been one of the better netminders this season.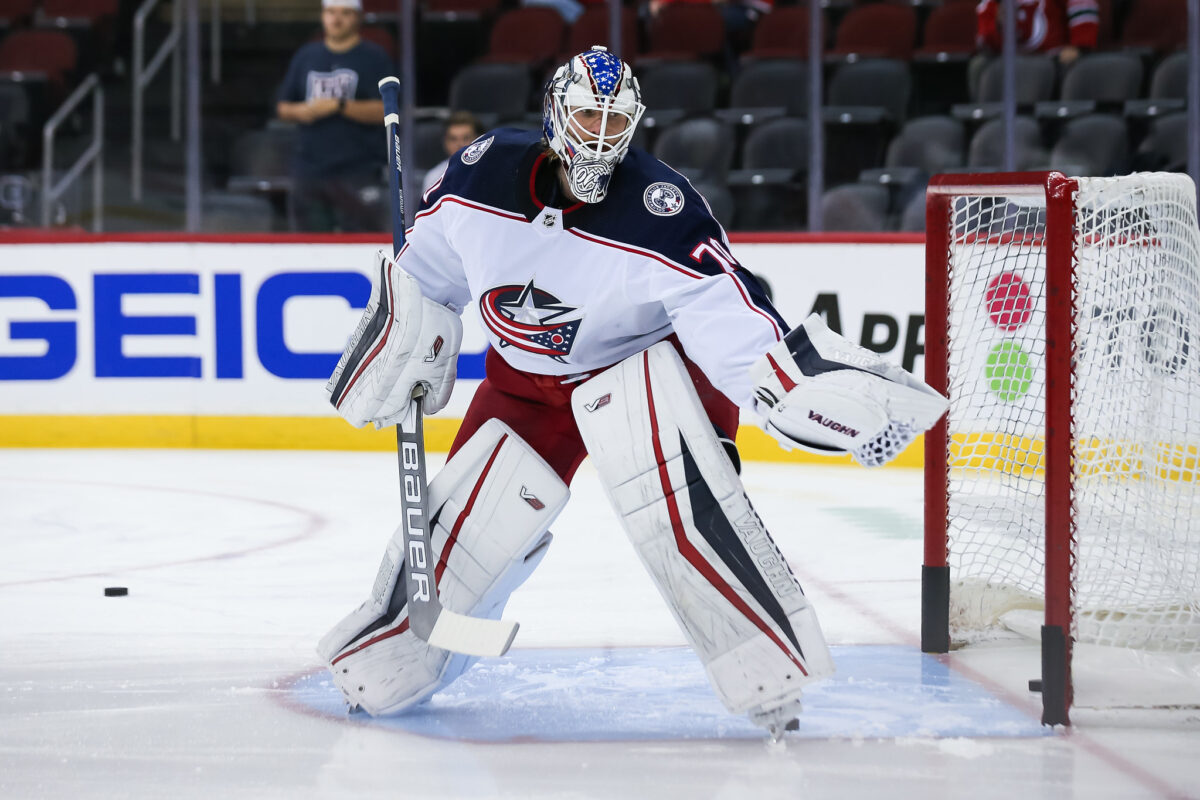 While Pheonix Copley essentially saved the Kings' season, his numbers have slipped lately. He has a .866 SV% in his last four starts, and his SV% has fallen to .899 on the season. His workload should ease with Korpisalo's addition, so I'd expect his numbers to stabilize. If so, the Kings should have a solid enough tandem to make some noise in a wide-open Western Conference. 
As for Quick, his struggles were apparent. His SV% sits at .876 for the season, and it's clear his best days are behind him. With him set to become an unrestricted free agent this summer, the two sides were likely heading toward parting ways. But to cut ties this way when Anze Kopitar and Drew Doughty, two key cogs of the Kings' championships along with Quick, are still with the team? It will leave a sour taste in the locker room; Frank Seravalli reported as much. 
We also can't forget about Gavrikov, who fits a need for a left-shot defenseman on the Kings' blue line. Though he has struggled a bit this season, he's been on a Blue Jackets team that's firmly in the Connor Bedard sweepstakes. But when on his game, he's a top-four defensive defenseman who can handle minutes against tough competition: 
Gavrikov should slide somewhere into the Kings' top four, while Korpisalo will take over as the 1A from Copley. This trade should help the Kings, but at what cost, given the ugly parting with Quick? It's a risk on general manager Rob Blake's part, and if Korpisalo doesn't play up to the level he did with the Blue Jackets, this could backfire easily. 
Kings Grade: B-
Blue Jackets Collect More Futures
With the Blue Jackets gearing up for the draft lottery, they're all about collecting futures as they try to retool. The kicker in this trade is getting an extra first-round pick, which gives them a second first and ten picks overall in the 2023 draft. There is a condition on the first in case the Kings miss the playoffs, but that would take an epic collapse on their part. If they do miss, the Blue Jackets will receive the Kings' second-round picks in 2023 and 2024. 
Related: Kings Acquire Gavrikov & Korpisalo from Blue Jackets 
---
Latest News & Highlights
---
The question is, will GM Jarmo Kekalainen use the pick at the draft? The Blue Jackets have had their name tied to Jakob Chychrun, who's been on the trade market for what seems like forever. Could they use the extra first as part of a package to bring Chychrun, who has two years left on his deal at $4.75 million per season, to Columbus? That's one possibility.
There's also the issue of Quick that Kekalainen has to address. Pierre LeBrun reported that the Blue Jackets would quickly explore the trade market to see if there's a fit for Quick with a contender before the Friday deadline. Though he may not be what he used to be, he still deserves a better end to his career than what's transpired in the last 24 hours. 
Otherwise, the Blue Jackets did well in this trade. They got a first-round pick and added to their cupboard of futures. If they can flip Quick in the next 48 hours for a mid-round draft choice, then all the better for all parties involved. 
Blue Jackets Grade: B+