Sometime during forward Andrei Kostitsyn's Montreal Canadiens career, he earned the nickname AK-46. It was a relatively clever play on his initials, uniform number and the AK-27 moniker of teammate Alexei Kovalev. And, just as with Kovalev, the Canadiens should stay the hell away from him from here on out.
As with Kovalev as recently as this past season, Kostitsyn and his younger brother Sergei expressed a collective desire to return to the NHL. Andrei specifically said he would be interested in rejoining the Habs, who drafted him in the first round of the stacked 2003 NHL Entry Draft.
«Le Canadien? N'importe quand. Tu peux passer le message au Canadien, ils ont juste à me téléphoner » – Andreï Kostitsyn

— J-F Chaumont (@JFChaumontJDM) May 11, 2016
The 2003 NHL Entry Draft Revisited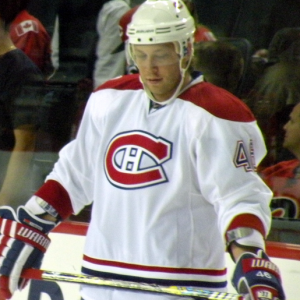 While there were no doubt worse players selected in that first round, instead of Kostitsyn the Habs could have had their pick between Jeff Carter, Ryan Getzlaf, Zach Parise, Dustin Brown, Ryan Kesler, Brent Burns and Corey Perry.
Statistically speaking, Kostitysn was no bust, with 210 points in 379 games with Montreal. Those are definitely underwhelming numbers, but he did admittedly provide decent secondary scoring for four straight seasons. However, it's that 379 figure that should most throw fans for a loop.
He got drafted 13 years ago. There's no good reason that number should not be doubled, and there isn't. All he has are excuses: perceived issues with his effort level, feuds with former teammates and an overactive party life.
Kostitsyn and Radulov Go to White Castle

The latter actually directly led to a suspension along with then-Nashville Predators teammate Alexander Radulov… during the 2012 playoffs.
Think about that for a second: Then-Predators head coach Barry Trotz opted to sit two skilled players during the playoffs, of all times of the season. That's how little he regarded their contributions to the team. And surprise, surprise, that Game 3 is the only one the Predators won in their five-game Western Conference semi-final against the Phoenix Coyotes.
They probably only got to play again because the Predators went on to lose Game 4 as well. When Kostitsyn finally got back in the lineup with Nashville facing elimination, he delivered less-than-stellar results, as you would probably expect.
Double Standards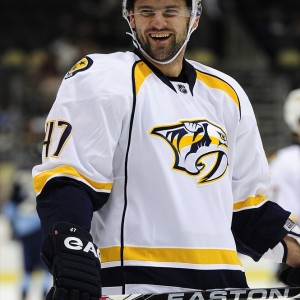 Recently, Radulov made headlines as well for essentially the same thing: a potential return from overseas. While Radulov is cursed with the same stigma associated with his name, it's not entirely unimaginable contract offers would be floated his way (instead of just the training-camp invitations Kostitsyn reportedly received after feeling similarly around this time last year).
It may be a double standard, but the fact remains Radulov made more of a positive offensive impression on the league in his two original, full seasons with Nashville than Kostitsyn did in all of his time in Montreal. In a word, Radulov is a potential game-breaking talent.
As alluded to earlier, as a secondary scoring option, Kostitsyn just isn't, nor is he worth the negative perception of the team among the team's fans, especially after the failed Alexander Semin experiment of last season.
If Semin didn't work out despite generating scoring chances, Kostitsyn certainly wouldn't either, with Semin, again, a legitimate top-liner in his heyday with the Washington Capitals. Kostitsyn wasn't even a top-liner on a team headlined by Martin Erat, who's only famous at this point for being the return the Capitals got for Filip Forsberg.
Older, but Not Better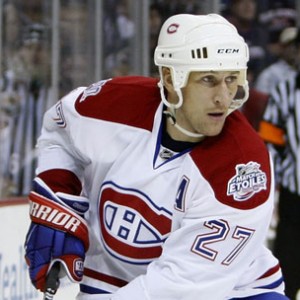 Kostitsyn may say he's older, with the logical inference being that he's more mature, but the real sticking point should be his age at 31. He's well out of his prime and should be on the verge of declining sharply in terms of production. That is, if he hasn't already in the five years he has spent in the Kontinental Hockey League.
Kostitsyn admittedly at least presents an intriguing, presumably low-cost option for general manager Marc Bergevin. However, it's still incredibly hard to imagine him taking a flyer on either of the Belarusian brothers, with both of their tenures predating the beginning of his at the Habs' helm. He has no ties to either of them, nor would he likely care to, considering his experience with reclamation projects.
At least with Kovalev, at 43, he'd be getting a former fan favorite, who nevertheless gave one of his predecessors, Bob Gainey, headaches time and again. Because of his skill level, it was arguably all worth it though.
Ask yourself what significant amount of skill did Kostitsyn have? What skill does he have left? Relative to his fellow 2003 draftees, not enough to still be in this league for a reason. Put simply, he's outgunned by any of the other potential free-agent signings Montreal would realistically pursue.