As NHL fans, we often hear the common phrase, "he needs a change of scenery" when talking about a struggling player. In many of these cases, that isn't the solution to these struggles, instead becomes just another place where a player fails to meet expectations.
In other cases, it's exactly the solution to the problem. The Seattle Kraken are seeing the benefits of this with Eeli Tolvanen. They claimed him off waivers from the Nashville Predators on Dec. 12, and it's begun to pay off for both player and team.
Struggles in Nashville
Just five years ago, Tolvanen was selected in the first round by the Predators with the 30th overall pick in the 2017 NHL Entry Draft. Since that time, he went from heralded prospect to healthy scratch in what appears to be one of the more recent falls from grace, or so it seemed.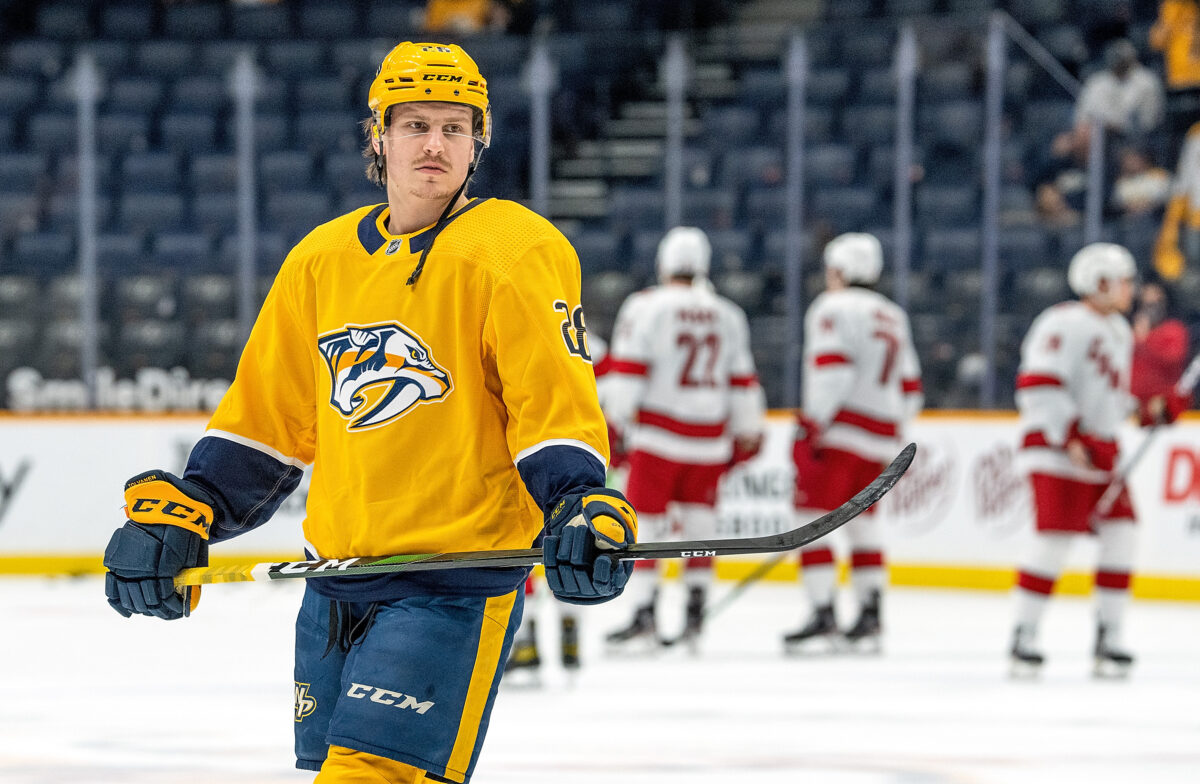 Tolvanen didn't have his first long NHL stint until 2020-21 when he looked solid in 40 games for the Predators. He tallied 11 goals and 11 assists for 22 points in that time and appeared to be taking that step forward the team had been looking for. As a vote of confidence, general manager (GM) David Poile rewarded him with a three-year contract, paying him an annual average value of $1.45 million.
In what became his first full NHL campaign, Tolvanen's 2021-22 season wasn't where the team had hoped he'd be. In 75 games, he recorded only one more point than his previous season, finishing with 23 points. He added a goal in the playoffs, but he entered the offseason with a cloud of uncertainty hanging over him. His new contract was only a third of the way through, but he wasn't living up to expectations.
Related: Meet the New Kraken: Eeli Tolvanen
---
Latest News & Highlights
---
With 2022-23 acting as a "show me" year for the Predators, time ran out for Tolvanen. Playing just 13 games this season and recording only four points, it was clear something had to change. After sitting as a healthy scratch for seven consecutive games, Tolvanen was placed on waivers and was eventually picked up by the Kraken after 22 other teams passed on the opportunity. What a decision that turned out to be.
Tolvanen Finding His Scoring
Joining the Kraken may have been exactly what Tolvanen needed to get back on track. Since making his debut on Jan. 1, he has already surpassed his 2022-23 Predators point total. Recording seven points in eight games to begin his Kraken tenure, it seems as if he has finally found his fit.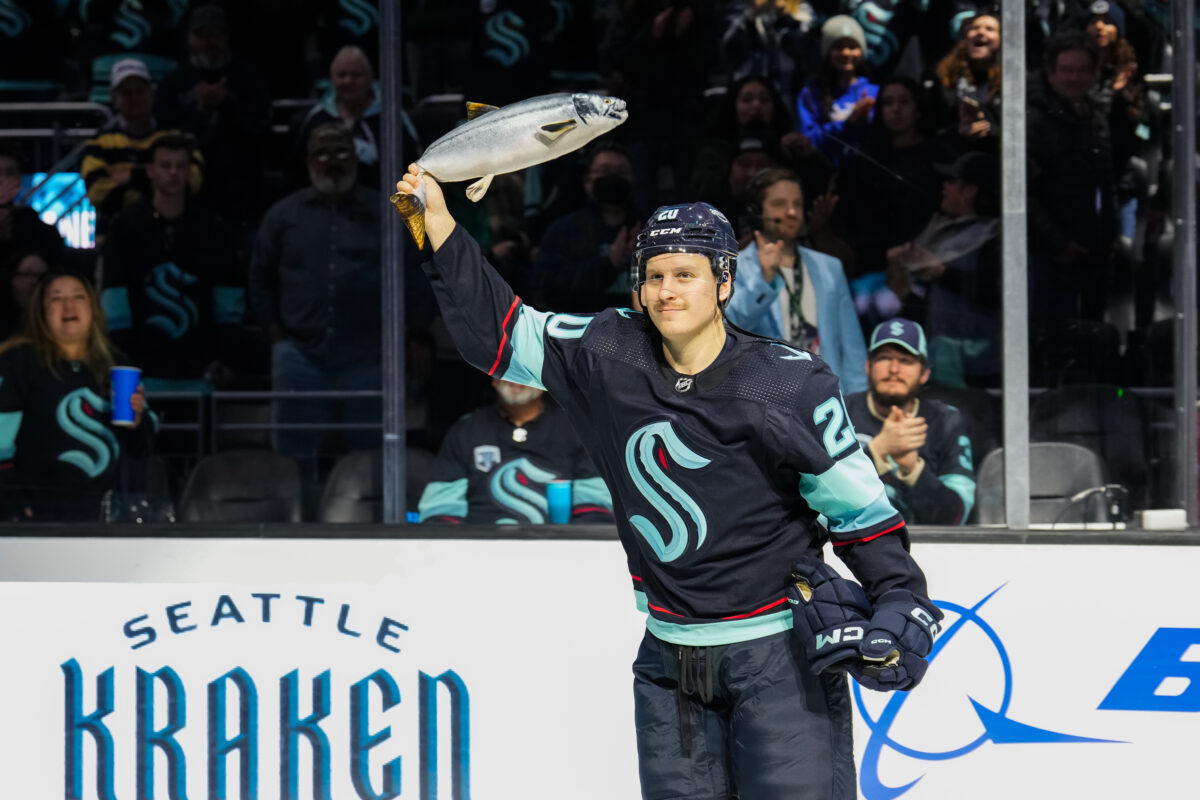 With Tolvanen finally starting to piece it together offensively, he has the potential to become a legitimately good two-way player. Despite his struggles earlier this season, he's still playing a solid defensive game that helps to open things up offensively for him. He also does a fairly good job of putting the puck in the net, and the Kraken are reaping the rewards of his scoring ability.
With how things are already shaking out, his new opportunity with the Kraken could provide him with the chance to really boost his offensive output. While his success can be attributed mainly to his talent, his linemates have also helped get him going.
Tolvanen hit the lottery with his new linemates, playing with Yanni Gourde and Oliver Bjorkstrand, two proven NHL contributors with great numbers this season. In just under 80 minutes together, the trio has played to a 50.7% expected goals, with an actual goals percentage of 81.8%, outscoring their opponent 10-2 when they are on the ice (Money Puck).
He's also getting a chance to star on the powerplay, playing with the second unit consisting of Bjorkstrand, Ryan Donato, Jared McCann, and Vince Dunn. While the Predators had a fairly large talent pool, it just feels as if Tolvanen is getting a better shot with the Kraken to show what he can do with some of the most impactful players on the team.
While he's still largely unproven, the early signs seem to point to Tolvanen being a meaningful contributor for the Kraken. In a year where the depth scoring has stepped up to make them one of the most dangerous teams in the league, he's just another tool in the toolbox for this very talented Kraken squad.
Tolvanen was passed on by 22 teams, and he's making them look foolish while the Kraken find themself in the midst of a long win streak. What a great situation for both the player and the team.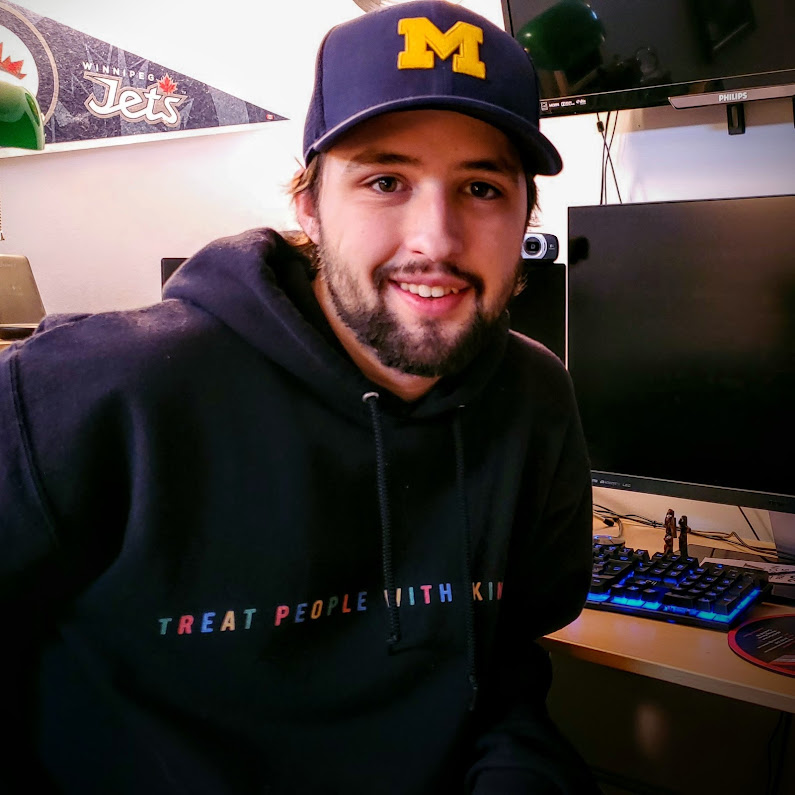 Brian Finlayson is a lifelong hockey fan, and has spent recent years writing for hockey-based websites and blogs. Now, Brian joins THW as a Seattle Kraken contributor and is very excited to help cover the NHL's newest team.
Brian spends most of his time as a student, working towards a communications & media degree at Canadian Mennonite University. He hopes to combine his loves of sports and storytelling to find a career in sports media.