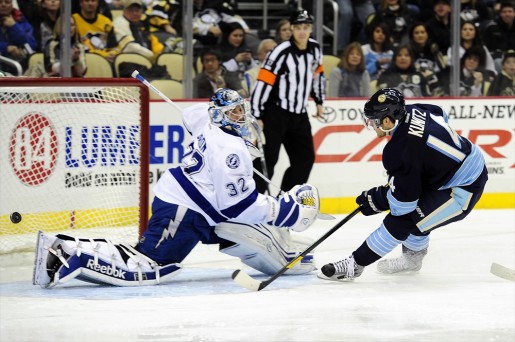 The Pittsburgh Penguins' highest priorities at the moment are Kris Letang and Pascal Dupuis, but that didn't stop them from locking up another important asset this week.
Left winger Chris Kunitz received a three-year extension worth $3.85 million per year on Thursday, which represents excellent value for a player who scored at an 89-point pace this season. Kunitz is entering the final year of his current contract ($3.75m cap hit).
The only concern for the Penguins is that Kunitz will turn 37 before reaching the final year of the extension. He plays a physical style of hockey and has struggled with a number of injuries in the past, including this past playoff run.
The exchange of dollars for term makes sense though.  The cap hit won't be an issue when the salary cap is likely back over $70 million in the later years of the Kunitz contract.
From another perspective, let's consider Kunitz easily has an open market value of $5 million next summer.  The extension structured in a front-loaded hypothetical manner would pay him: $5 million — $4 million — $2.55 million.
Tough to argue that isn't excellent value for the Penguins.
The real question is what does the Kunitz extension mean for Dupuis?
Dupuis and the Penguins have held initial talks, but the negotiation won't be easy.  Dupuis is another player who could fetch an annual salary $5 million on the open market.  An extension at that price wouldn't work for Penguins GM Ray Shero.  Dupuis has expressed a willingness to take a discount to stay in Pittsburgh and Shero has to gamble that the lure of the city and organization will be enough to get Dupuis signed to a number that works.
By locking up Kunitz, Shero doesn't have to depend on fitting Dupuis in at any cost.  Also, if Dupuis does decide to leave, the Penguins would suddenly have been faced with a more challenging and desperate Kunitz negotiation.
Proactive moves have become Shero's trademark over the past few years.
The general sense from around the league is that Dupuis will head elsewhere on July 5 when free agency begins.  I don't necessarily agree.  Dupuis owes it to himself to take advantage of the July 3-4 window to interview with other teams, but I still think he'll end up back in Pittsburgh on a three-year deal just below the Kunitz $3.85 million number.
___________________________________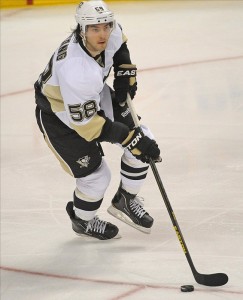 The next 72 hours will be very interesting from the Kris Letang perspective.
We laid out all the details in Part 1 and Part 2 of our negotiations preview last week and everything seems to be playing out according to plan.
There were reports on Thursday that Letang had rejected an 8 year, $56 million offer but I'm told that isn't the case (at least not yet).  Unless Letang really wants to stay in Pittsburgh — he's never said anything other than the politically correct responses when asked — it doesn't make sense for him or agent Kent Hughes to show their cards at this point.
The worst-case scenario for Letang is that Shero trades him to a bad team and his offensive production takes a hit in a contract year, but most GM's will still recognize his value and be lined up to offer big money next summer.
On the other hand, the Penguins need to make a decision.  They eventually need to table an offer very close to the limit that they're willing to pay in order to get a sense for where Letang's head is really at.
If Letang doesn't want to budge, a trade this weekend is very likely.  The draft will present the most opportunities for Shero to maximize return and fill holes.  Teams are ready to make deals and will have offers prepared if/when Letang officially becomes available.
The Tribune-Review's Rob Rossi reported last night that "Toronto has emerged as a potential destination if there is a breaking point with the Penguins."
Letang's agent came out and adamantly denied Rossi's report, but as we warned last week, take everything you hear from parties involved in negotiations with a grain of salt this time of year.
TSN's Darren Dreger, who has strong connections within the Maple Leafs organization, was asked about the Letang-Leafs possibility on TSN690 radio in Montreal this morning:
"As for the Toronto rumors, hey, I like Rob Rossi, he's an excellent beat reporter for the Pittsburgh Penguins.  Somebody is telling him that [Toronto is in play], but there's no discussion between Toronto and Pittsburgh, and that's not what he reported.  What he reported was that IF things don't go well, and IF Letang becomes a clear trade target, his choice would be to go to Toronto.  Well, [Letang] has no contractual protection.  He doesn't get a choice in this one and nor do I think he'll have to because I do think a deal will get done."
While I agree with Dreger's analysis of the Rossi report, I disagree with his final points.
True, Letang doesn't possess a no-trade clause and can't hand-pick his destination like Jarome Iginla did this spring, but he does have leverage.  Any team that's going to give up significant assets in a Letang trade wants to know they have a decent chance of signing him to an extension.
Does Toronto make sense?  Yep.
Would Letang be interested in going there?  You'd have to think so.
I didn't include the Leafs on my list of potential destinations, but GM Dave Nonis is looking to make a splash (even after acquiring Jonathan Bernier) and is reportedly involved in a number of significant trade discussions.  Top defenseman Dion Phaneuf ($6.5 million cap hit) comes off the books after next year just in time for Letang's extension to kick in.  Phaneuf is also reportedly on the trade block, according to Dreger.
The Leafs possess the appropriate assets to give up in a trade and the financial flexibility to give Letang the money he wants and deserves.
They're also not the only ones.
Buckle up.  The drama that's about to unfold should make for a very interesting weekend around the hockey world.
___________________________________