The Edmonton Oilers' next game isn't until Feb. 7 and with so much downtime, the burning question of "Are the Oilers going to trade for another defenceman?" will surely ramp up from now until then. A player known to be on their radar is Montreal Canadiens' defenceman Joel Edmundson, who left a game early on Jan. 26, and the Canadiens announced a day later that the blueliner was listed only as day-to-day.
In December, TSN hockey insider Pierre LeBrun noted that the Oilers were interested in several defencemen, and mentioned there were internal talks that Edmonton had an interest in the physical 6-foot-5 Edmundson. In addition, Sportsnet's Jason Bukala added to that and summarized on Jan. 10 that the Oilers didn't need another two-way/transitional blueliner (like Jakob Chychrun), but felt that if Edmonton were to take their roster to another level, they should target players that play a heavy style of game. Someone who has muscle and can block shots, like Edmundson.  
Bukala created a hypothetical trade scenario — the Oilers could trade a lottery protected 2023 first-round pick, Jesse Puljujarvi, and a 2024 fifth-round pick or an unprotected 2024 first-round pick, Puljujarvi and a 2024 fifth-round pick in exchange for Edmundson, the Canadiens' sixth-round pick, and $500,000 salary retained. On that note, the 2023 NHL Draft is said to be one of the deepest in years, and a first-round pick would be a hefty price to pay for a player of Edmundson's calibre.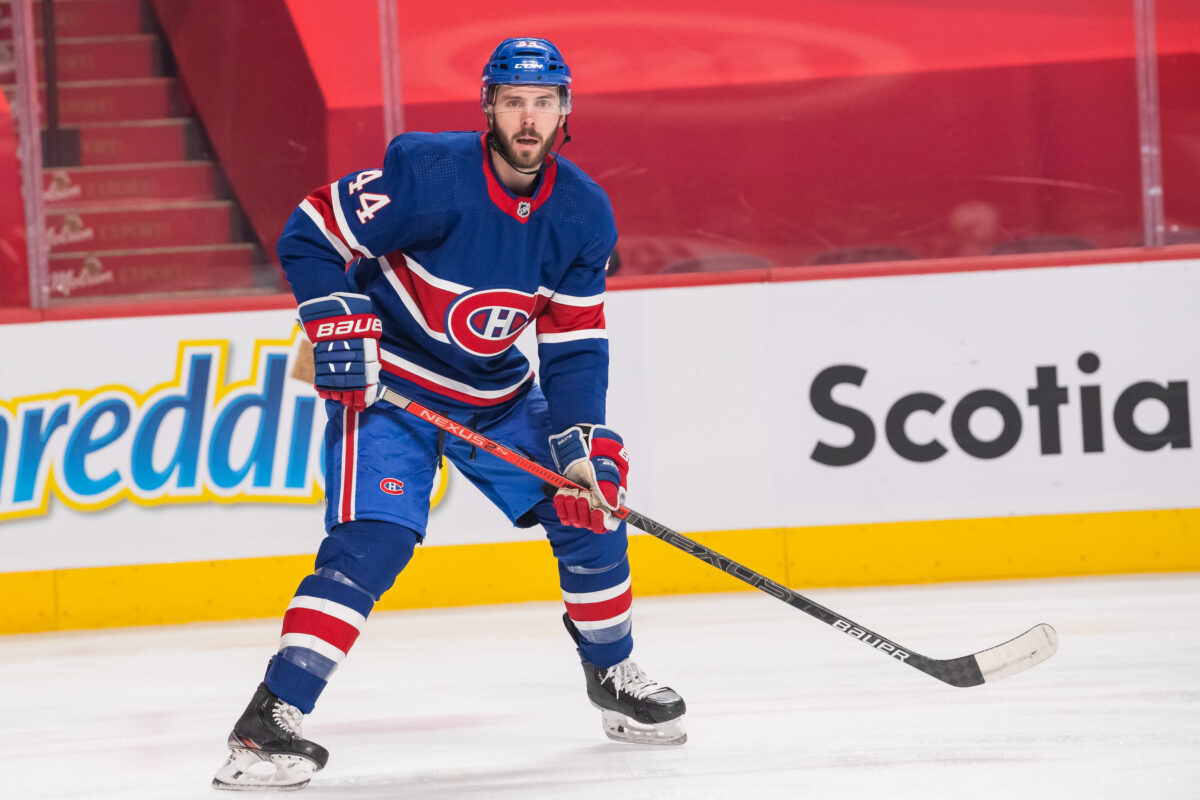 So, the question remains, are the Oilers interested in a more balanced player, like Chychrun? Or are they eyeing a player like Edmundson to provide more physicality and muscle for the playoffs? As we get closer to the trade deadline, the chatter will start to rev up, but one former player who candidly warned that Edmonton should absolutely avoid Edmundson is former Oilers' and Canadiens' enforcer, Georges Laraque.
Laraque Warns That Edmundson Has Been a Disappointment
Laraque played 490 games in an Oilers uniform and suited up in 61 matches for the Canadiens from 2008-2010. He's now a Montreal-based media personality with ties to both teams. That said, he appeared on the "Oilers Now" show on Jan. 26 and warned that the Oilers should completely avoid any trade involving Edmundson due to injuries, saying:
Joel Edmundson.. no word of a lie, his back is done. He [has] a herniated problems in his back, he has an ice pack [on] his back all the time, and he's slowed down a lot. He's a big disappointment because, not that because he doesn't want to, but physically, he just can't do it anymore. Often, he's seen getting treatment on his back and, you know, he just can't do it. So, the Oilers cannot go there.

– Georges Laraque
Laraque concluded that he wants the Oilers to win a Cup, and if they added Edmundson, he'd slow them down. As he likely has connections within the Canadiens' organization, he alluded that the defenceman's strength, which is his physicality, could likely be a weakness moving forward. If I were general manager (GM) Ken Holland, I'd take that information with a grain of salt, but also know that Laraque is looking out for his former team, as he personifies the saying "Once an Oiler, always an Oiler."
Oilers' Defencemen Have Emerged and Edmundson Might Not Be Needed
Putting his potential injuries aside, there could possibly be value in adding a player like Edmundson. He isn't known for his offence as his one goal in 39 games indicates, but he averages 19:51 time on ice, has thrown 64 hits this season and he's one of the team leaders in the shot-blocking department with 110. He's also 6-foot-5 and 220 pounds with 48 games of playoff experience, having won a Stanley Cup with the St. Louis Blues in 2019. Additionally, he wouldn't be a rental, as he's signed through next season with a cap hit of $3.5 million.
Related: Holland Under Pressure to Improve Oilers at the Trade Deadline
---
Latest News & Highlights
---
Yet, if the asking price is a first-round pick, and if Laraque's statements regarding Edmundson's health are true, the Oilers should steer clear of this player. At the same time, internally, the Oilers have had a couple of players emerge to help their defensive corps. Philip Broberg has shown lately that he can play a simple game and move the puck efficiently with his smooth skating. Secondly, Vincent Desharnais has been very effective in his limited role. He fits the bill of a crease-clearing, tough-as-nails defender, but he's also shown that he can move the puck adequately. Because of that, many are questioning if the Oilers actually need to spend the assets to acquire another physical defenceman.
Still, I'm part of the group that feels the Oilers need to add more depth to their blue line. However, looking at the players Edmonton has shown interest in, as per Laraque, they should stay away from Edmundson, and alternatively, the asking price for Chychrun still remains high. Another option is Vladislav Gavrikov of the Columbus Blue Jackets. The rumoured asking price is a first-rounder at minimum, and there are some in Oil Country that feel he's not worth that price either. Yet, as The Hockey Writers' Jim Parsons explains, left-shooting defenceman Jake McCabe of the Chicago Blackhawks could be a realistic option the Oilers could target at the trade deadline.
Do the Oilers need to acquire another veteran defenceman at the trade deadline? Why or why not? Have your say in the comments below!