Long-term success in the NHL brings with it expected but still painful side effects. This often involves watching fan-favorite players departing the franchise to find greener hills to manage the hard cap and a barren prospect cupboard as the team trades their long-term future in order to bulk up for short-term shots at the Stanley Cup.

For the Tampa Bay Lightning, years of going all-in for championships have started to wear the franchise's future thin. While they will remain competitive due to the sheer depth of talent the team still possesses, they simply lack those impact prospects that you can look at in the summertime and be excited about as you wait for them to set the world on fire.
---
Latest News & Highlight
---
This doesn't mean that they have no talent developing that can make an impact in the NHL, however. A year ago no one had Nick Perbix and Darren Raddysh as playoff-caliber defensemen, yet they both started all six-postseason games the Lightning played in 2023 and look to be an important part of their defensive corps for the future.
So, you can't write off the Lightning's prospect pool simply because it doesn't feature a top-end prospect with big hype coming into the season. In fact, some of their biggest contributors might come from the most unexpected places.
Hugo Alnefelt – Syracuse Crunch (AHL)
When you have Andrei Vasilevskiy as your starting goaltender for the now and future, it would be easy to assume that the Lightning would just rest on their laurels with the position and ride a veteran backup for the next decade-plus. However, Tampa Bay has always aggressively pursued young goaltending talent in the draft, as they spend valuable picks to try and shore up their depth.
While most of these attempts have been unsuccessful, the 2022-23 season showed that 2019 third-round pick Hugo Alnefelt might still live up to his pre-draft pedigree. While his season was far from perfect with the Lightning's American Hockey League Affiliate, the Syracuse Crunch, he took a big step in his second year playing hockey in North America after having a rough transition in 2021-22. Sure his .904 save percentage (SV%) and 2.77 goals against average (GAA) aren't anything to write home about, but he is just 22 years old and started playing with confidence for stretches of time in Syracuse.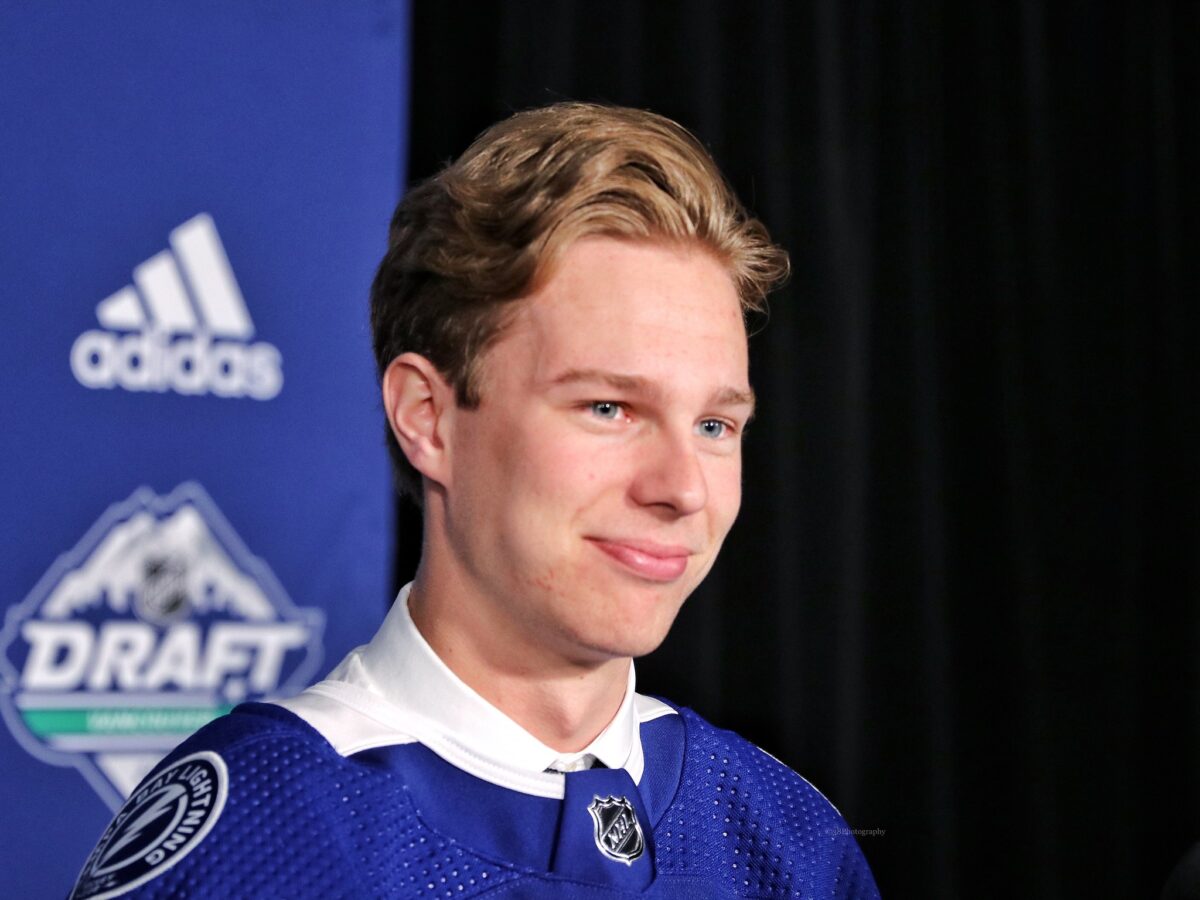 Even though he isn't the Crunch's definitive starter as of yet, it will be worth keeping an eye on Alnefelt's progress this season. There is a real potential for him to take that next step and claim the role of starter by the mid-point of the season.
Ethan Gauthier – Drummondville Voltigeurs (QMJHL)
Heading into the 2023 NHL Draft, there was little to be excited about for the Lightning, as they had traded essentially all of their picks in order to acquire players like Tanner Jeannot and Brandon Hagel for the playoffs. However, after they dealt Ross Colton to the Colorado Avalanche for the 37th-overall pick, the franchise suddenly had a chance to take one of the top players in the deepest draft in years. With this pick, they selected Ethan Gauthier, who was projected by many to be a first-round talent, but he slid slightly due to his 5-foot-11 frame and developing skating.
While you can look at a number of reasons why this was a great selection, I'll let Peter Baracchini of THW do the talking with an excerpt from Gauthier's Draft Profile:
If there's one player that you would want on your team, but would absolutely hate to play against, Sherbrooke Phoenix forward Ethan Gauthier definitely fits that description as he's always a thorn in the opposition's side… The first thing that stands out is his persistent and ruthless ability to get in on the attack and establish a forecheck. He's constantly involved, digging for loose pucks in the corners, engaging in battles to separate the player from the puck to regain possession. The work ethic and drive that he possesses will have teams calling, that's for sure.

Peter Baracchini – thehockeywriters.com
If you're a fan of the Lightning, you will read this profile and see exactly where Gauthier can fit into the future of the franchise. Tampa Bay has an incredible track record of developing undersized forwards with high levels of compete in their game into NHL starters, and there's no reason to believe he can't be the next hit. He was already a point-per-game player in the Quebec Major Junior Hockey League (QMJHL) last season, and he has the chance to really pop in 2023-24 before transitioning to playing professional hockey.
Dylan Duke – University of Michigan (NCAA)
Anyone who has been reading THW's coverage of the Lightning should know by now that I am a big fan of Dylan Duke. I pegged him as an absolute steal for the franchise when they drafted him in the fourth round of the 2021 Draft, and I believed that he would one day be making an impact in Tampa Bay once he finished developing at the University of Michigan.
Well, I think Duke's sophomore season with the Wolverines can be considered a rousing success. After the team lost some of their top players to the NHL, he stepped up into a bigger role by posting 18 goals and 32 points in 41 games played. He also played for Team USA in the 2023 WJC-20, where he scored four points in seven games while claiming the bronze medal.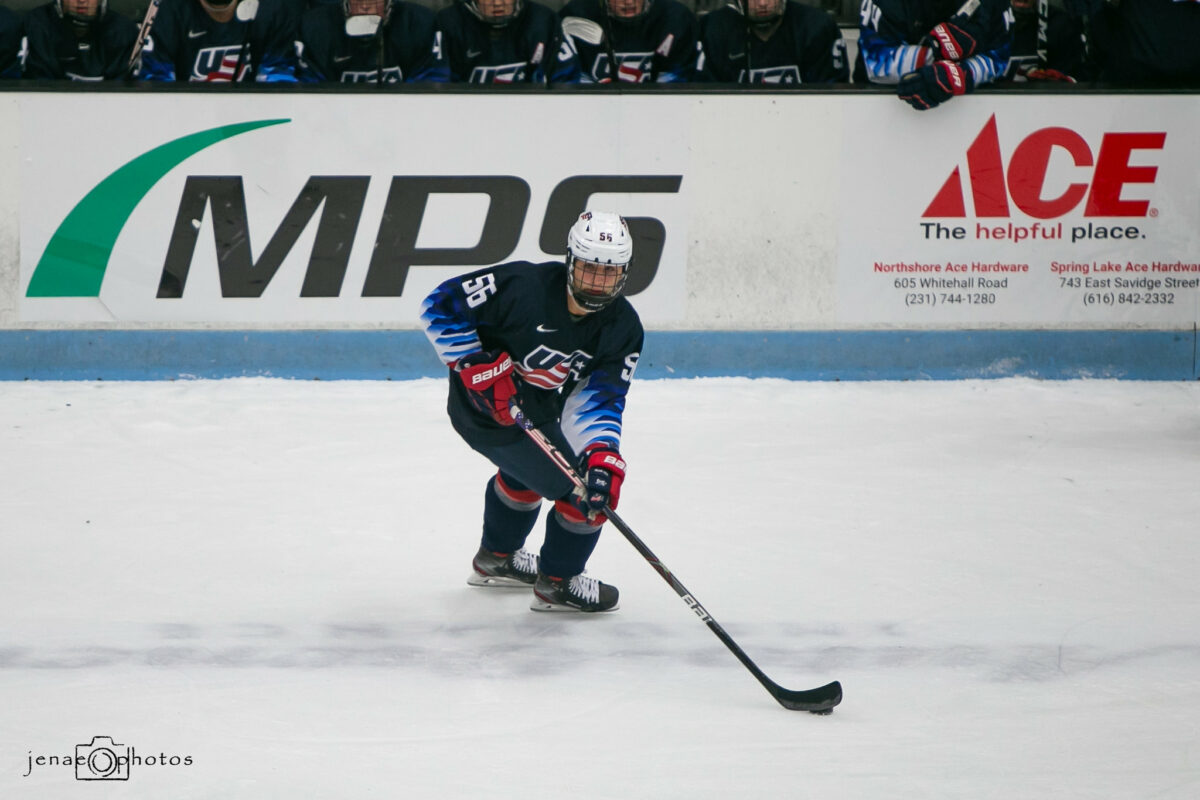 Now, it's important to remember the type of player Duke can be for the Lightning. No, he isn't a superstar in the making, but in two to three seasons I could see him as a cost-controlled third-line energy forward who drives play up and down the ice while chipping in key goals, similar to what Colton brought to the franchise. By all means, Tampa Bay will need more players like this in the future as they push to win the Stanley Cup.
Niko Huuhtanen – Jukurit (Liiga)
For the final prospect, I'm going to go a bit off the board to call attention to a player that most have likely forgotten or never knew about in the first place. Niko Huuhtanen has the unique honor of being the 224th and final pick of the 2021 Draft. Of course, there is little expectation for a player selected in the seventh round to develop into an AHL starter, let alone break into the NHL, but there was reason to believe that the big-bodied Finnish winger who was posting great scoring totals against older talent in Finland might have everything needed to break through.
Since his selection, Huuhtanen has impressed, as he scored 37 goals and 77 points in his one season playing in North America with the Everett Silvertips of the Western Hockey League before returning to Finland to play against men with Jukurit who play in Liiga, the top professional hockey league in the country. Despite being just 20 years old, he posted 17 goals and 30 points in 48 games played, which are solid totals overall. He also suited up for his country at the 2023 WJC-20, where he scored two goals and three points in five games played.
Related: Lightning's Sergachev Becoming a Leader With Recent Comments
Overall, I've been very impressed with Huuhtanen's development so far. You shouldn't have huge expectations for the last pick of a draft made by the championship-winning team, yet it looks like the Lightning may have found a legitimate player here. Time will tell if he decides to transition his game to North America or just stay in Finland, but there's a chance Tampa Bay could have another seventh-round gem in their system should he continue developing his game and take that step to play in the AHL in the coming years.
Lightning Aren't Lacking Talent in Their Prospect Pool
Sure, the Lightning might not have the deepest prospect pool, and they will show up at the bottom of most farm system rankings for years to come, but that's not to say that they don't have any quality players developing in the background. In fact, I think you can look at Tampa Bay's recent successes with Perbix and Raddysh and see just how great of a job the franchise does at sculpting mid-level talent and turning them into NHL starters with the right mixture of time and structure.
With this in mind, I wouldn't be surprised if any of these players one day took the ice and played a meaningful role for the Lightning, despite their relatively low levels of hype around the hockey world.