The promise of a fresh CBA has kickstarted a hockey player diaspora from the four corners of the earth back to the NHL, triggering the kind of migratory processing not seen since the glory days of Ellis Island. Teams, players and most fans alike are thrilled, and are ignorant or indifferent to the fact that all these other leagues from which the players are coming are in mid-season themselves, and now have to make inconvenient, expensive and time-consuming roster adjustments to appease the National Hockey League.
As a Texas Stars fan it's important to find some silver linings in this latest lockout, because not doing so would make it a complete and total waste, as opposed to being simply a total waste.
To that end, what follows is a unordered list of the best things about this lockout as it pertains to fans of the American Hockey League's Texas Stars.
CODY EAKIN
Although Stars fans first saw Cody Eakin as a member of the Hershey Bears in the 2010 Calder Cup Finals, we have been fortunate to see him play almost every game this season for the good guys. He is the real deal and his ticket to Dallas is understandably already punched. Excluding a quick and stunning release, on the ice Eakin doesn't do any one thing breathtakingly– but he does do everything remarkably. The Winnipeg native plays a complete game in all three zones, and he will finish his brief Texas stint as the team's points leader with 11-12-23 in 34 games, including 4 power play goals, a pair of shorties, and one game-winning goal– an OT winner in his final game in Cedar Park. In Dallas he will be one of the more complete third-line centers.
REILLY SMITH
The rookie Smith embodies what it means to be an AHL fan because AHL fans ostensibly root for their players to get the call up and leave. Smith began the season with plenty of hype, but for over a month he struggled; Smith seemed to be a second or so ahead or behind of every play. Displaying an impressive work ethic, those near-misses soon turned into points and Smith was even named the AHL's Rookie of the Month for December. Watching him turn his season around before our eyes and display flashes of the brilliance to come… this is what the AHL is all about.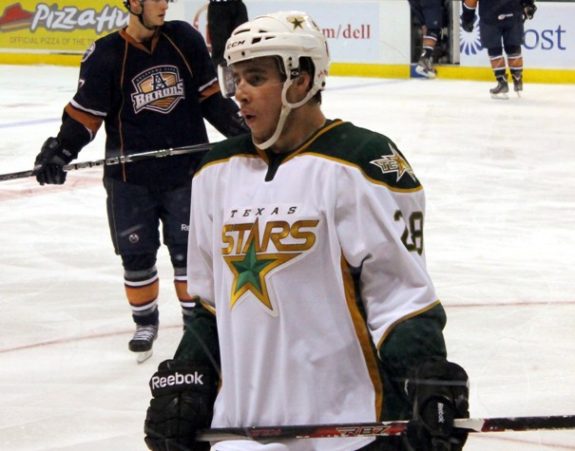 THE OKLAHOMA CITY FOUR
The Oklahoma City Barons were big benefactors of the lockout in the form of hyped NHLers Ryan Nugent-Hopkins, Taylor Hall and Jordan Eberle, along with highly touted defenseman Justin Schultz, and the 'Oklahoma City Four' delivered on the hype– collectively accounting for 65 of the team's 112 goals thus far this season. Eberle leaves the AHL as the points leader (25-26-51 in 34 games) and Schultz is right behind him (18-30-48 in 34 games), even flirting with the all-time AHL record for goals by a defenseman. Taylor Hall meanwhile ranks 6th overall (14-20-34 in 26 games) but was far and away the most exciting player to watch from the Barons; a world-class talent with explosive speed and a thrilling, flashy skill set, Hall must rank among the most talented players ever to cut up the ice in Cedar Park and he only played there twice.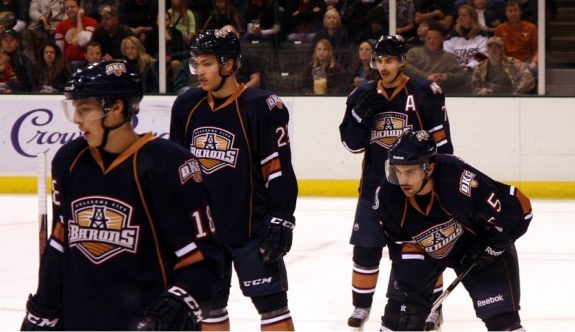 HALL OF FAMERS
The Hockey Hall of Fame won't be relocating to Cedar Park any time soon. But the lockout provided us fans with the rare pleasure of having, on any given game night, Dallas Stars employees and current Hall of Famers Bob Gainey and Joe Nieuwendyk watching from a skybox. Sometimes they were even joined by Texas alum and Dallas head coach Glen Gulutzan.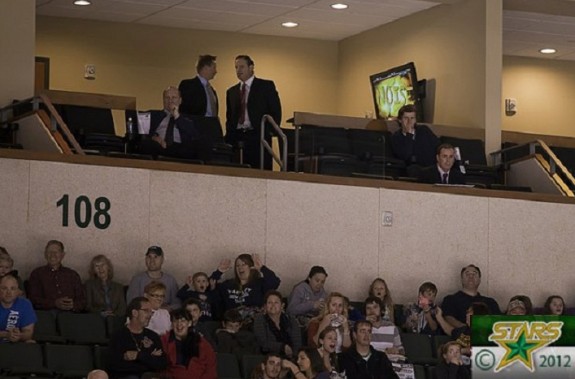 CAM BARKER
His PTO with Texas lasted just 23 games and was not renewed, for reasons that have eluded many Stars fans. Cam Barker's critics– and there are many, and they aren't shy– can stick it. While he was here, Barker was a solid, veteran defenseman who played big minutes in all situations. He beat up last year's WHL defenseman of the year Alex Petrovic in a pre-season bout, showing a willingness to throw down, and more often than not he led the team in shots on net. While a Star, Barker was a big, mobile, puck-moving defenseman with great hockey sense– exactly the kind of player any organization can use.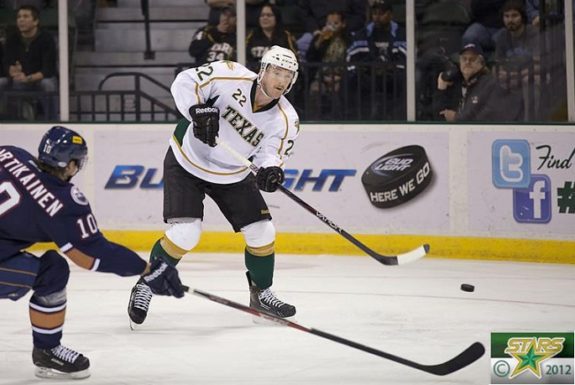 BACK TO THE GRIND
Unlike Oklahoma City, Texas will not lose half its offensive production to the parent club. They should be in good shape moving forward, with Reilly Smith, Colton Sceviour, Matt Fraser, Alex Chiasson, Jamie Oleksiak, and Patrik Nemeth, to name a few, likely remaining on the roster for the time being. While no hockey fan will recall these past few months with anything but anger and acrimony, Texas fans — along with fans from every AHL team — can, without much effort, find a lockout silver lining or two to be happy about.