May 29, 2008 — a quiet, but tragic day in the small town of Lameque, New Brunswick. Vancouver Canucks defenceman Luc Bourdon lost his life in Lameque as a result of a terrible motorcycle accident.
Winds gusted at around 50 km/h that day in Lameque, making keeping balance on two wheels all that more difficult for an inexperienced rider such as Bourdon. He was killed instantly in the crash and it shook up not only that small town, but also the city of Vancouver and the entirety of the hockey world.
Bourdon was a phenomenal hockey player and the 10th overall pick of the Canucks in the 2005 NHL draft. The French-Canadian was projected to be an elite defender in the NHL — unfortunately, he only took the ice 36 times in the big leagues before he passed away.
Beyond his stellar hockey abilities, Bourdon's ability to make lasting impressions on those around him is really what made him special and his loss all that much more devastating.
Joseph Luc Bourdon (Feb. 16, 1987 – May 29, 2008)
Born and raised in Shippagan, New Brunswick, Bourdon quickly took to the great game of hockey. Not before he battled some adversity, though — Bourdon was bound to a wheelchair after being diagnosed with Juvenile Arthritis at the young age of nine.
Doctors encourage physical activity for those affected by the disease and hockey helped Bourdon overcome the ailment and pave the way for his future in the game.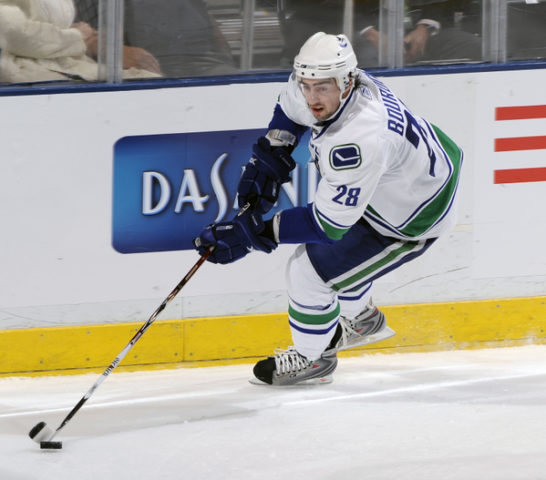 Bourdon in the QMJHL
As you might assume, he had a very impressive stint in minor-hockey, resulting in him being selected third overall in the 2003 QMJHL draft.
Bourdon's coach in bantam, Gilles Cormier, could not speak more highly of Bourdon in an interview with The Province.
"He proved people can do it. He showed kids here that even though they come from a small town like this (Shippagan), they can make it. He was a hero to them and someone people will continue to look up to."
In the 'Q', Bourdon laced up for the Val d'Or Foreurs — he skated two full seasons there and a portion of a third, before he was shipped to the Moncton Wildcats and later the Cape Breton Screaming Eagles.
Bourdon played exactly 200 games in the 'Q', amassing 22 goals and 88 points. Along the way, Bourdon became great friends with Pittsburgh Penguins defenceman Kris Letang, who was also drafted by the Foreurs, except two rounds later.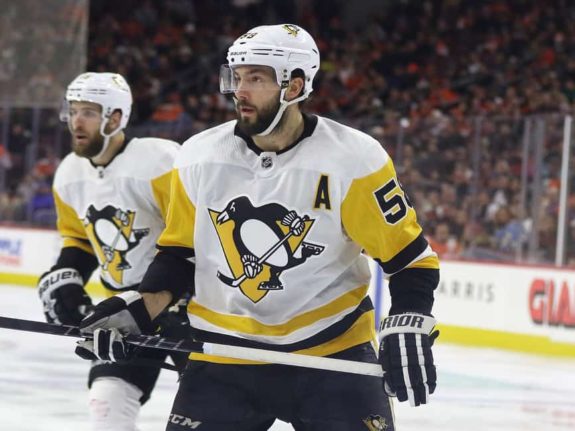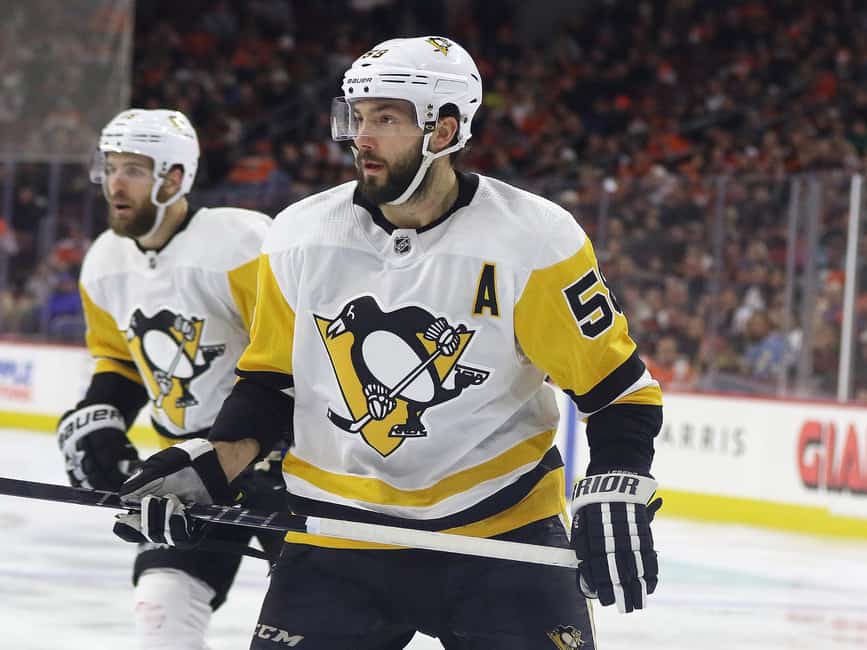 "He was always my protector on the ice," Letang told Yahoo Sports. "He was big and nobody could touch me if he was on the ice. He's like a guardian angel."
The duo started to gain some recognition with their stellar play together and Hockey Canada took notice, bringing both onto their Gold Medal-winning 2006 and 2007 World Junior Championships teams, where we saw Bourdon's gold-draped iconic wink.
Letang half-jokingly chalks up most of his success to Bourdon.
"The reason I got drafted that high (62nd overall) is all the scouts were coming to see him in Val D'or and I had some exposure there."
The duo continued to keep in touch as they each made their respective leaps to the NHL, exchanging daily text messages — something Letang will forever hold close to his heart.
"Every time I step on the ice he's in my thoughts," Letang said. "He was a guy that embraced every day of hockey. Just for my every day I step on the ice I have a thought about how he would work and present himself and try to get better. Every night I think about him before games, making sure I'm ready and all the things he taught me."
Bourdon in the NHL
Lasting friendships seemed to be a constant wherever Bourdon went — long-time Canuck and fellow French-Canadian Alex Burrows was another player Bourdon left an impression with.
As Burrows made his climb from the fourth line to the first line, Bourdon was making his ascent up to the NHL, and the commonality provided a strong foundation for this friendship to blossom.
Bourdon was still an NHL rookie at the time of his death and it was a tough pill to swallow for Burrows, but much like Letang, it's something he uses as a fuel.
"He's going to help me out and help the team out. It's tough to explain," Burrows told The Hockey News. "Sometimes you feel you've got a second gear, and maybe that's it."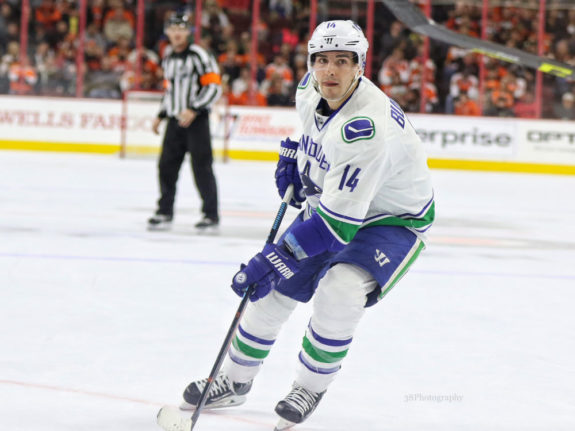 The two-way defender, Bourdon, was poised to be a top-pairing guy and come into stride just as the Canucks were set to do so as well. Following Bourdon's passing, the Canucks seemed to find a new level as a team and quickly became Stanley Cup contenders.
Bourdon would have been an integral part of the 2011 team that lost to the Boston Bruins in Game 7 of the Cup Final. In a series that saw the Canucks' blue line plagued with injuries, Bourdon's presence could have been a game-changer.
Following Bourdon's passing, Burrows would celebrate big goals and pay tribute to his fallen friend by shooting arrows into the rafters, often from one knee. In fact, on the night the Canucks honored Bourdon, Burrows fittingly scored twice.
Burrows had a remarkable season during the 2011 run and turned in a big-time effort in the playoffs that year, putting in some big goals at huge times — none bigger than the 'dragon-slaying' goal against the Chicago Blackhawks. Unfortunately, Burrows wasn't quite able to get his arrows away.
"I wanted to get past the first guy and maybe shoot a couple into the upper deck, but I got clotheslined by the guys and couldn't."
Burrows continues to carry Bourdon's spirit with him on and off the ice, and those around the world of the Canucks will forever remember Bourdon as that guardian angel that, unfortunately, never got to fully spread his wings. His smile is forever etched in the minds of Canucks fans.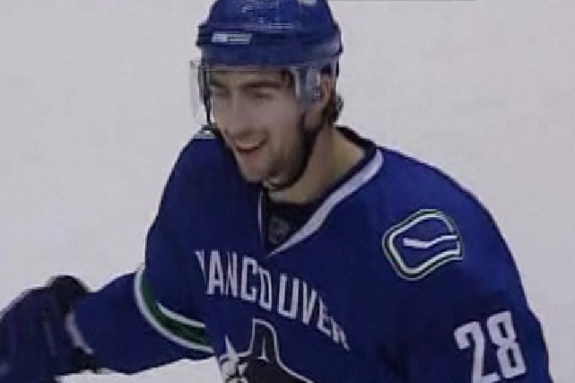 Remembering Luc Bourdon
Bourdon was honoured in the QMJHL by the Wildcats, the AHL by the Manitoba Moose, and the NHL by the Canucks with pre-game ceremonies. All three events were extremely emotional and it was easy to see just how much Bourdon meant to everyone around him.
2,000 people attended Bourdon's funeral in his hometown of Shippagan, a short drive from the crash site. Many spoke, but no speech could match the emotional impact of the words spoken by Bourdon's girlfriend, Charlene Ward — fighting through tears, she read a poem she had wrote for her fallen love.
"You're my sweetheart, you're my sunshine, you're my best friend, you're my special someone, you're the one who always puts a smile on my face, but the most important thing, you're my one and everything."
Joseph Luc Bourdon (February 16, 1987 – May 29, 2008) — lost, but not forgotten. Forever a Canuck.