Jim Neveau, NHL Senior Columnist
As we prepare to close the book on the first month of the NHL season, there have been some real surprises this year, and just as many non-surprises. We have had the Dallas Stars, Toronto Maple Leafs, and Edmonton Oilers get off to rousing starts, and we have had teams with big expectations like the Columbus Blue Jackets and Winnipeg Jets get off to awful starts.
We have also had several surprising players emerge at the top of various statistical categories, with Kari Lehtonen topping the wins chart for goalies and Phil Kessel leading the league in both goals and points. We also still haven't seen Sidney Crosby take the ice in NHL action, and the injury bug has gone to other places as well, ravaging rosters left and right and really turning the league on its head.
Finally, after a spate of suspensions during the preseason, the beginning of the NHL campaign has been mercifully light in that category. Several players have been aiming in recent days to change that, as Daniel Carcillo of the Blackhawks was suspended for two games and Andy Sutton was banned for five games.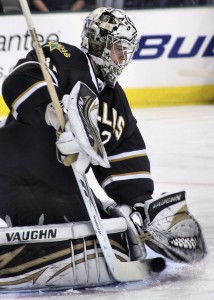 With all of these stories making headlines, it's easy to let all the noise surrounding them to drown out what each individual team has been doing. To counter this trend, we present to you a quick and dirty recap of how each of the 30 teams has fared after the first month, and what we can look forward to over the next month.
Just for fun, each team has been given a letter grade based on their performance. After all, what kind of "midterm" would it be without having a report card feel?
Anaheim Ducks: C
The Ducks came into this season with playoff aspirations, but their offense has been woefully lacking, and their power play has left a lot to be desired. The team's defense and goaltending have been respectable, however, and coach Randy Carlyle is experimenting with some new line combinations to shake the offense out of its doldrums, with Bobby Ryan getting knocked down to the second line to get some more offensive depth, so things could be looking up soon for Anaheim.
Boston Bruins: C-
In an era when Stanley Cup champions get precious little off-season rest to recuperate and recharge the batteries, the Bruins have effectively defined the term "Cup hangover". They have lost six of their last eight games, and they are in the bottom tier of the league in both team offense and power play. Fortunately for them, Tyler Seguin is having a solid sophomore campaign, and Tim Thomas is still a beast, so there is still time for Boston to turn things around.
Buffalo Sabres: B
The Sabres came into this season with some tremendous expectations with new ownership and several new pieces in place on the roster, and they have had a largely successful early going. They have a very nice 4-1 road record, and they are in the top 10 of all four major team statistics (goals for, goals against, power play, and penalty kill). Thomas Vanek and Jason Pominville have both performed well offensively for them, and with Ryan Miller in net, this team is a serious threat to win the Northeast Division.
Calgary Flames: C
The Flames certainly earned a middle of the road grade with their middle of the road play. They aren't particularly bad in any area of their game, but they don't particularly excel at anything either. Miikka Kiprusoff has a goals against average of 2.02, and Alex Tanguay has had a very solid start to the year, but if the rest of the team doesn't start picking up the pace, they could find themselves in deep trouble in a division with several teams on the rise.
Carolina Hurricanes: C-
With a guy like Cam Ward in net, you could logically expect that the Canes would be one of the league's better teams in terms of allowing goals, but nothing could be further from the truth this year. They are 25th in goals against and 25th in penalty killing as well. Jeff Skinner has been playing well, but in order to overcome their tough Southeast Division competition, they are going to need Eric Staal (3 G, 2 A, 11 GP, -13) to step up his game in a big way.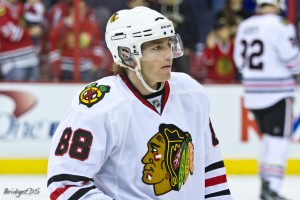 Chicago Blackhawks: B+
Armed with the league's best penalty killing unit and an offense that is hitting its stride nicely, the Blackhawks are making a serious case to be considered a premiere contender for the Cup out of the Western Conference. Patrick Kane has been playing well as a center, and Marian Hossa is playing great offensively as well. Their power play has been terrible, and will definitely have to improve if they are to keep the critics happy.
Colorado Avalanche: C+
The Avalanche have been a tough nut to crack this season. They have the league's best power play and goaltender Semyon Varlamov has been solid in net, but there are still reasons for concern. They have some really solid wins over teams like Boston, Chicago, and Toronto, but they have also laid a couple of eggs against Detroit and Calgary. Their 6-1 road record does provide some serious hope, but they have work to do to prove the skeptics wrong.
Columbus Blue Jackets: D
There aren't a lot of good things to say about a team that is rumored to be exploring regime change after only 12 games. They are dead last in penalty killing, second to last in power play, and third to last in goals against. Granted, they were without James Wisniewski for eight games and have been missing Jeff Carter with a foot injury, but with their schedule looking to get tougher soon, they need to get the ship right quickly to salvage their season.
Dallas Stars: A-
There have been few teams in the NHL that have been as impressive early as the Stars. Despite losing their best player in the off-season, they have found great replacements in Jamie Benn and Loui Eriksson. Add in a hot start from Sheldon Souray and some great play from Kari Lehtonen, and you just may be seeing more butts in the seats in Dallas soon.
Detroit Red Wings: C
The Wings got off to a flying start by winning their first five games (including shutouts of Colorado and Vancouver), but they have since crashed back to Earth in losing four in a row. They were embarrassed 7-1 by Washington and have only scored four times total in those four losses. Henrik Zetterberg needs to step up offensively after only getting three points in nine games, but with Jimmy Howard off to a solid start and some cagey veterans in the fold, it's a fool's errand to count this group out.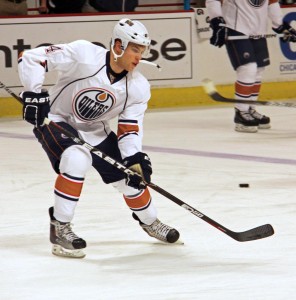 Edmonton Oilers: A-
A laughingstock for the last two years, the Oilers have been doing most of the laughing so far this season. Nikolai Khabibulin has been surprisingly effective despite the fact that the years keep piling onto his age, and the team's tandem of Taylor Hall and Ryan Nugent-Hopkins has been dynamite. If you exclude Magnus Paajarvi's lackluster start, you have a team that might finally be coming into its own. With 71 games left, however, it is too early to make a conclusive determination.
Florida Panthers: C+
After an off-season flurry of moves and signings, the Panthers have been slowly finding their stride in Sunrise. Kris Versteeg and Brian Campbell have been leading the charge offensively, and Jose Theodore and Jacob Markstrom have been effective in net. Guys like Scottie Upshall will need to step up their production, and their penalty killing has to improve as well if they are going to keep pace in the Southeast Division.
Los Angeles Kings: B+
The Kings came into this season as a serious Stanley Cup contender, and they haven't done anything to lose that status. They have gotten at least a point in all five of their road games, and Anze Kopitar and Mike Richards are off to solid starts as well. Jonathan Quick is an early Vezina contender too. They do need to improve their offense, as they are the 20th ranked offense in the league, but that should be doable with the talent that they have in place.
Minnesota Wild: C
With the exception of Dany Heatley, the Wild have been completely inept on offense. They are the last ranked team in goals scored, and they also have the 25th ranked power play unit. They aren't that much better in the penalty kill either, but they are the 5th best defense, so at least they have that going for them. They will need much better offensive production if they are going to improve on their point per game pace.
Montreal Canadiens: C+
After losing seven of their first eight games, the Canadiens have bounced back well, winning their last three games against Philadelphia and a home and home against the Bruins. Carey Price has been off to a sluggish start, but his numbers are still respectable and he still holds the key to Montreal's chances of a comeback. On a positive note, Max Pacioretty has had a great start to the season, and Tomas Plekanec has been solid as well.
Nashville Predators: B-
The Predators have had a very up and down start to the season, getting nice wins against Tampa Bay and Anaheim but suffering some bad losses to Phoenix and Vancouver. Their defense and penalty kill are still solid as always, and both David Legwand and Sergei Kostitsyn have been off to good starts offensively. They will need to improve their scoring a bit, and they need to get more consistent efforts if they want to keep pace in the Central.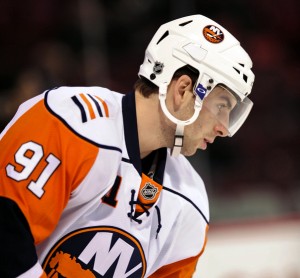 New Jersey Devils: C+
After one of the most disappointing seasons in recent memory, the Devils came into this season looking to bounce back, but signs are mixed in the early going. Their offense and power play are atrocious, but their penalty killing has been really good despite the injury issues that Martin Brodeur has been dealing with. They will need more offensive production from their second and third liners, as Patrik Elias, Ilya Kovalchuk, and Zach Parise have been shouldering an unfair chunk of the scoring load so far.
New York Islanders: C-
The Islanders came into this season trying to take a step forward in their development, but they have largely been unable to do so thus far. John Tavares and PA Parenteau have both had very good offensive starts, but Kyle Okposo and Michael Grabner have struggled a bit. If those guys can turn it around, and they can have one of their goaltenders grab the reins as "the guy", the Isles could still achieve what they want to this year, but it's going to have to happen soon.
New York Rangers: C
The Rangers came into this season with high expectations, but a lengthy early-season road trip and struggles in various areas of their game have led them to a slow start. The team's offense has a whole has been bad for the most part, ranking 19th in the league in goals scored, and their power play has been bad as well. Their defense and penalty  killing have been good though, so with Henrik Lundqvist in net head coach John Tortorella may be well-served to try to open the team's offensive game up more often.
Ottawa Senators: B-
The Senators started out the season in a way most fans expected, losing five of their first six games and only winning the one because of a shootout. Ever since then, however, they have turned things around in a big way, winning six in a row and actually looking like a solid team. Jason Spezza, Milan Michalek, and Erik Karlsson are all averaging over a point a game, and Sergei Gonchar is off to a great start. Their defense and penalty killing are both at the bottom of the league, however, so they aren't likely to keep this pace up.
Philadelphia Flyers: B
 The Flyers were the subject of a slew of questions after dealing away significant pieces like Mike Richards and Jeff Carter, but they have shown some solid prowess in the offensive categories, with Claude Giroux, Scott Hartnell, and Jaromir Jagr all getting off to good starts. Their team defense has been atrocious, however, and Ilya Bryzgalov is struggling mightily in the first year of a nine-year deal. Whether he can turn that around will be the key to Philly's success or failure this season.
Phoenix Coyotes: B
After losing Bryzgalov to the Flyers, the Coyotes weren't expected to do much this season. Surprisingly enough, they have the 5th-ranked offense in the NHL in the early going, and while their defense has been struggling at times, they have some good victories against Nashville, Anaheim, and Los Angeles. Shane Doan and Ray Whitney are both averaging a point per game, and Oliver Ekman-Larsson has also looked good in the early going for the Desert Dogs.
Pittsburgh Penguins: A
No Sidney Crosby has once again been no problem for the Penguins. Even though he's been out with his concussion, and Evgeni Malkin has missed several games already, the Pens are clicking on both sides of the puck, and have some of the best special teams in the league. James Neal and Kris Letang are both having great starts, and goaltender Marc-Andre Fleury is sizzling in net as well, posting a 7-2 mark with a 1.86 GAA and .934 save percentage.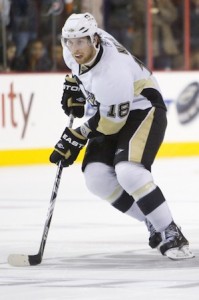 St. Louis Blues: C
The Blues are struggling in various aspects of their game (they are the bottom ranked club in power play percentage, and are one of the worst penalty killing units in the league too), but they have had a difficult early schedule, including eight of their first 11 games coming on the road. Goaltender Jaroslav Halak is still trying to find his rhythm as well, but if he can do so, and if David Backes and TJ Oshie can produce like they're capable of, St. Louis can make a run at the playoff spot that so many experts predicted for them.
San Jose Sharks: B
One of the two teams that nearly everyone was picking to win the Stanley Cup this year, the Sharks haven't gotten off to the greatest start, but are certainly still playing decently. Antti Niemi has been respectable in net, and their offense and power play are both ranked near the top five in the league. Their penalty killing unit has been God-awful, however, ranking as fifth worst in the NHL, so they will have to improve that in order to maintain their spot as a top-tier Cup contender.
Tampa Bay Lightning: B-
A season after shocking the hockey world with their remarkable turnaround, the Lightning came into this season with some really high expectations, but have scuffled a little bit early on. Their offense is still potent as all-get-out, but their defense has been bad and they are middle of the pack in power play percentage. Marc Andre-Bergeron has been off to a sizzling start, scoring twice and adding 10 assists. Dwayne Roloson also has been struggling mightily, and Tampa has to hope he will turn it around.
Toronto Maple Leafs: A-
The Leafs are off to a nice start this season, keyed largely by the excellent play of Phil Kessel, who looks like a man possessed this year. Joffrey Lupul and Dion Phaneuf have also been huge assets, and James Reimer continues to live up to his Optimus Reim moniker. Unfortunately for the Leafs, Jonas Gustavsson has been awful in his five games, so they are to have to lean on Reimer for a lot of starts, and there's no telling if the youngster is ready for that kind of wear and tear.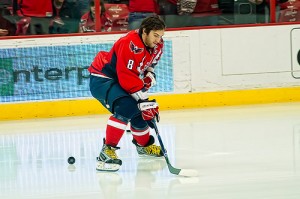 Vancouver Canucks: B-
Not surprisingly, the team that lost Game 7 of the Stanley Cup Finals last year has started  out this season in kind of a funk. It didn't help that they were without Ryan Kesler at the beginning of the season, and Roberto Luongo had what has become his standard bad October. The Canucks are starting to turn it around, however, as they had a nice win against Washington the other day. They will need to keep that going as they embark on a six game road trip beginning Tuesday.
Washington Capitals: A-
Despite two straight losses out West, the Capitals have arguably been the league's best team in the early going. They won seven straight to start the year, including beating the Penguins, Flyers, and Tampa Bay, and they seem to have regained the swagger on offense that they lacked so sorely last year. They do need to work on their penalty killing, and their defense has been a little bit more lax this year, but if they can keep scoring like this, it won't really matter.
Winnipeg Jets: D+
The Jets have been a maddening bunch to figure out this season. They have nice wins against both the Penguins and Hurricanes, but they also looked really bad at times, especially on defense. They have the second worst defense in the NHL in fact, and their penalty killing unit is allowing nearly 23% of power plays to result in goals. The Jets have to improve that and they will need to improve their 18th ranked power play if they are serious about turning things around any time soon in the Great White North.