Welcome back to my Toronto Maple Leafs' Opponent Preview series, where I preview each team in the Atlantic Division and break down how they match up against the Maple Leafs. The purpose of this series is to be a refresher on how the Atlantic teams were built for the 2021-22 season, especially since the Maple Leafs haven't played most of them since 2019-20.
Related: Toronto Maple Leafs Season Preview Articles
Last time, I broke down how the Maple Leafs matchup against the Ottawa Senators. You can find that piece here. To close out the series, here's a look at how Toronto stacks up against the Tampa Bay Lightning in 2021-22.
Tampa Bay Lightning
2020-21 Record: 36-17-3 (75 points, Won the Stanley Cup)
Notable Additions: Brian Elliott, Corey Perry, Zach Bogosian, Pierre-Edouard Bellemare
Notable Losses: Blake Coleman, Barclay Goodrow, Tyler Johnson, David Savard, Luke Schenn
2021 Draft: Roman Schmidt, Dylan Duke, Cameron MacDonald, Alex Gagne, Daniil Pylenkov, Robert Flinton, Niko Huuhtanen
2019-20 Season Series: 2-1-0 (TB outscored TOR 11-9)
The Lightning were one of the most polarizing teams in 2020-21 in the temporary Central Division as COVID-19 ran rampant throughout North America. The biggest storyline in Tampa Bay last season was that they managed to put superstar Nikita Kucherov on the long-term injured reserve (LTIR) during the season and activated him in time for the playoffs.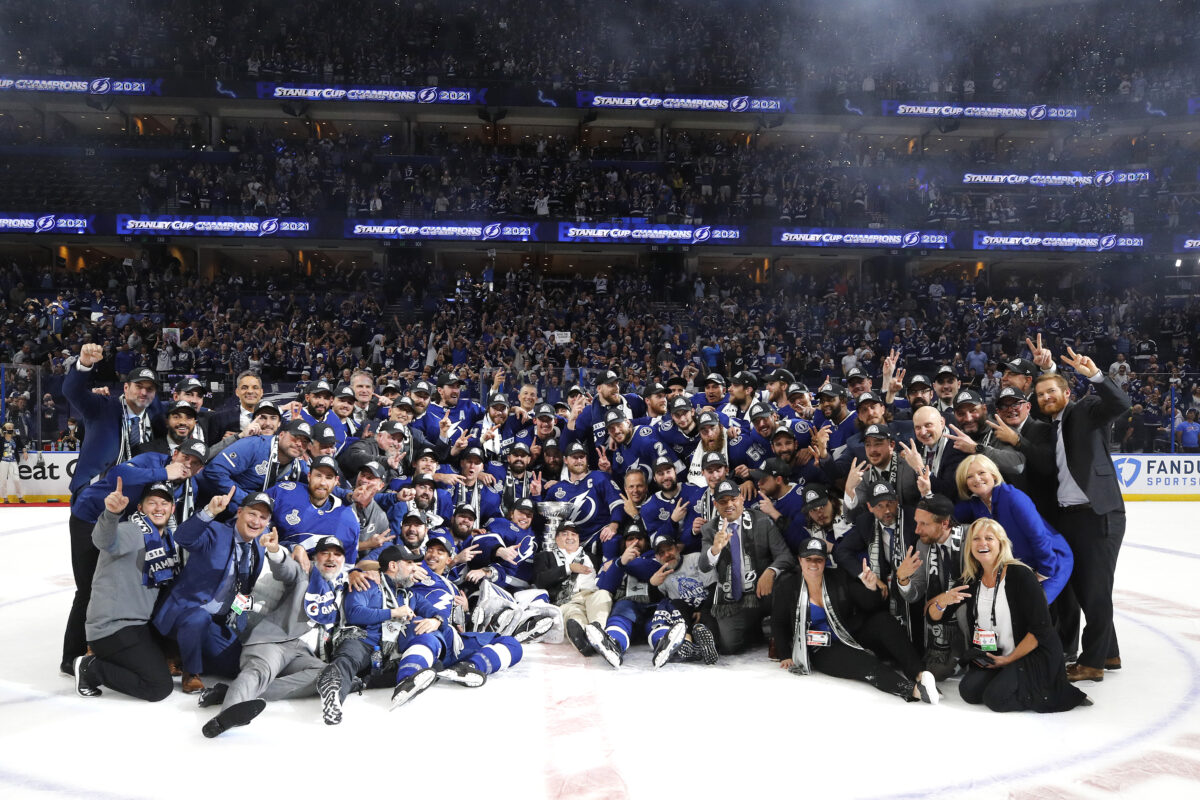 This gave them extra cap space to work with to add players and maintain their championship lineup. They defended their Stanley Cup title and will aim for a three-peat in 2021-22.
Lightning Offense Loses Some but Stays Strong
While the Lightning's core of star forwards stayed intact, they lost a couple of valuable players, especially from their playoff run. Blake Coleman signed a six-year contract with the Calgary Flames and Barclay Goodrow signed a six-year contract with the New York Rangers. They did, however, add a couple of veterans, including Corey Perry, who they faced in the 2021 Stanley Cup Final, and Pierre-Edouard Bellemare.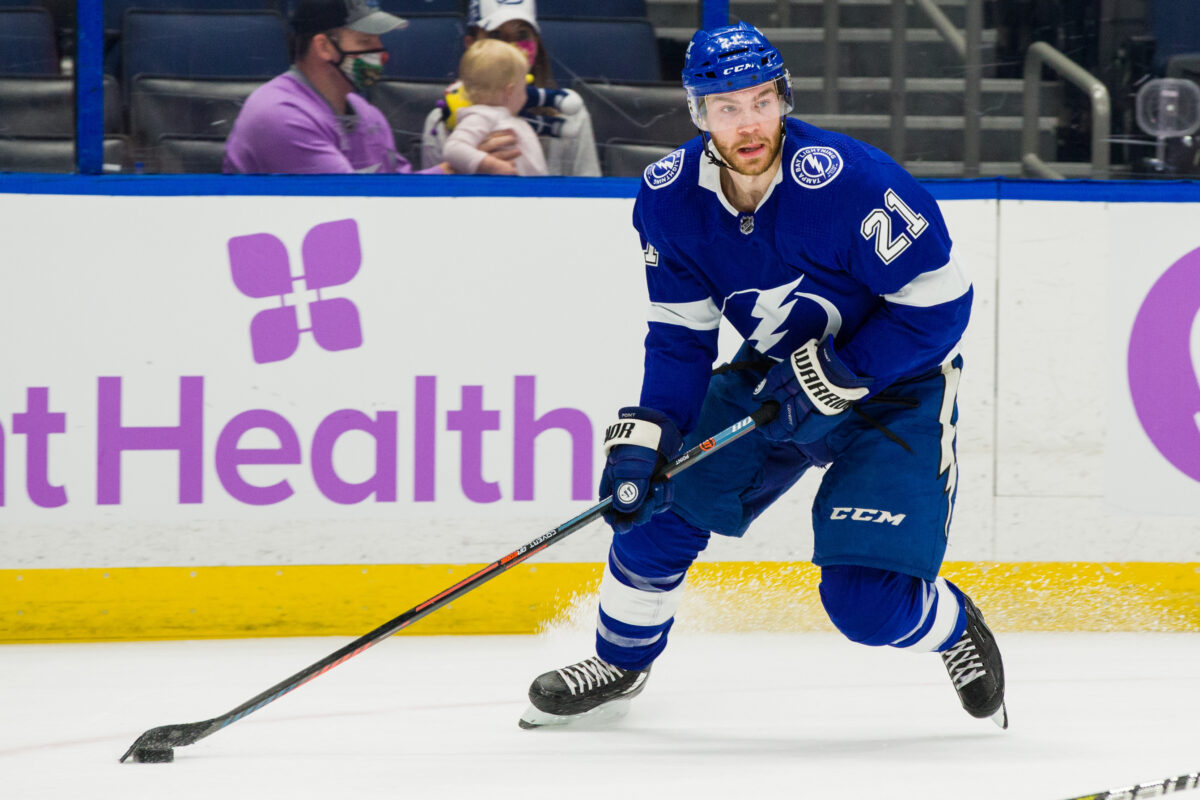 The Lightning will remain an offensive threat this season with Brayden Point, who just signed an eight-year contract extension, and a healthy Kucherov and Steven Stamkos. After those three, the team still boasts lots of depth scoring options, including Ondrej Palat, Alex Killorn, and Anthony Cirelli.
How Do the Maple Leafs Match Up?
The Maple Leafs and the Lightning both have an elite offence, but I'll give the Maple Leafs the edge here. These teams are easy to compare given that the Lightning have Kucherov, Point, Stamkos, and Palat, while the Maple Leafs boast an equally talented lineup of Auston Matthews, Mitch Marner, John Tavares, and William Nylander.
Related: Steelheads' Hardie Looking to Dominate OHL After Successful Rookie Camp
However, Toronto's goals for per game (GF/GP) was 3.32 compared to Tampa Bay's 3.21, and Tampa Bay's offence was downgraded this summer. I think the Maple Leafs' depth has the ability to outscore the Lightning's depth, but it's a close call.
Lightning Defense Remains a Strong Suit
While Tampa Bay said goodbye to trade deadline acquisition David Savard, they brought back a familiar face in Zach Bogosian. Other than that, not much changed on the Lightning's back end, and they will remain one of the strongest defensive teams in the league in 2021-22.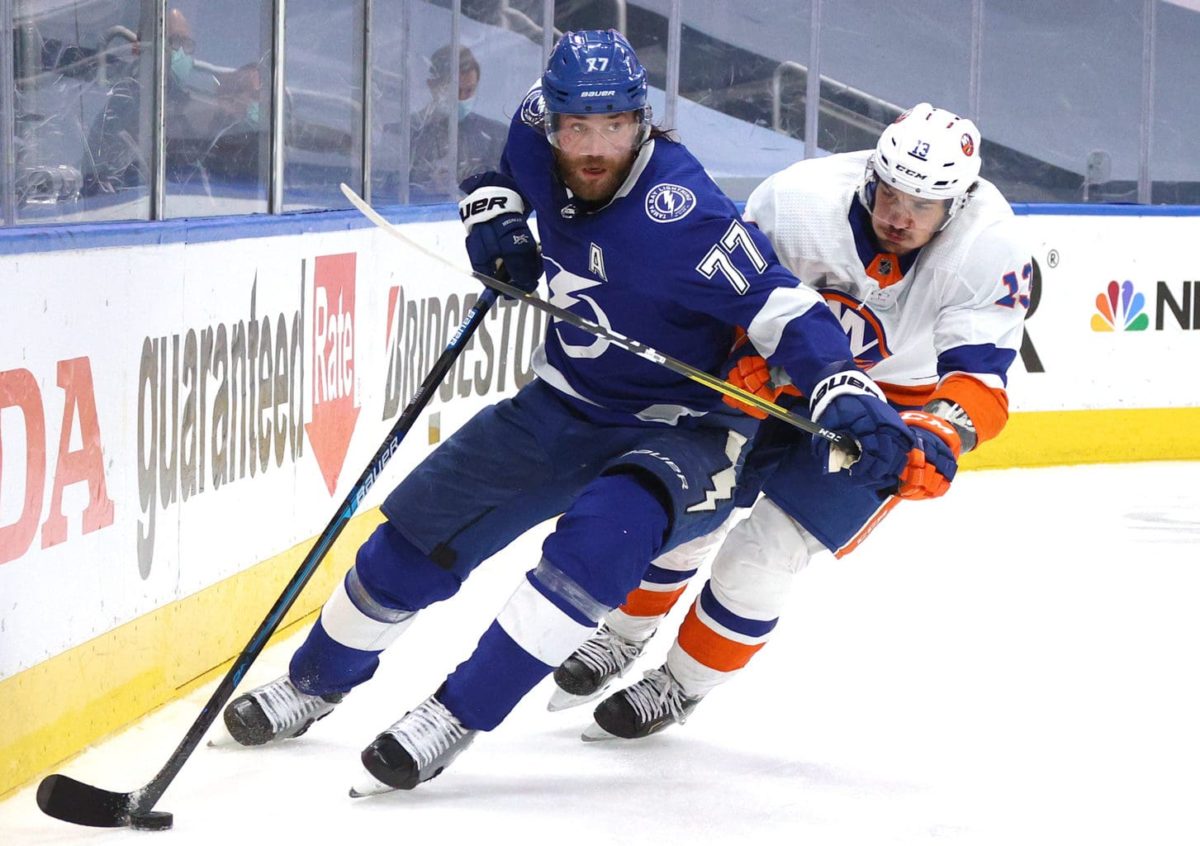 Led by Victor Hedman, the Lightning also boast Mikhail Sergachev, Ryan McDonagh, Erik Cernak, and Jan Rutta, who are all big, strong, mobile defensemen and won't make life easy for you. The Lightning don't have a single defenseman who's smaller than 6-foot-1, and while size isn't as important as it was 20 years ago, it's not a coincidence that this defensive group won two Stanley Cups.
How Do the Maple Leafs Match Up?
Defensively, the Lightning are better, and frankly, it isn't a debate. While Toronto's defence has seen improvement over the past three years or so, Tampa Bay is one of the best defensive teams in the league, if not the best. Meanwhile, Toronto's top-four is solid, but they still have some inexperienced players. Tampa Bay is loaded with veterans from top to bottom and will be a tough customer for any opponent.
Lightning Goaltending Remains Atop the League
Andrei Vasilevskiy is back between the pipes in Tampa Bay this season, and thus, they'll remain a top-three team in the league and perhaps the best goaltending-wise. Vasilevskiy appeared in 42 games last season, finishing with a 31-10-1 record, a goals-against average (GAA) of 2.21, and a save percentage (SV%) of .925.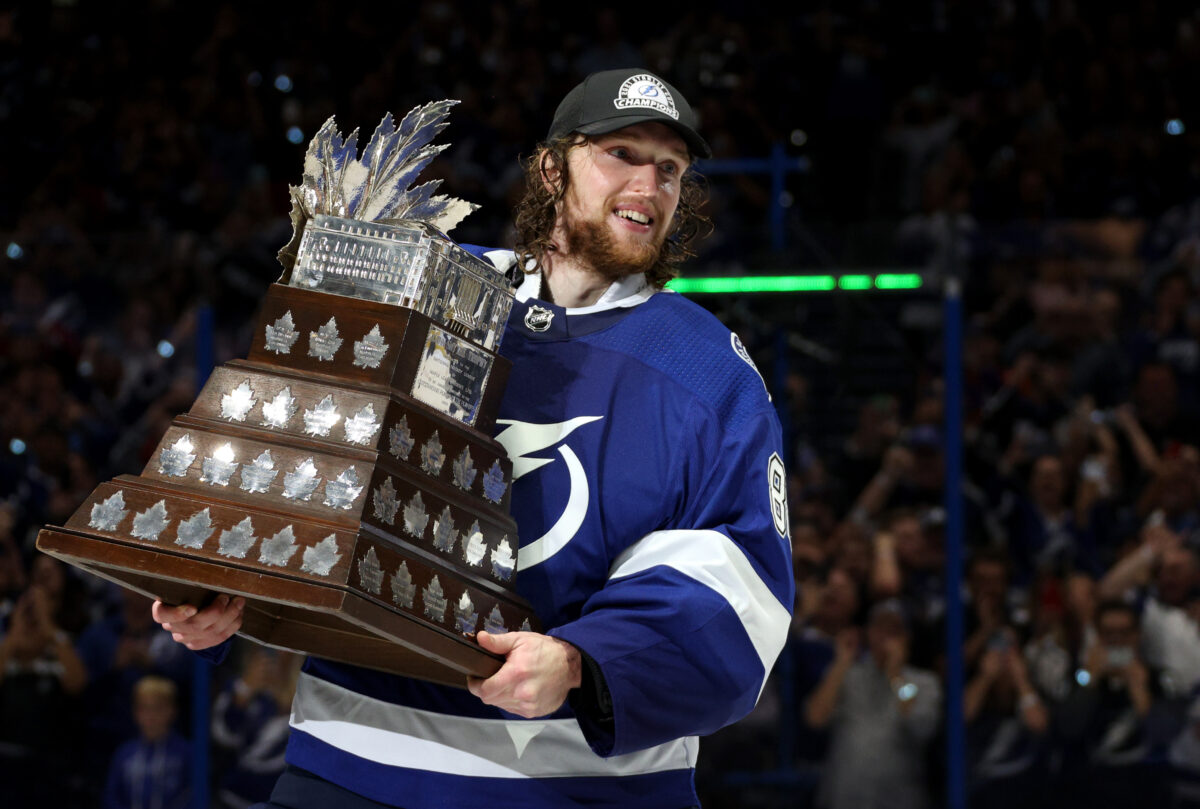 Behind Vasilevskiy, the Lightning made a small change by adding veteran Brian Elliott to replace Curtis McElhinney, who announced his retirement last week. The Bolts are laughing as long as Vasilevskiy is their starter, so Elliot didn't really move the needle.
How Do the Maple Leafs Match Up?
Again, the Lightning are much better than the Maple Leafs between the pipes. While the Maple Leafs have some solid potential with their tandem of Jack Campbell and Petr Mrazek, there's no matching up against the best goaltender in the league. When you factor in the defence that Vasilevskiy has in front of him, there's no debate.
Head Coaching Matchup: Sheldon Keefe vs. Jon Cooper
Simply put, Cooper is among the best in the business. Since Keefe has neither the experience nor the playoff success yet, he doesn't hold a candle to Cooper.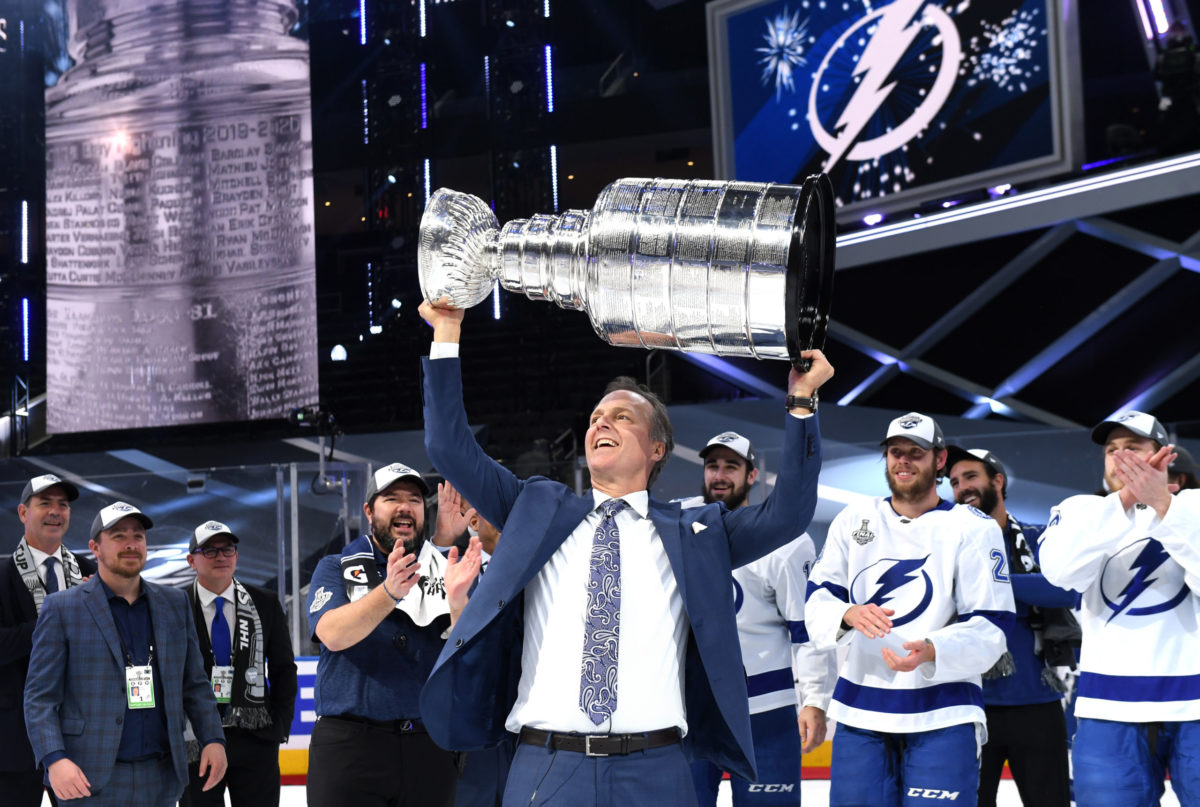 The Lightning's bench boss just inked a three-year extension on Monday, and he deserved every penny of it. He will head into his ninth full season as Tampa Bay's head coach and chase victory for the third season in a row.
Lightning Prospect Corner
Taylor Raddysh
Raddysh is in a make-or-break situation with the Lightning. A second-round pick in 2016, he just wrapped up his third AHL season and looks to be ready to assume a full-time role in Tampa Bay in 2021-22.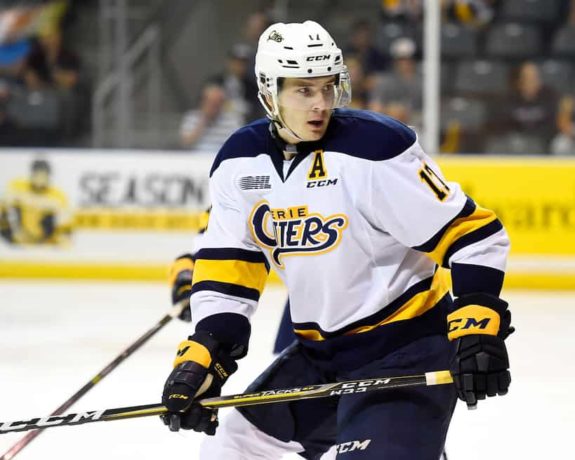 He had 29 points in 27 games for the Syracuse Crunch last season, so he could be a nice replacement for Coleman or Goodrow.
Boris Katchouk
Katchouk is in an identical situation to Raddysh. A second-round pick in 2016, Katchouk is also fresh off his third season in the AHL, and both players took a big step forward in 2020-21. With 34 points in 29 games for the Crunch, Katchouk looks ready to assume a full-time role with the Lightning.
Hugo Alnefelt
Unlike Raddysh and Katchouk, Alnefelt won't start the season with the Lightning. However, he will be competing for starts with the Crunch and could become an option should one of Elliott or, god forbid, Vasilevskiy go down. He played for Team Sweden at the World Junior Championship twice and will get his first taste of North American hockey in 2021-22.
Message From Enemy Lines
"Of the teams in the Atlantic, the Maple Leafs strike me as the one that should challenge the Lightning for the Division title. They have a deep offensive roster that can match Tampa Bay, along with a solid defense and a goalie tandem that is much better than it is given credit for. As long as Toronto can forget their meltdown in 2021, there's a good chance that they will be able to carve out enough points to beat the Lightning and claim the Atlantic Division for themselves."

-Eugene Helfrick, The Hockey Writers
Schedule
Dec. 9 vs Tampa Bay
Apr. 4 @ Tampa Bay
Apr. 21 @ Tampa Bay
2021-22 Season Prediction: First in Atlantic
This was the easiest decision I've made since I started this series. The Lightning remain the best team in the NHL, so it would be foolish to predict that they will finish anywhere but in first place in their division.
You May Also Like
They've done an incredible job of keeping their farm system fresh while making the appropriate moves to give themselves a shot at winning the Cup every season, and you can expect them to be right back in the conversation in 2021-22.
---
---
---
---
Alex Hobson is a writer and a radio producer for 610 CKTB. He has been writing about sports since 2015 and has been with The Hockey Writers since October of 2020. He covers the Toronto Maple Leafs, World Juniors, and the NHL Entry Draft, and is also part of the Sticks in the 6ix Podcast, presented by THW. He also makes weekly appearances on THW's Maple Leafs Lounge Roundtable. For interview requests or any other inquiries, you can follow Alex's social media pages listed at the bottom of his articles like this one.