As of now, the Toronto Maple Leafs hold the 28th overall pick in the 2023 NHL Draft, set to take place in Nashville next week. Historically, the 28th pick has been used to select platers like Anthony Beauvillier (2015), Brady Skjei (2012) and Charlie Coyle (2010) and while there is some speculation that the Maple Leafs could move the pick, one prospect they should be looking at — assuming they don't move the pick — is London Knights' defenceman Oliver Bonk.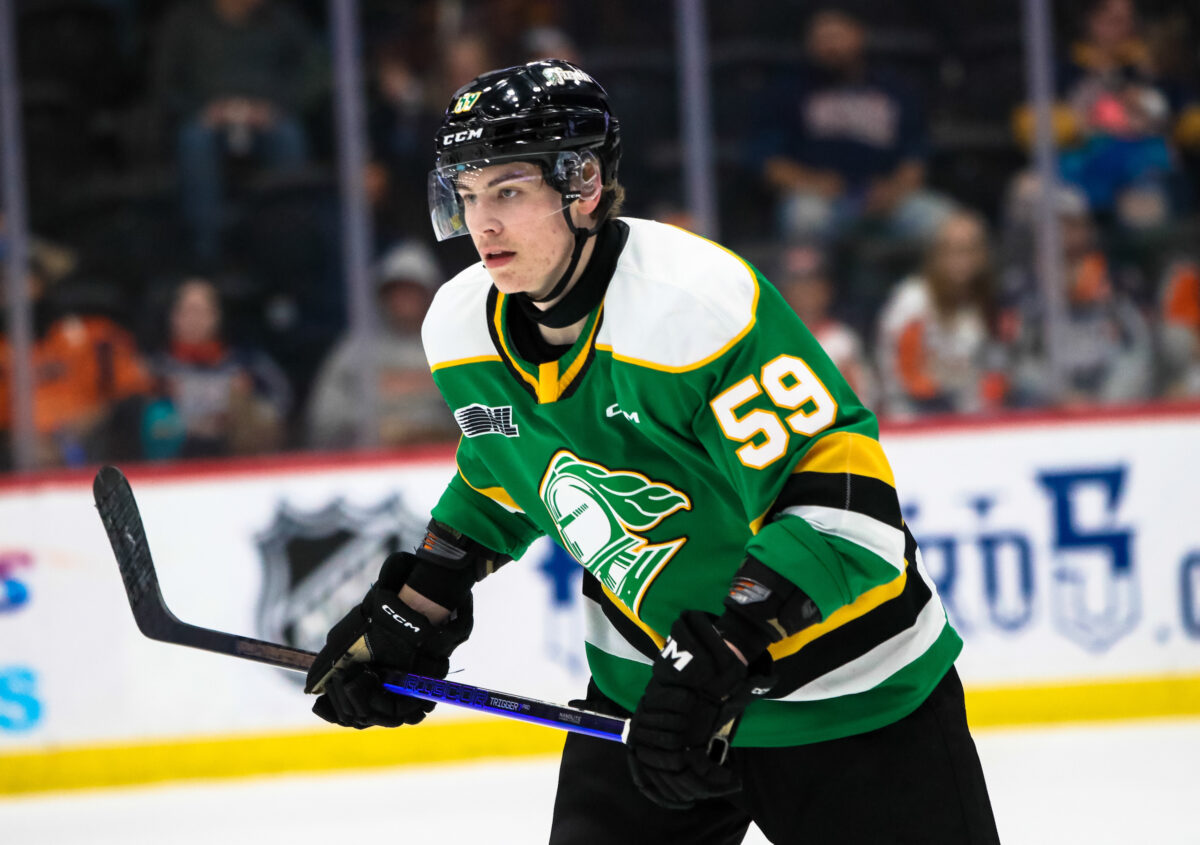 While another defensive prospect might not be what the Maple Leafs need in the eyes of some, Bonk could bring more stability to the team's blue line in the coming years.
Bonk's Scouting Report
If you're looking for flashy, Bonk isn't your guy. He plays an extremely tight game and he's defensively responsible. He has all the assets of a strong defenceman, including offensive production and while he might not be top of the class in any given attribute, he does provide a boost in all aspects of the game.
Related: 2023 NHL Draft Guide
He sees the game well and plays physically even if he's not the biggest player on the ice. Still, size isn't an issue for Bonk at six-foot-one and nearly 180 pounds. Strength is an area of his game that he can continue to develop, but he's a defender that gets in the corners quickly and retrieves pucks first — if not, he battles hard to come away with it.
---
Latest News & Highlight
---
He can break out of his own zone, either by handling the puck himself or making a quick pass to get it out fast and it's a good reason as to why he saw so much ice-time with the Knights this past season under Dale Hunter.
His speed and skating isn't the strongest in this draft class, but it doesn't take away from his overall game. He uses an active stick to make up for the areas that he lacks in and because of that he will surely find his way to becoming a top-four defenceman in the NHL at some point down the road.
Bonk's Statistics
Why the Maple Leafs Should be Interested
Assuming the Maple Leafs keep the first-round pick, Bonk will likely be available at 28. While they do have defensive prospects and young roster players like Timothy Liljegren and Topi Niemela, getting another right-handed option in the pipeline makes total sense for a team that needs to continue to bolster their defensive options inside the organization.
Add to that the stability of his game and Bonk is already showing what he could become given the time and development. Sure, there's areas of his game that need some work, but with 40 points in 67 games for the Knights during the regular season in 2022-23, his offensive game is already taking a step in the right direction.
Related: Oliver Bonk – 2023 NHL Draft Prospect Profile
If all else fails and the Maple Leafs do take Bonk with the 28th overall pick, it's not crazy either to think of him as a possible trade chip down the road. With Niemela in the pipeline, a young, right-handed defenceman like Bonk could draw interest from around the league as part of a bigger deal as well. All options must be open.
Why the Maple Leafs May Stay Away
Really, the only reason the Maple Leafs might not consider taking Bonk if he's available is their organizational need for more depth up front that will be on low contracts when their stars are commanding so much of the salary cap. That alone would push the Maple Leafs to go with a forward in the first round of the 2023 NHL Draft.
On top of that, a new general manager could dictate new direction within the organization. Different skills could be monitored more closely and having a defenceman that isn't maybe as mobile as other options could be something that Brad Treliving and the Maple Leafs look at when determining whether or not to take a chance on Bonk.
Will the Maple Leafs Take Bonk?
Again, this is all hypothetical assuming the Maple Leafs keep the pick they currently have. But given that assumption, if Bonk is available, it's hard to justify not considering him as a potential option for them. After all, right-handed defensemen are more of a rarity and one that plays with such poise at his age has to be an option for any team in the first round. Add to that the organization in which he played junior and the preparation they provide, as well as his top-four potential and Bonk seems like a likely option for the Maple Leafs at 28.