The New Jersey Devils don't have a first-round pick in the 2023 draft (at least as of this writing) after giving it up in the Timo Meier deal at the trade deadline. Still, they have a pick in every round, with their first selection coming at 58th overall in Round 2. Let's look at some prospects they could target with that pick.
Alex Ciernik
Position: Left/Right Wing
Height: 5-foot-10, Weight: 179 pounds
Rankings
The Devils have selected Slovak prospects before, Marian Studenic in the 2017 draft and, of course, Šimon Nemec second overall in the 2022 draft. Alex Ciernik could be next in line if he's available with the 58th pick. The 5-foot-10, 179-pound winger had a solid season playing in Sweden, totaling 21 points (9 goals, 12 assists) in 18 games for Södertälje in the J20 Nationell — one of Sweden's tiers of junior hockey. He also appeared in 25 games in the HockeyAllsvenskan — Sweden's equivalent of the AHL — where he had three goals and 12 points. 
Ciernik makes sense for the Devils because he's a high-end skater who should play well off the rush if he makes the NHL. He has plenty of offensive upside due to his playmaking ability and has top-six potential if developed properly. Once he adds strength to his frame, his already decent shot should improve. 
Quotable
"The talent is clear to see at every level. A plus skater, he also has excellent playmaking ability, is impressive in transition, has great hands and a good release, especially on his one-timer. Additionally, when playing versus players his own age, especially he excels at 5v5, driving play and getting to danger areas with regularity." – Alex Appleyard, via Smaht Scouting
Aram Minnetian
Position: Defenseman
Height: 6-foot-0, Weight: 170 pounds
Rankings
A Woodcliff Lake, New Jersey native who attended Bergen Catholic High School for two years, Aram Minnetian has spent the last two years playing for the U.S. National Team Development Program. Though a defenseman, he played forward for two years at Bergen Catholic, and it shows in his game. While the production wasn't there with the USNTDP, he has offensive instincts that suggest points should come one day.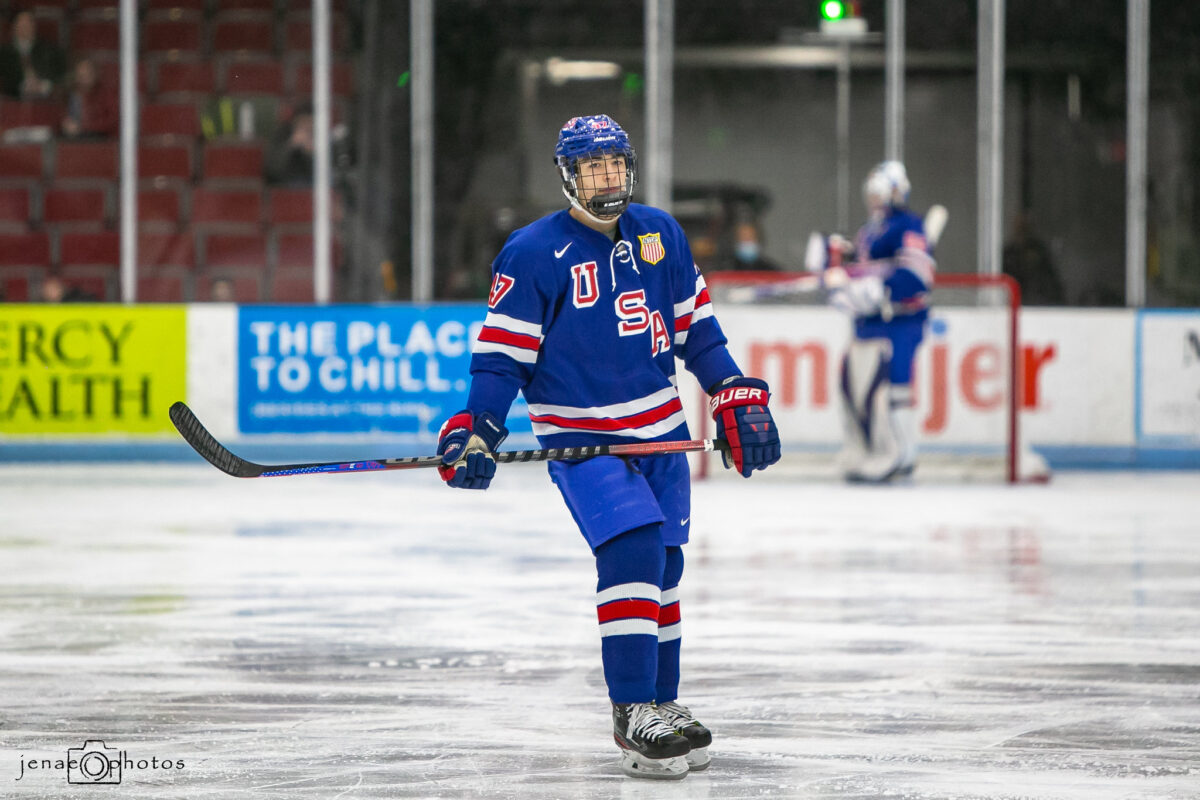 Another part that stands out about Minnetian is his excellent skating. He excels off the rush and is not afraid to join the attack offensively, where he creates quality chances, something that comes from his time as a forward. Hockey-wise, he makes sense for the Devils at the 58th pick. But it'd also be a fun story for the local kid who grew up a Devils fan and wore No. 17 because Ilya Kovalchuk was his favorite player. 
Noah Dower Nilsson
Position: Center
Height: 6-foot-0, Weight: 183 pounds
Rankings 
NHL Central Scouting (EU Skaters): 17th
Elite Prospects: 60th
TSN/Bob McKenzie: 70th
TSN/Craig Button: 71st
Daily Faceoff: 47th
FLO Hockey/Chris Peters: 87th
Noah Dower Nilsson is one of the more intriguing post-first-round prospects in the 2023 draft. He put up some outrageous numbers in the J20 Nationell, finishing with 26 goals and 54 points in 37 games for Frölunda's U20 team. He also performed well at the international level for Team Sweden, totaling 13 points in 19 games across all U18 competitions. 
As you can see, there's a wide range for Dower Nilsson's rankings. But there's no denying his offensive instincts, as he has good hockey IQ and a formidable shot, and he's a deceptively good passer who sees the ice well: 
Dower Nilsson's skating is a concern, which is what's likely keeping him from being a first-round talent. But with his point totals, the upside is undeniable, so he could be worth a look with the 58th pick, even if his skating needs to improve. 
Quotable
"Dower Nilsson is an intelligent and unpredictable player, capable of creating scoring opportunities out of nothing. His stick skills are truly impressive, as he fearlessly challenges defenders in one-on-one situations and consistently finds space to create chances for himself or his teammates with crisp, high-level passes." – Fredrik Haak, via FC Hockey
Nico Myatovic
Position: Forward
Height: 6-foot-3, 181 pounds
Rankings
NHL Central Scouting (NA Skaters): 26th
Elite Prospects: 112th
TSN/Bob McKenzie: 56th
TSN/Craig Button: 44th
FLO Hockey/Chris Peters: 49th
Smaht Scouting: 65th
The Devils have two Nicos (Hischier and Daws), so why not add another one? Nico Myatovic had a solid season in the Western Hockey League (WHL), totaling 30 goals and 60 points in 68 games for the Seattle Thunderbirds. 
At 6-foot-3, 181 pounds, Myatovic would add some size to the Devils' system. He's a well-rounded offensive player with a sneaky good shot and underrated playmaking ability due to his vision. He has good offensive instincts, as he gets to the right spots in high-danger areas more often than not. Myatovic is not a burner, but his skating is solid for someone his size. He likely projects as a middle-of-the-lineup winger in the NHL. 
Quotable 
"This game showcased Myatovic's prowess in five-on-five situations and penalty killing. His length, reach, stride extension, engagement in board battles, and constant movement make him a highly effective player at the WHL level. He applies consistent pressure, matches skating strides, and competes in all areas of the ice." – Joel Henderson, via FC Hockey
Felix Nilsson
Position: Center/Wing
Height: 6-foot-0, 179 pounds
Rankings
NHL Central Scouting (EU Skaters): 24th
Elite Prospects: 41st
TSN/Bob McKenzie: 54th
Daily Faceoff: 75th
Dobber Prospects: 47th
Smaht Scouting: 71st
Nilsson had an interesting year in Sweden. He was highly productive with Rögle's U20 team in the J20 Nationell, posting 19 goals and 41 points in 36 games. He also played in 18 games for Rögle's senior team in the Swedish Hockey League (SHL) but didn't record a point. Nilsson appeared in 12 games for Team Sweden at the U18 level, recording two goals and six assists.
Though he didn't score in the SHL, Nilsson has intriguing offensive upside. He's a good playmaker with a good set of hands that allows him to use his stickhandling to generate scoring chances. 
Nilsson is one of the younger players in this class, having just turned 18 on June 22. That gives him a bit more runway to develop than some older players in this draft. And with him only being 179 points at 6-foot-0, there's room for him to add strength to his frame and develop over time. 
Lenni Hämeenaho
Position: Forward
Height: 6-foot-0, 174 pounds
Rankings
NHL Central Scouting (EU Skaters): 8th
Elite Prospects: 61st
TSN/Bob McKenzie: 41st
TSN/Craig Button: 59th
FLO Hockey/Chris Peters: 56th
Smaht Scouting: 49th
Lenni Hämeenaho may be off the board by the time the Devils pick at 58. But if he isn't, he could be the best player available. He had an impressive season for Ässät in the Finnish Liiga — the top pro league in Finland — totaling nine goals and 21 points in 52 games.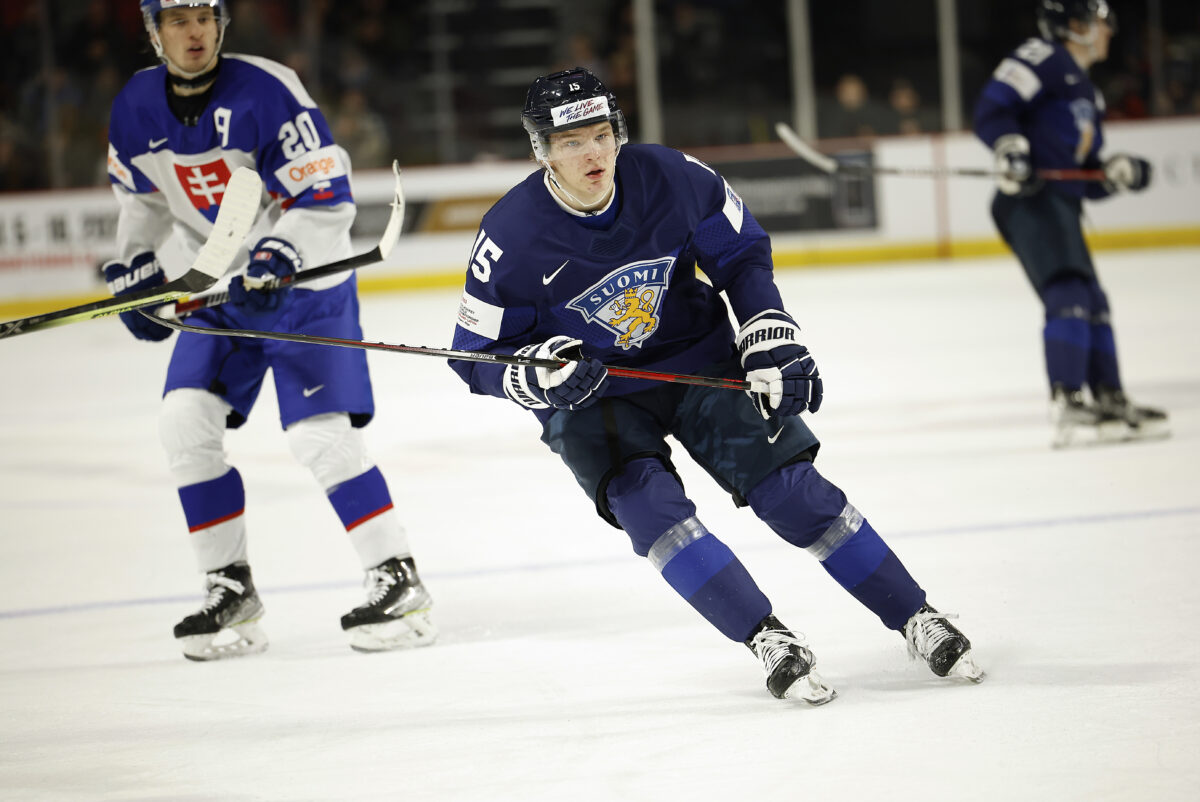 Hämeenaho is a good skater who can move the puck efficiently in transition. Once in the offensive zone, he's not afraid to drive the net and create scoring chances from high-danger areas. He has a good shot and can use his stickhandling to fake out goalies or toe-drag to open up shooting lanes. He needs to add some explosiveness to his game, but there's an intriguing toolkit. 
Quotable
"The only draft-eligible player on the Finns, Hameenaho is a highly productive player in the Liiga for his age. However, he lacks the pace and physical tools you'd typically see in a player with his statistical profile, which keeps him from being a top-end prospect. Regardless, Hameenaho is the kind of player that excels on the Finnish national teams through his intelligent play and good positional play…" – Tony Ferrari, via The Hockey News
Koehn Ziemmer
Position: Right Wing
Height: 6-foot-0, Weight: 194 pounds
Rankings
NHL Central Scouting (NA Skaters): 25th
Elite Prospects: 40th
TSN/Bob McKenzie: 42nd
TSN/Craig Button: 32nd
FLO Hockey/Chris Peters: 50th
Smaht Scouting: 75th
There's a good chance Koehn Ziemmer is off the board by the time the Devils pick at 58, but if not, he could also be the best player available. He had an outstanding season with the Prince George Cougars in the WHL, totaling 41 goals and 89 points in 68 games. That's coming off a D-1 season in 2021-22 that saw him total 30 goals and 57 points in 68 games. 
Related: Devils Need to Target a Goalie in the 2023 Draft
---
Latest News & Highlight
---
Ziemmer is a solid playmaker, but the real strength of his game is his goal-scoring ability. He has a good wrist shot and an even better one-timer. He also has good hand-eye coordination and a knack for redirecting shots for goals. Plus, he gets to high-danger areas fairly often and usually converts on his chances. 
Quotable
"Ziemmer has all the tools to become a middle-six winger at the NHL level. He is one of the most dynamic players across the Western Hockey League in the offensive zone and has shown continued improvement year after year. Thanks to his strong play in front of the net, he should also be a power play option in either the bumper position or as a screen looking for tips and rebounds. He is going to be an exciting player once he establishes himself in the NHL, as he is the rare combination of size and skill that all teams are looking for."- Adam Kierszenblat, The Hockey Writers
Beau Akey
Position: Defenseman
Height: 6-foot-0, Weight: 170 pounds
Rankings
NHL Central Scouting (NA Skaters): 33rd
Elite Prospects: 32nd
TSN/Bob McKenzie: 61st
TSN/Craig Button: 94th
FLO Hockey/Chris Peters: 61st
Dobber Prospects: 62nd
Beau Akey is a right-shot defenseman who had a solid season for the Barrie Colts in the Ontario Hockey League (OHL), totaling 11 goals and 41 points in 66 contests. One of the strengths of his game is his shot, which he gets through traffic consistently from the blue line. If Akey gets a chance to one-time the puck, he can get quite a bit of mustard on it. As a playmaker, he shows good vision and will put shooters in good spots to score.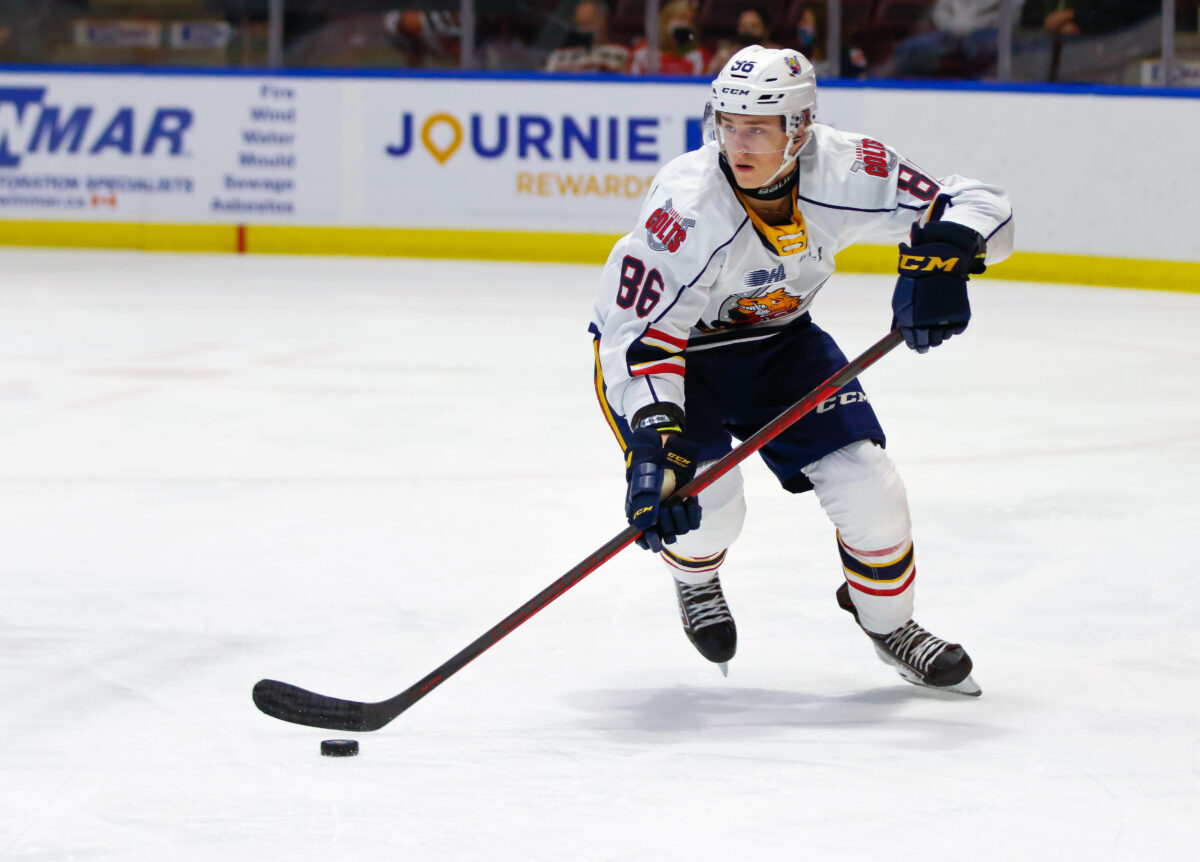 There's a bit of variance in Akey's rankings. He could be gone by the time the Devils draft, though it's not as likely as Ziemmer or Hämeenaho. If the Devils are in the market for a puck-moving defenseman in this spot, he'd be a solid choice to add to an already talented group of defense prospects in the organization's system. 
Quotable
"Akey is a very fluid-skating right-handed defenseman who looks closer to 6-2 on the ice than his listed 6-0. He is quite lanky as of now, but his frame will be a big one once he fills out. He is a good pre-scanner, which makes him effective on retrievals, and his scanning with the puck on his stick is also a strength. When the play is in front of him, he sees all of his options and picks the right one most of the time. His puck skills are also quite good, and his offensive instincts have flashed this season, but they aren't given the opportunity to truly shine as Barrie's system keeps him stapled to the blueline during most offensive zone possessions…" – Sebastian High, via Dobber Prospects
Aydar Suniev 
Position: Left Wing
Height: 6-foot-2, Weight: 192 Pounds
Rankings
NHL Central Scouting (NA Skaters): 40th
Elite Prospects: 69th
TSN/Bob McKenzie: 66th
TSN/Craig Button: 36th
FLO Hockey/Chris Peters: 59th
Smaht Scouting: 47th
Aydar Suniev has had an interesting development path. A native of Kazan, Russia, he spent the 2022-23 season in the British Columbia Hockey League (BCHL), where he had 45 goals and 90 points in 50 games. He also posted nine goals and 23 points in 14 playoff games for the Penticton Vees. 
Suniev is a hulking winger with a wicked shot, whether it's a one-timer or wrister, and his vision is quite good as a playmaker. He's not afraid to drive the net with his frame and put on a power move to create a scoring chance. He's committed to UMass in the NCAA for the 2023-24 season, so it'll be interesting to see how his game progresses against better competition. His skating will need to improve in his post-draft years for him to have a real shot at making the NHL. 
Quotable
"If Suniev can improve his skating with help from a skating coach, he could become a very serviceable middle-six winger that sees time on the power play. Just his shot, hands and power forward frame will make that an almost guarantee. Unfortunately, if he doesn't get his skating up to at least average, he will have a hard time sticking in the NHL…" – Matthew Zator, The Hockey Writers
Nick Lardis 
Height: 5-foot-11, Weight: 168 pounds
Position: Right Wing
Rankings
NHL Central Scouting (NA Skaters): 27th
Elite Prospects: 33rd
TSN/Bob McKenzie: 50th
TSN/Craig Button: 60th
FLO Hockey/Chris Peters: 78th
Smaht Scouting: 48th
Lardis did not get off to a great start to his 2022-23 campaign with Peterborough Petes in the OHL, with only 12 goals and 19 points in 36 games. But after a trade to the Hamilton Bulldogs, his game took off. He finished with 25 goals and 46 points in 33 games with the Bulldogs, which surely helped improve his stock for the 2023 draft.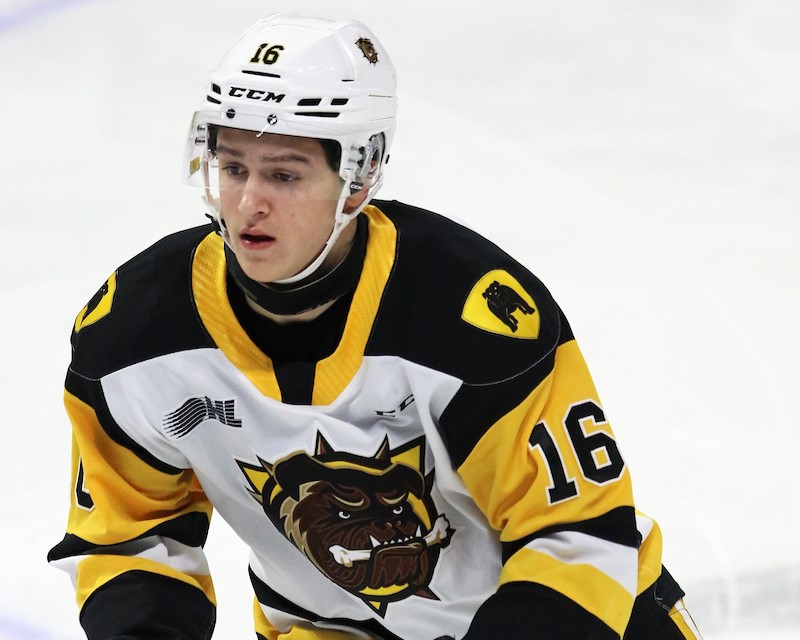 Lardis has goal-scoring sniper potential written all over him. He gets to scoring areas and uses his wicked shot to find the back of the net. He has a quick and powerful wrist shot, as well as a lethal one-timer when given time and space to use it. His skating is quite good, as he has speed and can get moving in quick bursts when he needs to. 
Quotable 
"No matter where the puck arrives, Lardis finds ways to slam it into the net. He can do so while sliding backward, rushing ahead, with his feet pointed away from the target, and with instant catch-and-release motions. The winger understands how to set up his shots, where to move, how to move, and at what speed to get his stick on a pass and fire it in. He anticipates the flow of the play, keeps the puck in control of his team with short passes, and then pops open." – Elite Prospects
Devils Will Have Plenty of Options at 58th Overall
No matter who the Devils select, they should add a quality prospect to their system, even without having a first-round pick. You'll notice most of the players listed here are forwards. The Devils have plenty of depth defensively in their system, and it's not just Luke Hughes or Nemec. Prospects like Seamus Casey, Topias Vilen and Daniil Misyul all have NHL potential, as well as Reilly Walsh. I'd lean toward taking a forward with the 58th pick, especially since most of the best talent in the 2023 draft is up front.