If you're sick and tired of reading articles about trade targets and hypotheticals, get used to it, because the trade deadline is still a little under a month away, and we've got to keep ourselves entertained somehow. However, most of the speculation doesn't come out of nowhere, and for every Jakob Chychrun, Timo Meier, and Jake McCabe, there's the possibility of a trade involving somebody who hasn't crossed anybody's mind. One of those names could be found in a Vancouver Canucks uniform.
Related: Darryl Sittler's Magical 10-Point Game
It's no secret that the Canucks' season hasn't gone the way they hoped it would. Between a seven-game losing streak to start the year, a messy coaching situation between Bruce Boudreau and Rick Tocchet, and just a disappointing campaign expectations-wise, it's been one to forget for the organization. It's clear the direction they've decided to go in towards the deadline, with Bo Horvat already having been dealt to the New York Islanders. And if the dominos continue to fall, one name that might be worth checking in on for the Toronto Maple Leafs is Brock Boeser. 
A Top Offensive Forward in Need of a Fresh Start
Ever since Boeser's draft year, he was known for one broad strong suit; providing offense, and more specifically scoring goals. With 35 goals and 68 points in 47 games for the United States Hockey League's (USHL) Waterloo Blackhawks in 2014-15, the Canucks selected him 23rd overall at the 2015 NHL Draft. He spent two successful seasons at the University of North Dakota, and joined the Canucks at the end of the 2016-17 season, recording five points in his first nine NHL games.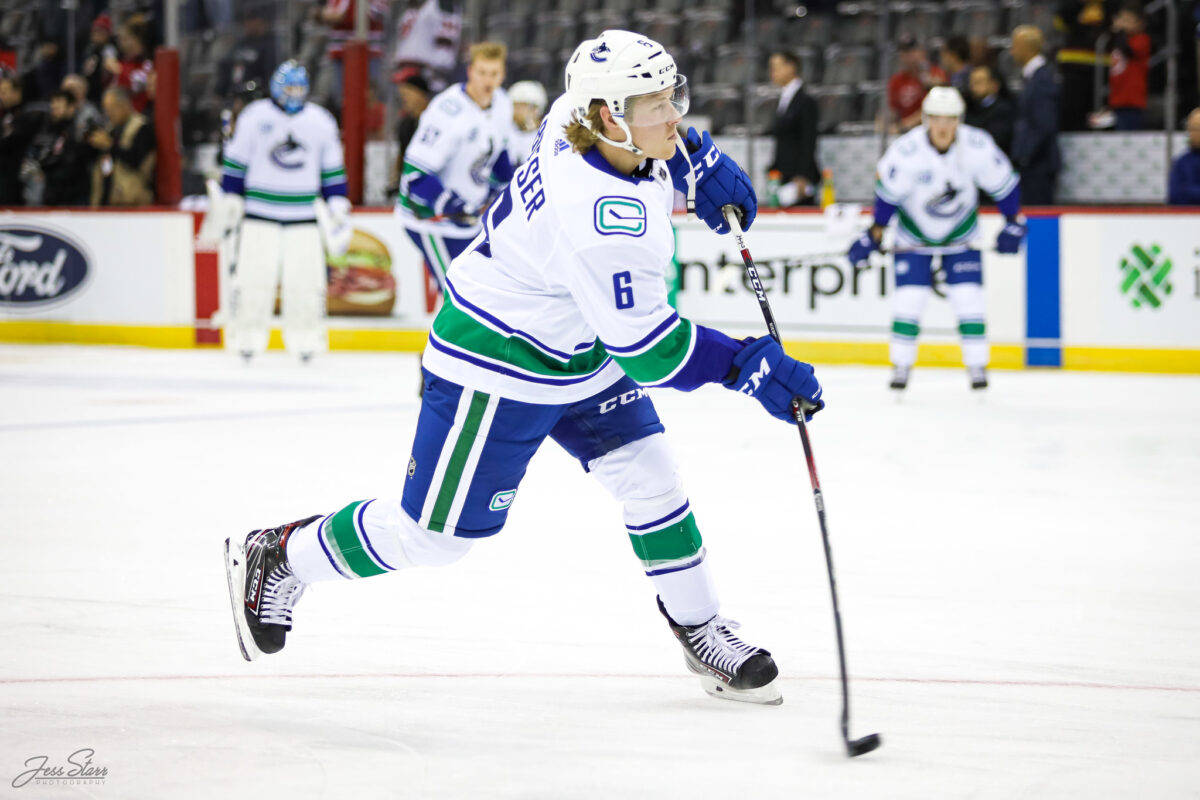 Boeser became a full-time member of the Canucks in 2017-18, and despite a recurring durability issue (his career high of NHL games in a single season is 71), he's produced at nearly a point-per-game clip every year he's been in the NHL aside from 2021-22. Even this season, which is considered a down year for him, he still has 30 points in 42 games. There are lots of players in Vancouver who would probably benefit from playing elsewhere next season, and Boeser is one of them. 
---
Latest News & Highlights
---
Between a COVID-riddled 2020-21 season, losing his father following an injury-filled 2021-22 season, a hand injury in training camp, and having trade speculation ringing in his ears ever since the start of the 2022-23 season, it's been a tough go for Boeser and one that likely won't be fixed by remaining in a Canucks uniform.
The Apparent Cost for Brock Boeser 
The case for what it will take to acquire Boeser is an interesting one. On one hand, if you can guarantee a bounce-back and limit the number of injuries, you're getting a player who can produce at nearly a point per game for under $7 million per year over the next two seasons. On the other hand, if his play over those next two seasons is more reminiscent of 2021-22, that's an expensive contract to take on, especially in the Maple Leafs' case. 
With all this in mind, former ESPN and current Daily Faceoff insider Frank Seravalli says that he expects the price for Boeser to be "between a second-round pick and a third-round pick". This is where the intrigue comes into play. If you're getting somebody who can give you over 60 points a season when healthy and boost your power play for the cost of a second or a third, it seems like a home run of an acquisition. 
On the other hand, while the market price might not seem that expensive, the consequences of a situation where Boeser doesn't rebound creates a little bit of hesitancy. He's also not a good defensive forward, which may not bode well for a Maple Leafs team that's been making staunch efforts to improve their team defensive play. But would it be worth sacrificing his defensive play to improve their top six, and ideally add some consistency to their power play? It's a question that even I'm fighting myself to answer.
Boeser Trade Would Improve Maple Leafs in Some Areas, Hurt Them in Others
As I said, the biggest appeal in a potential trade for Boeser would be the boost it would give a Maple Leafs power play that, surprisingly, struggles with consistency. In Games 6 and 7 against the Tampa Bay Lightning last season, both potential series-clinching games, they went a combined 0/4. Small sample size, sure, but it's a testament to how a unit that can be their biggest strong suit can often also be their biggest weakness when it matters.
But, would the extra offensive boost be worth the cap hit and defensive shortcomings that come with Boeser's game? When I map out this hypothetical trade in my head, I'd imagine forward Alex Kerfoot would also be going back the other way. His $3.5 million is off the books after this season, and he's also a Vancouver native for a little cherry on top. So, if you're losing Kerfoot and adding Boeser, you're getting worse defensively as a unit. But, it might be worth it for that extra scoring touch down the stretch. 
You May Also Like
Overall, if I were general manager Kyle Dubas, I'd at least entertain the idea of this trade. They may find better value in using that incoming $6.65 million cap hit to improve in multiple areas rather than one, which would be totally understandable. But, with the option of adding a bonafide top-six forward for the next two and a half years at a cap hit less than William Nylander's for a second or a third-round pick, it's hard to not at least mull over the idea.