Usually when I write up a mailbag, I like to steal the questions from Kevin McGran's mailbag because then we get to have two perspectives on the same question and usually this creates great discussions.
This time, however, with McGran off for the summer, I solicited my own questions.
On to the bag!
QUESTION: Are the Leafs going to finish last, or second last this season? 
-Gerry B,  Oro-Medonte
ANSWER:  As I said in this article, I think the Canucks are going to finish last this season.
I think the Leafs, along with the Coyotes and Devils will also be close to the basement. The Leafs, however, have the ability to surprise us because they have two very good and improving top-pairing defensemen in Jake Gardiner and Morgan Rielly. Phaneuf should look a lot better moved down the lineup, and Marincin and Hunwick are both better than anything the Leafs were throwing out at 4-5 last season.
Bernier is a solid goalie and Kadri gives the Leafs their first true #1 C in years, should they finally decide to cede the position to him.  Add in all the solid possession players they've stacked their line-up with, and potentially a rookie-of-the-year season from William Nylander (though he's most likely to play for the Marlies) and I think the Leafs stand a pretty good chance of being better than people think this year.
I think they have a better team than last year everywhere but their top-line, and when you consider how poorly that line performed last year, it's not crazy to think they might finish higher in the standings this season.
QUESTION: Who will be the Leafs' top-pairing D, and will Phaneuf be a Leaf to start the season?
-Trev T, Hawkestone.
ANSWER:  I Think it's hard to say because a new coach is coming in and we have no real idea how he'll want to utilize the roster.  I would assume Phaneuf would be moved down the lineup, but maybe Babcock wants to continue using him as he's been used in the past.
If that is the case, then I really think it would have been wise to trade him. If, however, Rielly is going to get the reins as the main guy, I think you'll see him partnered with Gardiner on the top pair – they are, after all, the Leafs' best two defensemen by a mile.
Ideally, I think you'd like to see each partnership have a right and left shooter, but the Leafs are basically 100% left shooting: Rielly, Gardiner, Phaneuf, Marincin, Hunwick, Harrington and Percy all shoot left.  Only Polak and Robidas are right-shooting and both are sixth/press-box options at best.
My best guess: Rielly and Gardiner on the top pairing and Phaneuf is still a Leaf next season.
QUESTION: Why did the Leafs trade a soon-to-be 50 goal scorer to the Penguins for dog-s#%t? Is that a good question? Also, why not keep Kessel and see how he does under a real defensive coach? 
– Kenny G, Hillsdale.
ANSWER: Yes, I think  that is a good question, one which I think a lot of Leafs fans are asking.
My answer is this: they had to trade Kessel because he is at the peak of his powers and there is no point keeping him around through a rebuild and wasting his best years.  By the time the Leafs are Cup Contenders, Kessel is likely a 32 year-old second liner, so I guess the thinking was to get the most they can for him while he still has a lot of value.
Kessel is a great offensive player, but he is so bad defensively that he's had a negative impact on the team despite scoring a ton.  The fact is, even with Babcock, the Leafs just don't have the lineup to shelter him in the way that, for example, Patrick Kane is sheltered on the Hawks.  In Pittsburgh, Kessel won't be the focal point of anyone's defensive planning and won't have to face as much top-line competition as he did in Toronto, so he should be much more effective overall.
I also don't think the players the Leafs got back for him were "dog-s#%t." They were dealing from a position of weakness (they had to trade him, he makes a ton of money, he's a flawed player with a bad rep and he had a no-trade clause) so I think what they got was pretty impressive.
Kasperi Kapanen is a great prospect, and I have him ranked as #3 in the system.  He's fast, smart, and while he wont' score as much as Kessel, he'll provide a more complete game. He also fits better into the rebuild because he's only currently 19.  They also got Harrington, who I believe is going to be a solid bottom-pairing Dman – he's big and can move the puck.  Overall, I think it sucks to trade away a guy like Phil Kessel, but he had to go and the return was decent.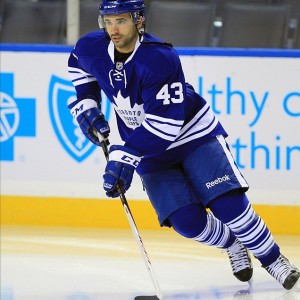 QUESTIONS: 1) Which wingers will help Nylander with his development the most? 2) How close are the Leafs to having a winning record? 3) Was the Bernier signing a mistake and 4) Should I wear a Leafs tuxedo to church next weekend?
Brian S, Barrie.
ANSWER:  Dearest Brian, thanks for all the great questions and the one weird one.
1) Hard to say, most people don't have him even making the team, but if he does, I think playing with JVR and Winnik would be really helpful for him. JVR has the offensive skills to match Nylander's and Winnik provides great defensive responsibility. That being said, I cannot wait to see what a Kadri-Nylander-Marner-Rielly-Gardiner power-play looks like.
2) The Leafs are closer to having a winning record than anyone believes. I think that with Kadri, Nylander, JVR, Marner, Kapanen, Gauthier, Andreas Johansen, Rielly, Gardiner, Percy, Brown, Bernier and Leipsic, the Leafs have already got a pretty good foundation.  It's going to take some time for the prospects they have to develop, but with two first-round picks next year, Mike Babcock, a great young management team, and some luck, I think you'll see them competitive this season and surprisingly good next season.  I don't see it taking five years like everyone else seems to think.
3) I do not think the Bernier signing was a mistake.  I think that Bernier has a ton of talent and has performed about as good as anyone possibly could have on a team that allowed as many shots and had the puck as infrequently as the Leafs of the last two seasons did.
You'll also remember that when the Leafs were in a Playoff position prior to last Christmas, Bernier was playing out of his mind. The guy is a great goalie, it's just hard to tell playing on such a bad team.
4) I didn't know this was an option, but you should definitely go for it.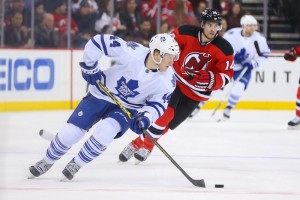 QUESTION: What do you think it says about the league when Richards' contract is cancelled and Voynov's isn't? 
-Chris Caragiannis
ANSWER: I think what it says is that in a multi-million dollar industry, teams will go to great lengths to keep a guy if he's useful, and find any excuse to ditch him if he's not.
I don't think the Kings would have voided Richards' contract if he was living up to it, but it was a gigantic drain on their cap for what they were getting, and so it seems like they took the first excuse they could to get rid of it. If Kopitar or Doughty did whatever Richards allegedly did, would L.A void their contracts? A fair question, but I don't know the answer.
Personally, I feel for Mike Richards, the culture of the NHL demands that you play through injuries and pain, and generally act and be as tough as possible at all times. If even a tenth of the rumours and stories about painkilling drugs in professional sports are true, then it's an epidemic and it seems unfair to roast one guy for it. That being said, I don't believe that all details are yet public, so perhaps there is more than meets the eye here.
As for Voynov, I think they should kick him out of the league permanently as an example. I consider beating your wife about a million times worse than most any drug-related crime.
QUESTION: 1)Which Leafs player would you let your daughter date? 2) Which Leafs player most needs a nickname? 3) What if James Van Riemsdyk wanted to be called Jim? 4) Who takes the best selfies?  
Johnny Dupain, Barrie.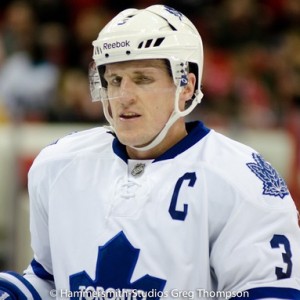 ANSWER: While these are possibly the worst questions I've ever gotten, I personally know Mr. Dupain and thus feel obligated to answer his ridiculous questions.
1) I'm not going to let my daughter date a hockey player, are you nuts? 2) Obviously it's James Reimer because "Optimus Reim" is so lame.  He should be called "Big-Daddy Rhyme-Time." 3) If he was called Jim, I think that would really help his defense. 4) I'm pretty sure if you take too many selfies you will go blind. (From the flash).
QUESTION: Why is Toronto signing so many one-year deals? Are they looking to make a push for Stamkos nexts year? 
ANSWER: If you're the Leafs, you can offer these players a cost effective one-year deal in which they can play higher in the lineup than most anywhere else (due to rebuilding) and use their ice-time and the prominence of the Toronto market to parlay it into a longer term deal next year.  That's the benefit to the players, and, as for the team, they simply keep the roster spot warm until they can develop players who'll be here as part of an eventual rebuild and competing team, with the added benefit of being able to trade them at the deadline for picks they otherwise wouldn't have gotten.
Regarding Stamkos, if he did go UFA, he'd likely get the highest contract in NHL history and there is absolutely no way you can get value on a player at that money. That is why I don't think that even if available, the Leafs should go for Stamkos.
I know it's not what people want to hear, but Stamkos is likely never coming here.  I wrote about it in more detail here. 
QUESTION: Do you think there is a little overkill on the management side? 
ANSWER: I don't. The most common factor among successful people is that they ask questions and seek out help from others. For this reason, I think that the more people you surround yourself with who are smart, competent, and be possessing talents or skills you don't have, the better off you'll be. This is why I 100% support the idea of Shanahan surrounding himself with a whole bunch of people with different skill sets, knowledge bases and experience.
Thanks for reading.
Covering the Leafs for the Hockey Writers.