The Toronto Maple Leafs are only a handful of games into the preseason and already the hype is growing within the city. Fans are getting over exuberant with the success they've seen from the newly-acquired players and newly-formed lines through the early part of the preseason, but in this case, they could have a point.
Now, in no way are we suggesting a Stanley Cup win here, but it's going to be another exciting season for the Maple Leafs and their fans.
Through five preseason games, the Maple Leafs have four wins and have scored 17 goals over that span. While it's only preseason, there are a few things that can be taken away from the past week of Maple Leafs hockey.
John Tavares' Start in Toronto
Take it however you'd like, but John Tavares' preseason debut was a good one for the Maple Leafs. While it was basically against the Belleville Senators, in Lucan, Ontario, the star forward put on a show for those on hand to see his first official game in blue and white.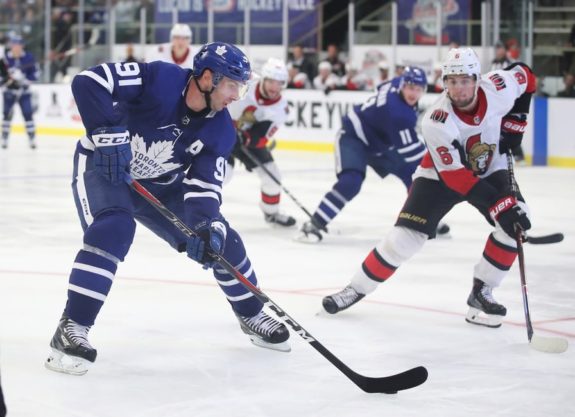 He had two goals and an assist for three points on four shots on goal and added another two points in his only other preseason action so far.
Aside from his individual success during the preseason, Tavares seems to have natural chemistry with possible linemate Mitch Marner who has four of his own in two games. With both of them having career Corsi-For Percentages (CF%) over 51.1% this could be a match made in heaven in terms of their ability to possess the puck.
"He's a big guy. He's powerful," said Marner about his preseason linemate on NHL.com. "He can get around the net. I think if you leave him alone, he can do some dangerous things around the net."
If their two games together is any indication of what could be this coming season, Marner could be on the verge of a career year – topping his 69 points from a year ago – while Tavares could be eyeing his own career-year. His best season came in 2014-15 when he tallied 86 points as a 24-year-old.
Ennis Earning His Stripes?
On another line, Tyler Ennis has been looking to earn a spot on the Maple Leafs opening night roster. With the absence of William Nylander, Ennis has had the opportunity to play on a line with Patrick Marleau and Auston Matthews during the preseason and has found success in that spot.
Related: Dubas & Nylander Playing Game of Chicken
Not only has he brought a burst of speed into camp, but he's made the decision hard on Maple Leafs' brass on whether or not to keep him when the puck drops on the season. After all, they will have other options, including Nylander and Josh Leivo.
In two games with Matthews and Marleau, Ennis has netted two goals and an assist for three points. While it won't mean much if he can't make the opening night roster, it is a good start in fighting for a job on this skilled team.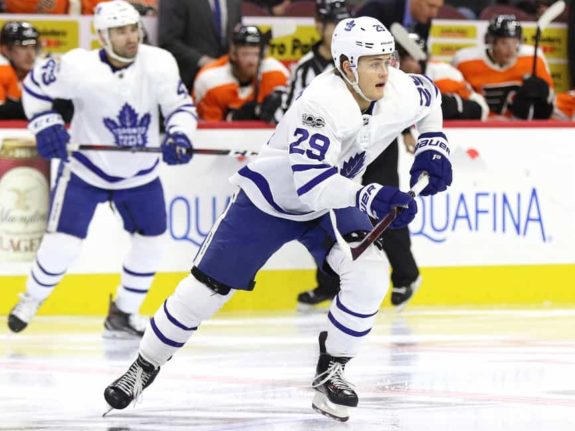 For Ennis, he'll be looking to re-invent himself following three straight seasons of less than 25 points. At one point during his career, he had reached the 30-point plateau in five straight seasons – including his career-high 49 points in 2010-11.
That said, he had 11 points in 23 games in 2015-16 with the Sabres and 13 points in 51 games in his final season with Buffalo in 2016-17 before they traded him to the Minnesota Wild. There he played just 73 games for the Wild with 22 points before the team released him on July 6.
The 28-year-old signed a one-year deal with the Maple Leafs for $650,000 this offseason and is now being given the chance at a key role on an up-and-coming team. Should the Maple Leafs have an opening, Ennis could be a good addition to their lineup as a low-risk, depth forward.
Stacking up the Power Play
Finally, there's been a lot made about the way the Maple Leafs have stacked their first power play unit during the preseason.
Babcock exchange with reporter on #Leafs top PP group:

Reporter: "Why stack one unit?"
MB: "Who said I did?"
R: "But why put Matthews and Tavares together?"
MB: "What do you want me to do?"
*pause*
"I didn't know I stacked one. Whoever scores more, goes out more."

— Kristen Shilton (@kristen_shilton) September 24, 2018
In games where they've all been playing, the first unit has included a one defenceman, four forward group. Morgan Rielly, Nazem Kadri, Matthews, Marner and Tavares make up that unit and it's clear that coach Mike Babcock has packed the first PP group with a load of talent.
While Rielly and Marner will guard the rear, Kadri and Matthews will play the forward positions with Tavares playing in front of the net – replacing James van Riemsdyk who had that role over the past few seasons.
Why Tavares? Well, according to TSN's Mark Masters, "during free agency recruitment period, Babcock asked [Tavares] where he wanted to play on the PP and the answer was net front."
It's safe to say that if this unit remains the same for the regular season, it'll be one that opposing penalty killers won't look forward to playing against.
---
Stay tuned all season long for more Maple Leafs news and notes.