Given Nick Robertson's talent and skill set, it was a head-scratcher to see him drop in the 2019 NHL Entry Draft. When Toronto Maple Leafs general manager Kyle Dubas selected the under-sized forward 53rd overall, he got a player with superstar potential. 
Size makes a difference in the NHL, but in the last few seasons, smaller, more skilled players have taken the league by storm. Patrick Kane, Johnny Gaudreau, Mitch Marner and Brayden Point are small but that hasn't affected their ability to play the game with speed. After his MVP-caliber playoff performance, Point proved that size doesn't matter.
His ability to play a high-intensity game while still focusing on his offensive skill set was a difference-maker for the 2020 Cup-winning Tampa Bay Lightning as he finished second in the playoffs with 33 points and first in goals with 14.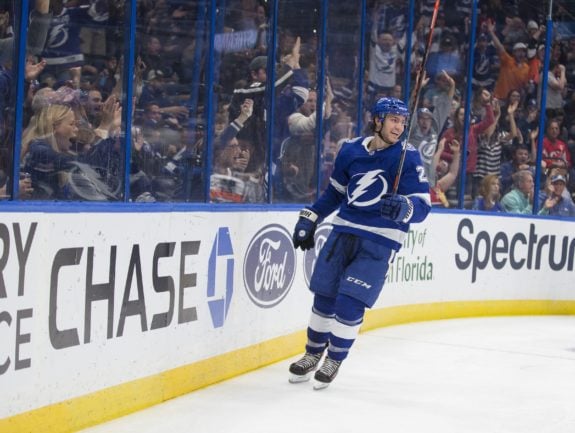 Could Robertson be the next small forward to make a significant impact on his team, as Point did? It's possible; the similarities are there.
Size Doesn't Hinder His Play
At 5-foot-9, 164 pounds, Robertson is one inch shorter than Point and a few pounds lighter (5-foot-10, 166 pounds). But from what Maple Leafs fans saw this year in the OHL and at the World Junior Championships, Robertson had no problem competing or battling in the corners and he's able to use the whole ice to his advantage.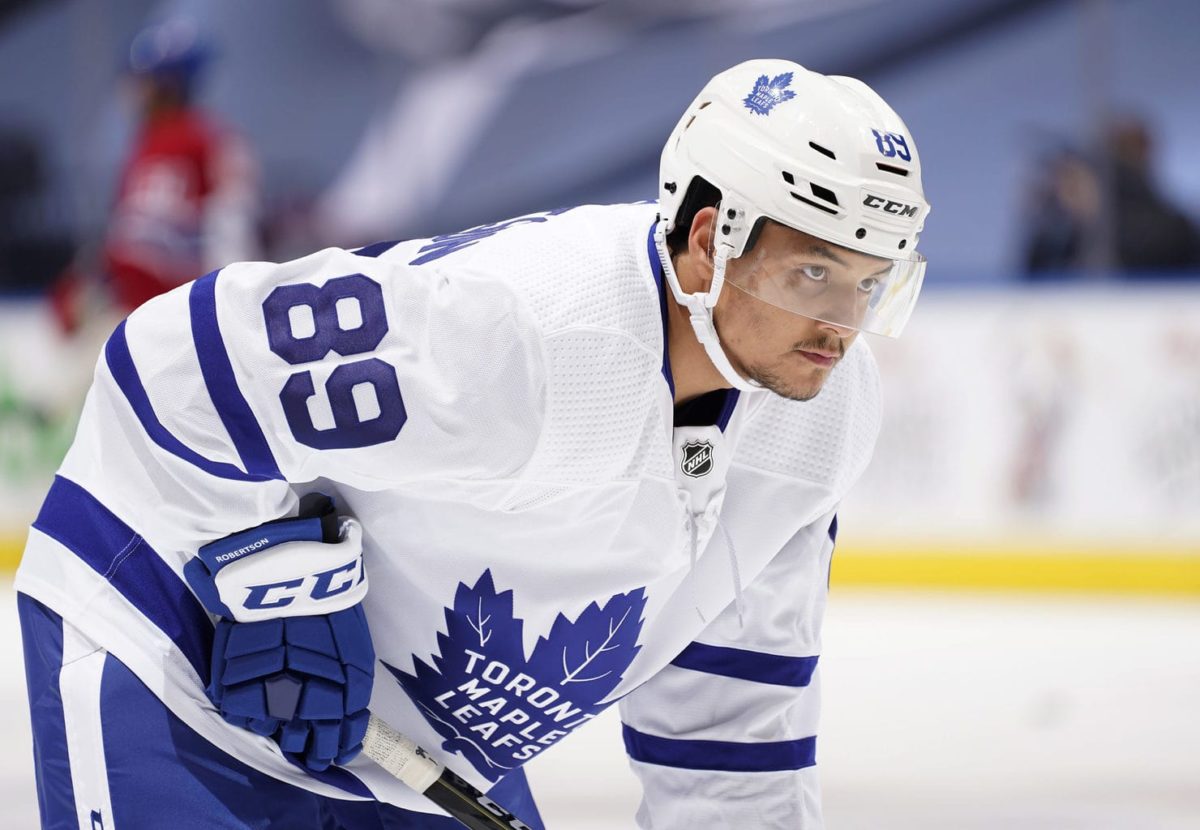 Both are first-round talents but were selected later in the draft. Point was picked 79th overall in 2014 and he has become a steal for the Lightning. Robertson is slowly becoming that for the Maple Leafs after a breakout season with the Peterborough Petes and leading the league with 55 goals and 86 points.
Like Point, Robertson doesn't let his size affect him from playing his game. He has no problem getting great body positioning in order to separate the opponent from the puck. He isn't afraid to attack the net and get a greasy goal. He'll do whatever it takes to win and that's the kind of drive and mentality that this team has been lacking. This is very similar to Point's play style.
Robertson can be a major offensive threat. He is elusive, he can create space for himself and stand his ground at the NHL level. Here's a similar clip of Point as he displays his smarts and puck protection as he quickly drives to the net for a goal. While it may not be the same as the clips in the video above, Robertson is able to do the same things as Point. 
Dubas said early on that Robertson would be given every opportunity to fight for a roster spot next season. When the NHL returned to play to finish the 2019-20 season, Robertson made the most of his invitation to training camp and made the Maple Leafs' playoff roster. After seeing him rise to the occasion during the play-in round of the Stanley Cup Playoffs, Robertson is ready for the next step in his development. Fans have a reason to be excited when he becomes a consistent NHL player. 
Numbers After Draft Year Are Outstanding
Even though they had different point totals in their draft year (Point- 91, Robertson- 55), Robertson surpassed expectations and had a better season than Point after being drafted.
Point saw a slight decrease in points with 87 and Robertson increased his production to almost tie him. But going a little bit deeper and looking at some underlying numbers, Robertson was a better producer than Point. 
| | | | | |
| --- | --- | --- | --- | --- |
| Cate-gory | Brayden Point DY Stats | Brayden Point DY +1 Stats | Nick Robertson DY Stats | Nick Robertson DY +1 Stats |
| EV P1/GP | 0.63 | 0.73 | 0.50 | 0.91 |
| P1/GP | 1.04 | 1.07 | 0.74 | 1.59 |
| PP P1/GP | 0.40 | 0.33 | 0.24 | 0.48 |
| P/GP | 1.26 | 1.45 | 1.02 | 1.87 |
| P1/e60 | 3.49 | 3.41 | 2.58 | 4.25 |
| EV GF% | 42.95 | 55.63 | 48.91 | 60 |
Statistics from Pick 224.
Both Point and Robertson had strong draft years. Point had the edge in his draft year but Robertson outmatched Point in his DY +1 in regards to even- strength production and primary points. Robertson also scored eight short-handed goals, showing his abilities to be a versatile player on the penalty kill. 
With that kind of production, Robertson has the potential to be an elite player in the league according to Dobber Prospects PNHLe model.
It should be noted that in their DY +1, Point played 60 games and Roberson played significantly less with 46. Both participated in the World Junior Championships after being drafted, though Robertson missed additional games with a broken finger and his season was cut short due to the on-going COVID-19 pandemic. 
In 2014-15, Point was on an average Moose Jaw Warriors team (32-35-5) and still managed to lead the team in scoring even though they missed the playoffs. Comparing that to Robertson's Peterborough Petes, they were a lethal offensive force, going 37-21-4 and finishing second in the East Division of the Ontario League behind the Ottawa 67's. A supporting cast of Semyon Der- Arguchintsev, Mason McTavish, Liam Kirk and Akil Thomas, who was acquired from the Niagara Ice Dogs, helped in that regard.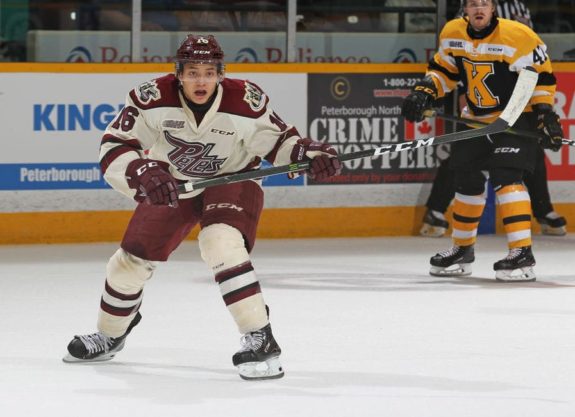 Now, I'm not saying that Robertson is going to be the next Point. It would be ridiculous to compare a player with only three games in the playoffs compared to a now Stanley Cup Champion with four seasons under his belt. But you can't help but see some of Point in Robertson as they possess the same skill set. He could potentially follow in his footsteps if he continues to progress the way the Maple Leafs expect him to.
Robertson Has Guentzel's Offensive Talents
If Point may be a bit of a stretch in terms of comparisons, the next best player comparable could be Jake Guentzel of the Pittsburgh Penguins, who is also small in stature and a goal-scoring machine.
Drafted 77th overall in 2013, Guentzel has found a home playing alongside Sidney Crosby, there's no doubt that Robertson could work his way to play alongside either John Tavares or Auston Matthews as he has the speed and smarts to keep up with both of them. That is the end goal for Robertson and his development as he possesses a great shot and offensive instinct. 
After a breakout season in 2018-19 scoring 40 goals and recording 76 points, Guentzel has proven himself to be a major offensive threat. That year, he played over 1,100 minutes with Crosby at five-on-five and he made the most of his opportunity. Guentzel's Goals for percentage at 5-on-5 with Crosby is 63.91 per cent over the last two seasons. While playing with Crosby has its advantages, Guentzel is still an offensive threat on the ice.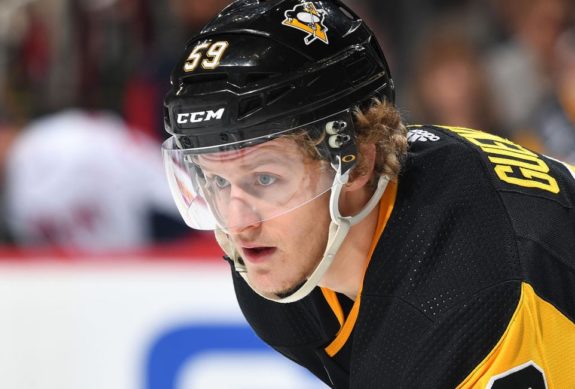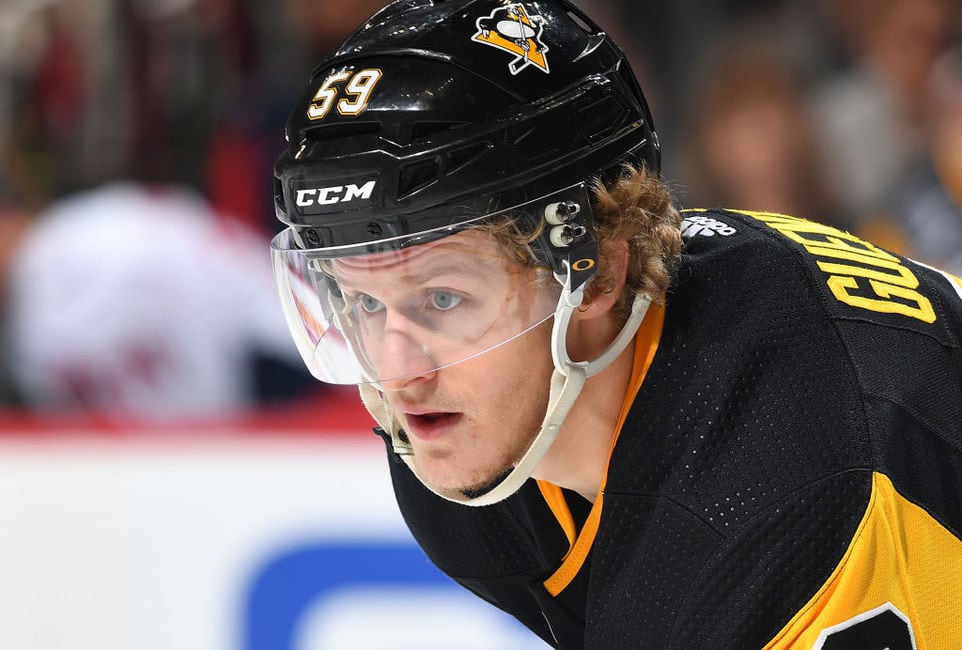 TSN's Craig Button even compared Robertson to Guentzel, as it took some time for him to grow physically. This could be another path for Robertson. When you see his shot, goal scoring abilities and his offensive impact it makes him very similar to Guentzel. 
It's always fun to try and draw comparisons with prospects and see who they are the most like. In Robertson's case, you can see the similarities between Point and Guentzel when he plays. Robertson displays the vision and tenacious attitude gaining puck possession like Point and his powerful shot and release is very similar to that of Guentzel's.
While he displays qualities of both players, Nick Robertson is his own brand of player. Fans witnessed what he can do in the playoffs and they'll get a better opportunity if and when he's on the roster next season. All in all, it's very likely.
Statistics from Natural Stat Trick and Pick 224. Chart from Dobber Prospects.
---
---